Gambit Is Here to Sweet Talk with New Beast Kingdom Figure
Gambit is not a key member of the X-Men but he's a fan favorite weather from the comics or the 90s cartoon series. It's no surprise that some fan-favorite characters are getting a figure treatment especially with Disney+ releasing such iconic shows back into the frame once again. This time it looks like our favorite card thrower Gambit is back in action with a new Egg Action Attack Figure. The figure comes in the iconic Egg Action Attack look, very detailed and has over 26 points of articulation. He does come with a lot of accessories including as iconic a bow staff. It does look like we will get two separate heads for Gambit, one being a straight face and one smirking. You will come with four separate sets of interchangeable hands and playing cards with his kinetic mutant effect on them. Gambit does come with a special deluxe version too. The deluxe version will come with a Sentinel hand display base. This is a pretty interesting deluxe base and especially for the Beast Kingdom with their Egg Action Attack. Deluxe version also comes with an extra interchangeable head giving us the real Ragin' Cajun face. If you're trying to get that little extra flair for your Gambit EAA this is definitely the way to do it. You're a fan of Gambit there's not a lot of collectibles out there for us so get him while he's hot.
The Uncanny X-Men Egg Action Attack Gambit figure from Beast Kingdom does not have a price just yet. It is scheduled to release in the second quarter of 20 20. Pillars aren't live just yet but we will be notified shortly when things go live. Don't forget to check out some of the other core egg action attack characters from like Night Monkey, Deadpool or Captain America.
Full HOUSE!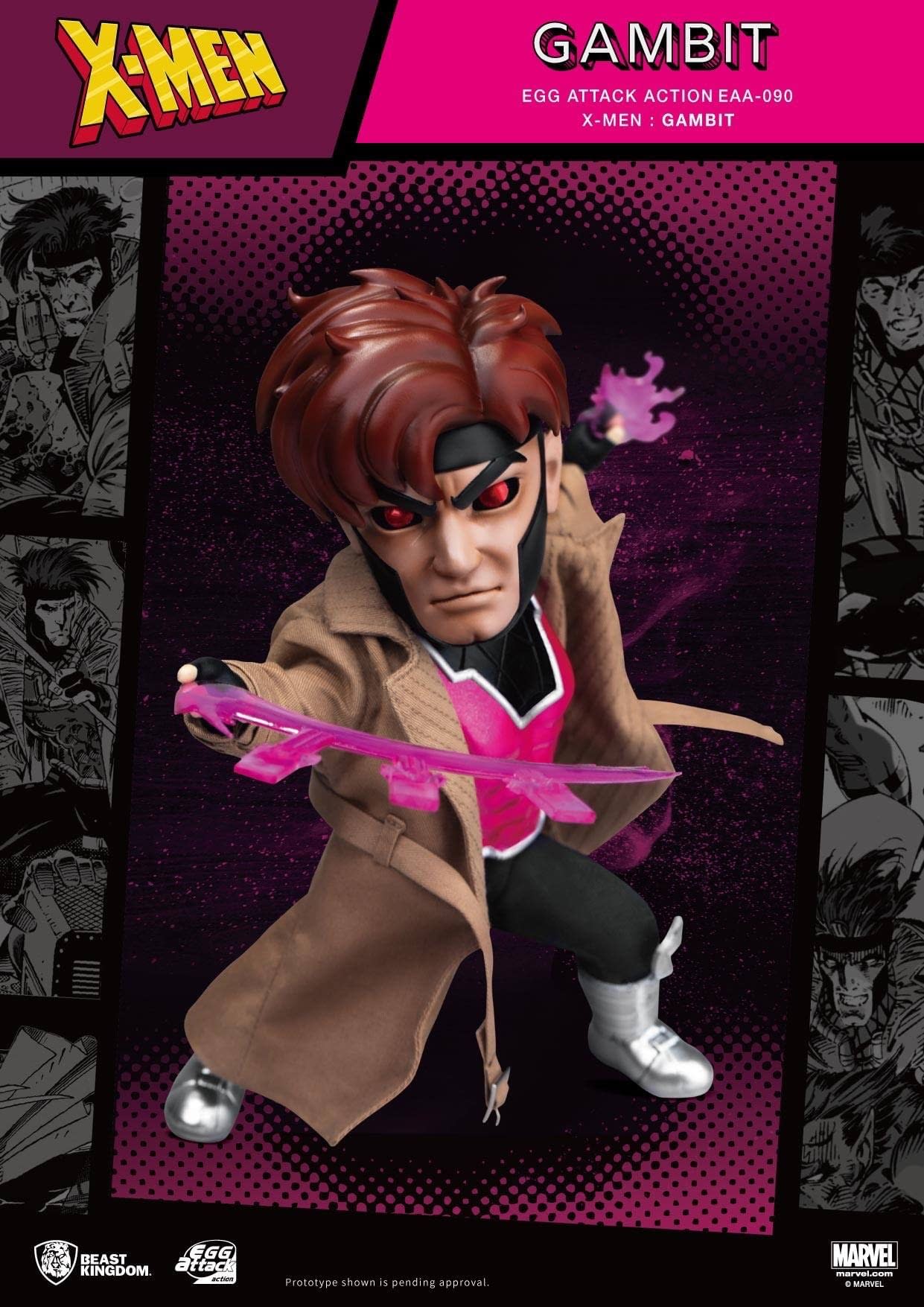 Gambit, the Cajun with an attitude is one of X-Men's coolest characters. Remy Etienne LeBaue, AKA Gambit first appeared in the 1990's Uncanny X-Men #226. A mutant himself, he has the ability to control and manipulate pure, kinetic energy, charging his weapons including playing cards and his bo-staff into powerful projectiles.
Beast Kingdom, The Entertainment Experience Brand is back again with latest in X-Men Comics Egg Attack Action stylized action figures. This 6-inch Gambit, the newest addition in the EAA Marvel Comics lineup includes real elasticated cloth for both the tights and trench-coat, making it perfect for those mid-air poses! With 26 points of articulation, a host of accessories including charged playing cards and the infamous bo-staff, this Gambit figure is ready for any type of action!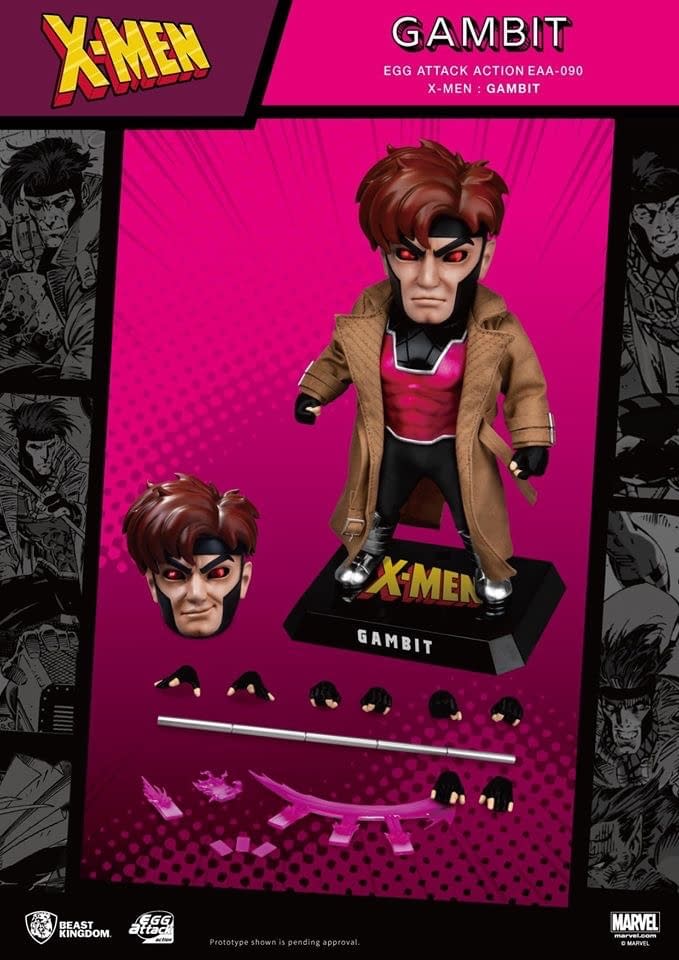 As a fan-favorite Beast Kingdom collectors can choose between a 'Regular'or 'Deluxe DX Version'. For the ultimate experience, the DX Version Gambit includes one additional face-sculpt along with a battle damaged painted Sentinel Robot Palm as an amazingly detailed platform for Gambit to show off his skills.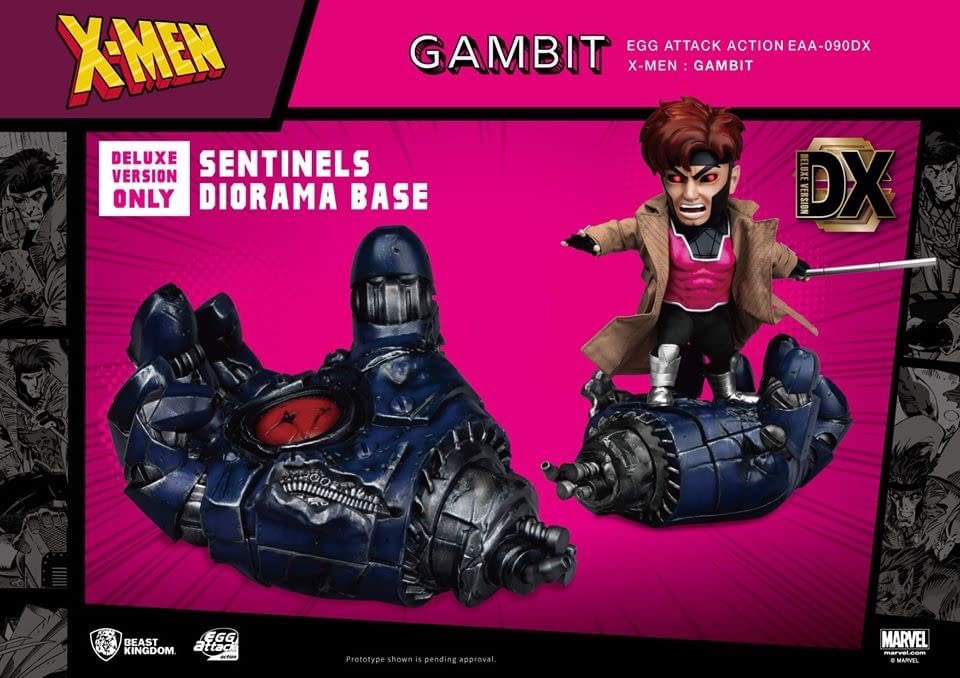 So don't forget to take home your EAA Gambit today and join the rest of the X-Men in the fight against the evil sentinel armies!