Posted in: Collectibles, Nerd Food, Pop Culture | Tagged: Carmella Creeper, Count Chocula, franken berry, general mills
---
General Mills Debuts New Monsters Cereals Member: Carmella Creeper
Halloween has come early this year as General Mills has unveiled their newest Monsters Cereals member with Carmella Creeper
---
Your breakfasts are about to get a monstrous upgrade as General Mills has announced a new Monsters Cereal. That is right after 35 years of brand-new monster is joining the ranks of your favorite monster lineup. Boo Berry, Franken Berry, and Count Chocula will now be adding Carmella Creeper to their breakfast routine. This DJ Zombie is a long-lost cousin of Franken Berry and is the first female cereal monster in the history of the brand! General Mills has stated that her limited-edition cereal will feature a brand new caramel apple flavor with some colored Monster marshmallows. On top of her launch, General Mills has also announced the return of the Monster Mash Remix Cereal, with Carmella Creeper joining the party. This wacky cereal mix features a mix of all six Monsters Cereals flavors in one box, making it a true Monster Mash. Carmella Creeper will be hitting shelves in Late Summer, and the rest of the monster can be found here.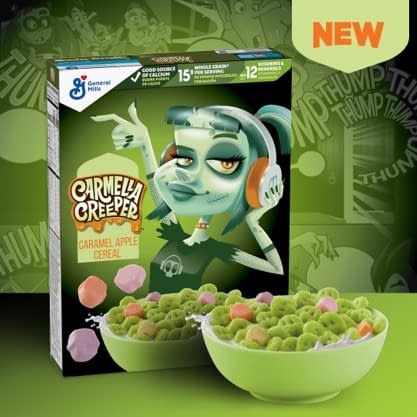 Zombie DJ Carmella Creeper Arrives from General Mills
"After months of online speculation, I'm excited to share that the rumors are true; Monsters Cereals is officially adding a new Monster (and cereal) to this gang of Halloween haunters: Carmella Creeper! As the squad's first new character in 35 years and their first female monster, Carmella Creeper is the long-lost cousin of Franken Berry as well as a zombie DJ with an edgy sound who is always the life of the party. Complete with a fierce attitude and looks to match, Carmella is ready to shake things up at the Monsters' haunted mansion with her limited-edition cereal featuring caramel-apple-flavored pieces with colored Monster marshmallows."
"Everyone's favorite smashing spooksters are heading back to shelves and cereal bowls by popular demand. The gang is even coming together for the launch of Monster Mash Remix Cereal: A mix of all six Monsters Cereals flavors (Carmella Creeper, Frute Brute, Count Chocula, Boo Berry, Franken Berry and Yummy Mummy). This year's full Monsters Cereals line-up includes Carmella Creeper, Count Chocula, Franken Berry, Boo Berry and Monster Mash Remix Cereal for five different ways to enjoy their frightful deliciousness."
---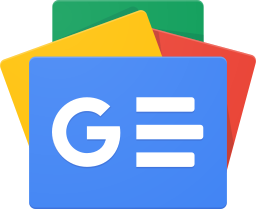 Stay up-to-date and support the site by following Bleeding Cool on Google News today!