Kidrobot will be at NYCC next week with tons of merch for fans to purchase, including a number of exclusives. Mega Man, Spongebob, Orville, and characters from the game Dreamwell will all be represented on the show floor at their booth. On top of that, they will be hosting a party at Five Points East (815 Broadway) with giveaways, live painting, and DJ's for free on Friday, Oct. 5th. Check out the pics and details on the exclusives and the Kidrobot events down below!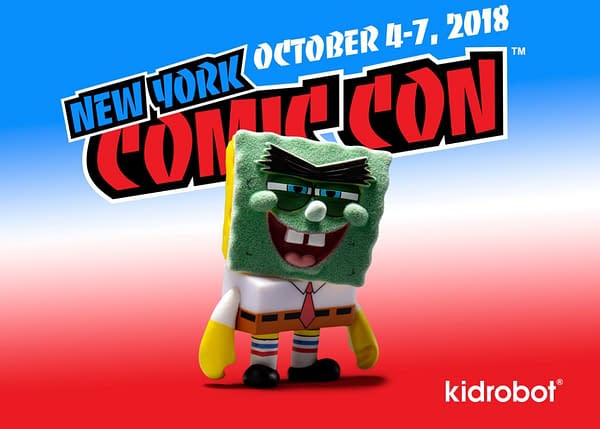 SpongeBob SquarePants Abrasive Sponge 3" Figure

In conjunction with the launch of the Many Faces of SpongeBob Mini Series, the Abrasive Sponge figure is available exclusively at NYCC with a flocked face highlighting the moldy sponge from the hit Nickelodeon show. Limited to 300 pieces, SRP $16.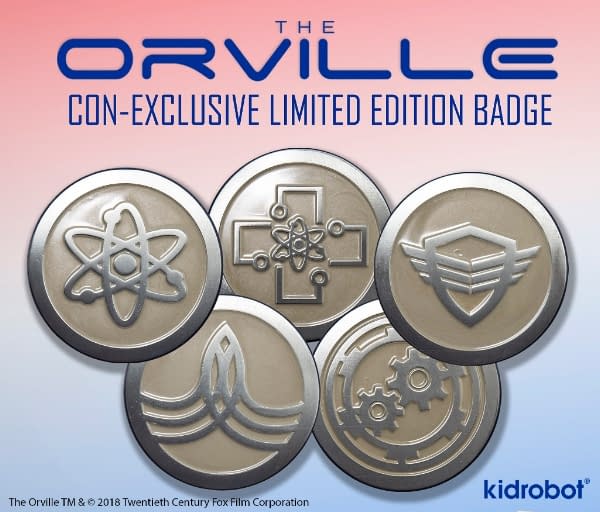 The Orville Enamel Metal Prop Replica Badges

The Orville con exclusive limited edition badges come in 5 collectible options from the Planetary Union. These metal enamel prop replica badges include: Engineer, Security, Office, Medical and Science badges. Limited to 100 pieces each, SRP $10.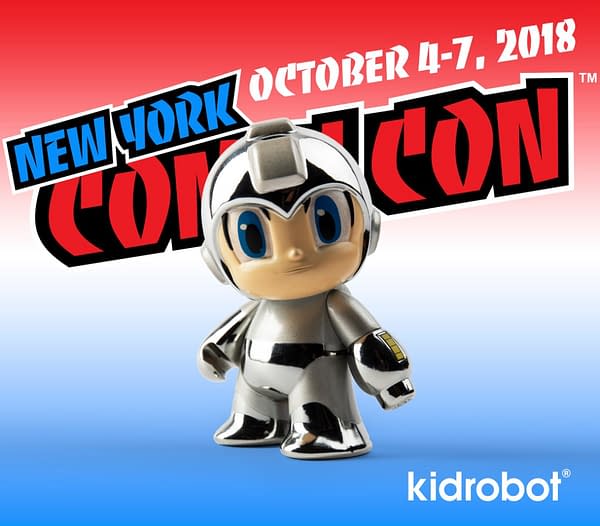 MegaMan 30th Anniversary 3" Figure by Kidrobot

This limited edition Kidrobot figure honors the 30th Anniversary of MegaMan with a special pearlescent coloration. Limited to 300 pieces, SRP $16.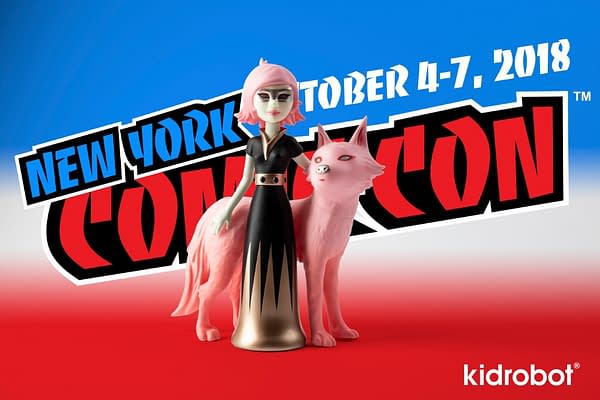 Astra + Orbit 8" Art Figure by Tara McPherson

Astra + Orbit are from Dreamwell, a world created by Tara McPherson, and can be found beyond the lucid seas and pink skies. This mystic couple stands elegantly to assist in your journey beyond sleep. Based on the whimsical hit card game from McPherson, Dreamwell features original characters from a world beyond our own. Limited to 20 pieces, SRP $80.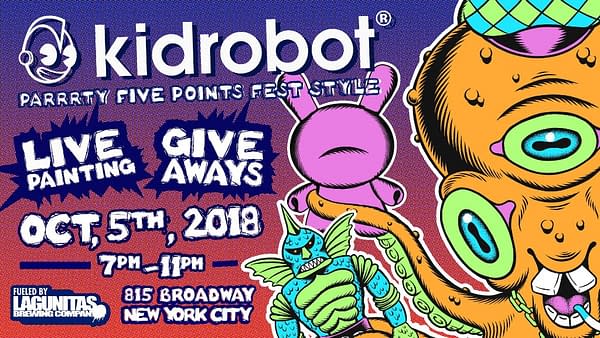 Kidrobot x NYCC 2018 Events

Join Kidrobot for these special signings and a Friday night PARTY!

Signing: Producer Tsuchiya-san from CapCom

Tsuchiya-san will be signing 30th Anniversary MegaMan figs at NYCC Booth #322 on Friday, October 5th at 1pm • Ticketing info to be released on Kidrobot Instagram

Party: Kidrobot Party with Five Points Fest

Free entry, Kidrobot giveaways, live paintings, beer provided by Lagunitas, DJs • 815 Broadway, NYC • Friday, October 5th, 2018 from 7-11pm • Space is Limited • RSVP on Facebook

Signing: Artist Tara McPherson Signing

NY Artist Tara McPherson will be signing exclusive Astra + Orbit 8" Art Figures and Stellar Dream Scouts Mini Series at NYCC Booth #322 on Saturday, October 6th at 1pm • Ticketing info to be released on Kidrobot Instagram
Enjoyed this article? Share it!