Let's Take a Look at NECA's New Ultimate Hellraiser Pinhead Figure
Pinhead fans, our time has come. NECA has been destroying our wallets with figure after figure in their amazing Ultimate Horror line, and one name has been on the lips of every collector these last couple years: Pinhead. The iconic character played most memorably by Doug Bradley in the Hellraiser film series, he has never been given his proper due in figure form. Others have tried (including NECA themselves), but with the release of the new Ultimate Pinhead figure, we finally have the definitive version of the the most devilish of the modern horror icons.
As always, we start with the packaging. Like always, NECA makes it really difficult to open these figures. Featuring poster art on the front, figure shots on the back, and Pinhead on the flap, the box is a work of art like the figures are. Maybe one day I will start buying two of each so I can keep one in the box MOC.
But until then, we open our toys around these parts. And once you get Pinhead out of the box, you instantly know you have something special on your hands. Fully articulated, it is super easy to make this new figure look more elegant than past releases. He has always been more regal than other horror characters, more finesse. That is present here, as he looks like he is almost levitating and inviting you in. That has everything to do with the amazing detail on the headsculpts and long legs under the soft goods skirt. His fetish garb has a great sheen to it, the way the light hits the black and blood wash feels menacing and cold. The high collar neck piece is non-restrictive. It just feels special in your hand.
Then you start dabbling into the accessories, from the three sets of hands to the various instruments of torture. I Love the thread woven through his torso to hang his blades and such from. It is so well done and gnarly looking. Of course, two puzzle boxes are included, open and closed. I always prefer the closed box, but that is just me. The soft goods skirt has a wire in the bottom as well so you can pose it, which is something we need more of. Pinhead has two of the best headsculpts on any NECA figure. Both have fantastic likenesses, and the nails are sturdy and substantial. None broke off or bent at all while switching between heads, and they rest on a peg for easy removal.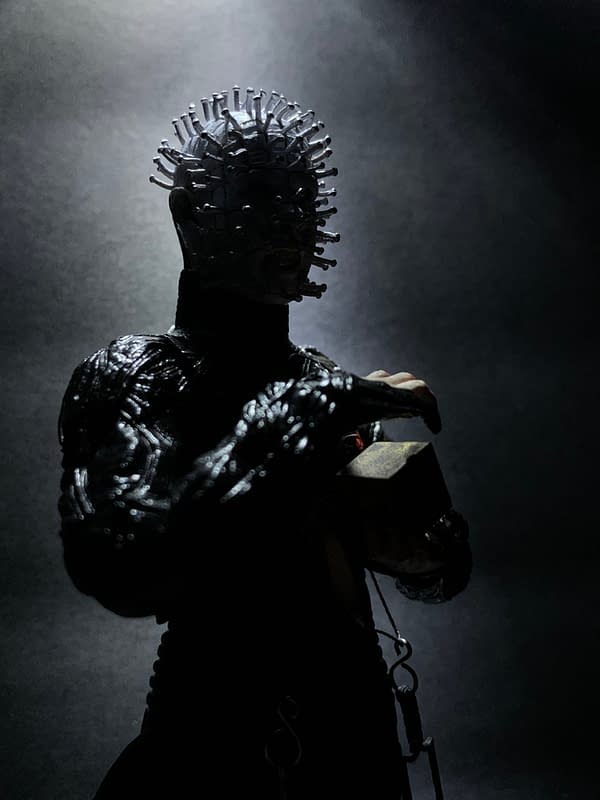 Pinhead feels evil when you look at him, but also inviting and is a welcome addition to any horror fans shelves. He is hitting Targets and online retailers right now, and I highly recommend picking one up.
He has such sights to show you.