Lord of the Rings not only introduced us to the world of Middle Earth but introduced us to a wide variety of amazing characters. We always look at the heroes but this time we are taking a look on the darker side. It seems that Iron Studios is dropping a beautifully crafted dark statue of the Fell Beast with Nazgûl. The statue is 1/20 scale it is based on the original movie references of the creature. This statue isn't a sweet treat and his little on the heavy side with it being 27 1/2 inches tall and weighing roughly 35 pounds. The statue is quite eerie and is definitely a work of art. Not only doesn't include the Fell Beast from Lord of the Rings but we do get Frodo, Sam, and Gollum underneath escaping its path. We do even have two miniature orcs included that are highly detailed and ready for your collection. This is a great statue for any Lord of the Rings fans and easily is a must own.
The Lord of the Rings Fell Beast and Nazgûl 1/28 Scale Statue and Diorama from Iron Studios will be priced at $1000. He has sat for a release in the fourth quarter of 20 20 so you deathly have time to save up. With Iron Studios payment plans are available to take advantage of those if need be. Don't forget to checkouts on the other amazing statues coming soon from our studios like some of the event exclusive statues such as Captain America and Doomsday.
"Come not between the Nazgûl and his prey! Or he will not slay thee in thy turn. He will bear thee away to the houses of lamentation, beyond all darkness, where thy flesh shall be devoured, and thy shriveled mind be left naked to the Lidless Eye."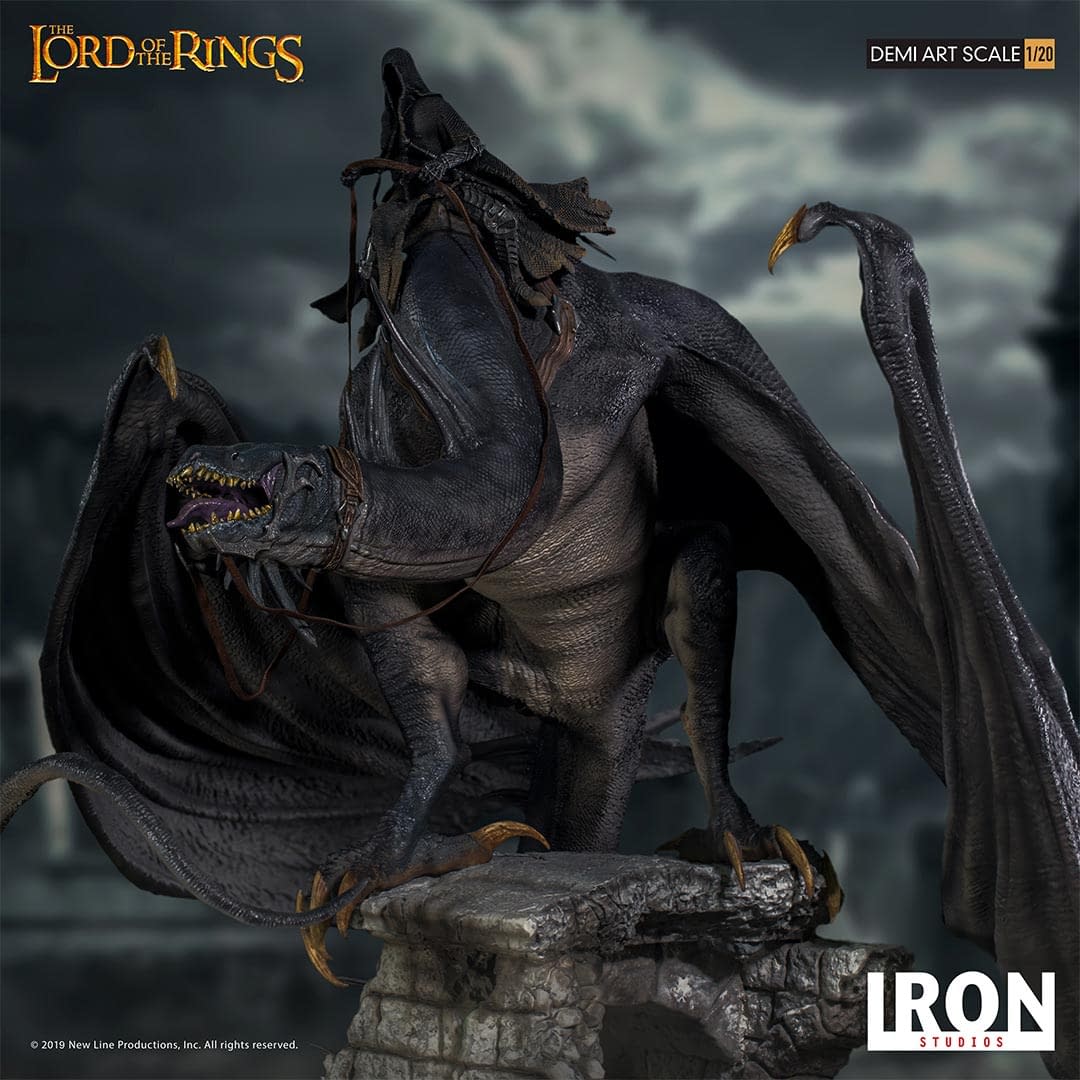 Lord of the Rings – Fell Beast Demi Art 1/20 Scale Statue
DESCRIPTION
License: Lord of the Rings
Scale: Demi Art Scale 1/20
Features:
– Limited edition
– Based on original movie references
– Made in polystone
– Hand painted
Product dimensions: 27.5 in (H) x 19.6 in (W) x 24 in (L)
Product Weight: 35.2 lbs
Release schedule: Fourth quarter of 2020
*This item will be shipped from our warehouse in Los Angeles – California