Luke Skywalker Gets a SDCC Exclusive Bust from Gentle Giant
Star Wars hero Luke Skywalker is getting a new bust exclusive to SDCC from Gentle Giant. The bust will cost $120 and can either be preordered by their Premier Guild members now or purchased at their booth on the con floor itself. The Jedi Luke from Return of the Jedi will feature a LED lightsaber for only the second time in Gentle Giant history. It is in the 1/6 scale and is hand-painted and numbered. You can check out details and pics of the bust down below, and preorder right here if you can!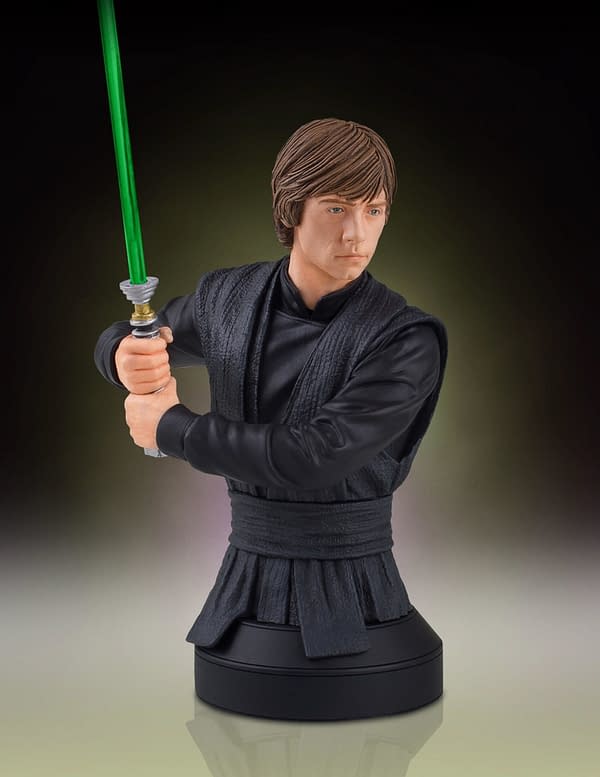 With Han Solo frozen in carbonite and held in Jabba the Hutt's palace on Tatooine, Luke Skywalker led a mission to rescue his old friend. Now a powerful Jedi Knight, Luke tried to bargain for Han's life but the crime lord refused. The team of rebels had to invoke plan-B!

For this brand new Comic Con exclusive mini bust, the artists at Gentle Giant LTD have captured the surprise, dramatic moment in Star Wars: The Return of the Jedi where new Jedi Luke Skywalker ignites his new hand-crafted GREEN bladed lightsaber for the very first time in the original trilogy! Luke Skywalker stands ready to take on the darkest denizens of the Tattooine criminal underworld and get all of his friends off his home planet for good!

You can also ignite Luke Skywalker's green lightsaber! For the second time in Gentle Giant history we have included a switch activated light-up Lightsaber in one of our mini busts! To celebrate the 35th anniversary of Star Wars: The Return of the Jedi this dynamic, new 1:6 scale Luke Skywalker (Jedi Knight) mini bust was designed, modeled and prototyped using top of the line 3D technology. Each collectible mini bust is hand-cast, hand-painted and hand-numbered with a limited edition Certificate of Authenticity.