Let's Take a Look at Hasbro's Marvel Rising Line
Marvel Rising has gotten quite the buzz, and Hasbro is answering the call with a new line of dolls and figures featuring characters from the animated shorts and comics. This is a female-centered line, and the different offerings reflect that. The line reminds one of the DC Superhero Girls line from Mattel, but with noticeable differences in both the types of products offered even in the quality of the figures and dolls themselves. This is a fun, inclusive line of toys for all-ages and all genders, and should be a huge hit with fans. These can be found exclusively in Target stores (at least for now) and on the Hasbro Toy Shop, and Hasbro was kind enough to send over a bunch of the line for us to show you. Let's dive in!
There are two different types of Marvel Rising figures: the more basic, familiar dolls and deluxe, articulated figure-like dolls with an extra outfit and accessories. Most of the heroes have one of each, with Kamala Khan (Ms. Marvel), Daisy Johnson (Quake), and America Chavez all getting multiple dolls. Gwen Stacy (Ghost Spider, these days at least), Patriot, and Squirrel Girl are only available in the deluxe versions. Inferno is only available as a basic.
The packaging is basically the same for each line. Both have giant, clear window box packaging so each hero is shown off, with awesome bright, eye-catching key art and colors adorning the box itself. They did a phenomenal job both for MOC collectors and loose collectors here, these would look awesome just popped onto a shelf forever.
We open our toys in my house, so the first Marvel Rising figures we opened were the basics. These four are in workout-style outfit, more casual than their respective superhero costumes. All four are wonderfully made. The clothing is thick and of high quality, the hair on the female heroes does not frizz as easily as other dolls, and they feature great sculpting work. Each heroes outfit invokes their hero identity, making sure the little ones can tell who they are. My six year old daughter knew them all right away, even a lesser known character like Inferno.
She really enjoys the deluxe figures however. These feature articulation for more posing possibilities, multiple accessories, extra outfits, and are just overall better than the basics in every way. They just absolutely nailed the looks for these heroes. Ms. Marvel looks perfect, and America Chavez has become a quick favorite here. She just looks strong and heroic. When we first took her out of the package, my daughter remarked that she looked "like the strongest girl ever" and we have had a blast running around with her and the others. My favorite of these is Gwen Stacy. The rock outfit is just super cool looking, and changing these in and out of their extra costume is very easy.
The fan-favorite will be Squirrel Girl however. With her long hair and big bushy tail make her look totally unique and she even comes with Tippy-Toe!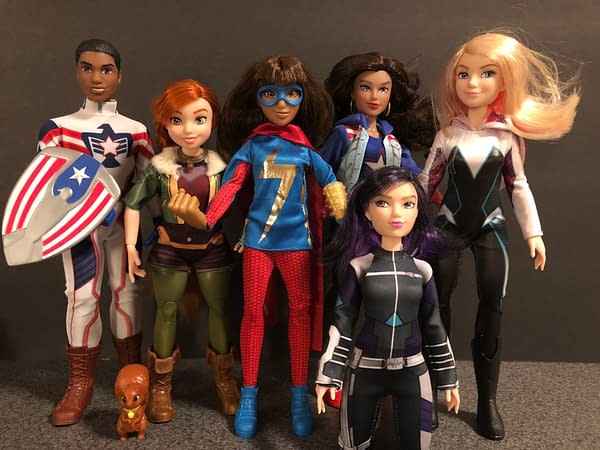 I can't recommend these enough. This is such a fun line full of great and diverse characters, featuring tons of playability, and carry a overall positive vibe. Marvel Rising is a cool introductory point for people of all ages to get into these heroes and their stories, and this line Hasbro has created is the perfect companion to that.
If you want to pick up some of these for yourself or anyone else, click here!