Super7 Masters of the Universe Ultimate Club Grayskull Figures Up For Order Today
Masters of the Universe collectors have another shot at He-Man and Skeletor. Super7 is re-releasing their mega-popular Ultimates Club Grayskull He-Man and Skeletor figures that have been sold out since 2016. I missed them then, and I am very excited to have another shot at these without paying the huge aftermarket price they command. In addition, these re-releases will feature all new accessories. He-Man comes with three additional interchangeable heads, the Power Sword, concept battle axe, and shield. Skeletor comes with his Havoc Staff, sword, axe, and the Diamond Ray of Disappearance. He also has a laughing Skeletor head. Some may complain about them re-releasing figures, but I think it is a great idea. Isn't that what killed the Mattel line way back in the day anyway, not having He-Man and Skeletor out there?
Both of these figure go up for order today and will stay on order until November 15th, giving us all ample time to get an order in. You can check out more details and pics below, and place an order here.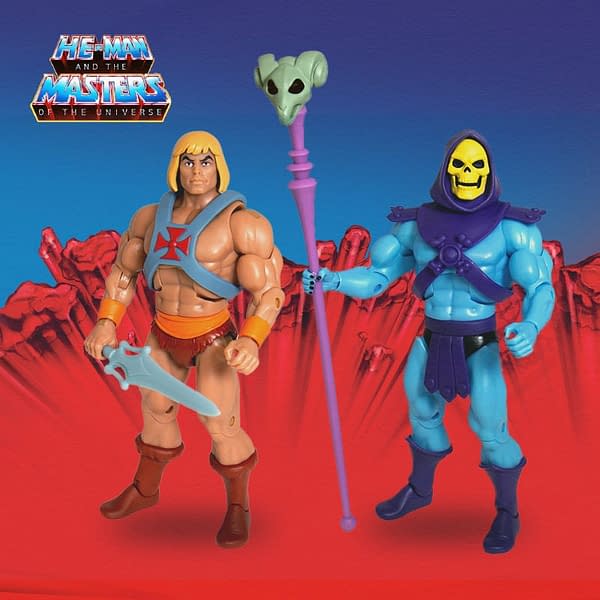 The Super7 Masters of the Universe collection continues with the Ultimates Club Grayskull He-Man and Skeletor! At last, the iconic hero and villain of the classic animated series He-Man and the Masters of the Universe return, now with all new accessories!
Mighty He-Man, the Most Powerful Man in the Universe, is packaged with Power Sword, Concept Art Battle Axe and Shield accessories, as well as three additional heads! Choose your own adventure by swapping between the heads of standard He-Man, Laughing He-Man, Robot He-Man, and Faker with glowing eyes.
Evil Skeletor, Lord of Destruction, is packaged with Havoc Staff, Skeletor Sword, Skeletor Axe, and the Diamond Ray of Disappearance accessories. You can also re-enact Skeletor's mocking laughter with the additional Laughing Skeletor Head!
The Masters of the Universe Ultimates Club Grayskull He-Man and Skeletor will be available for pre-order individually beginning next Monday, October 22nd 12noon PST through November 15th, 2018. $35 each plus shipping.