Mondo has four new Scrooge McDuck tiki mugs available to order right now. All four glazeways are limited: brown to 500 pieces, green 400 pieces, orange is the most common at 1200 pieces, and finally the gold at 350 pieces, the rarest. All four are ceramic and hold 24 oz. of liquid. Lots of people are also using these as a planter for small plants and such if that's what you are into. I usually just display mine. You can see all four Scrooge McDuck tiki mugs from Mondo down below.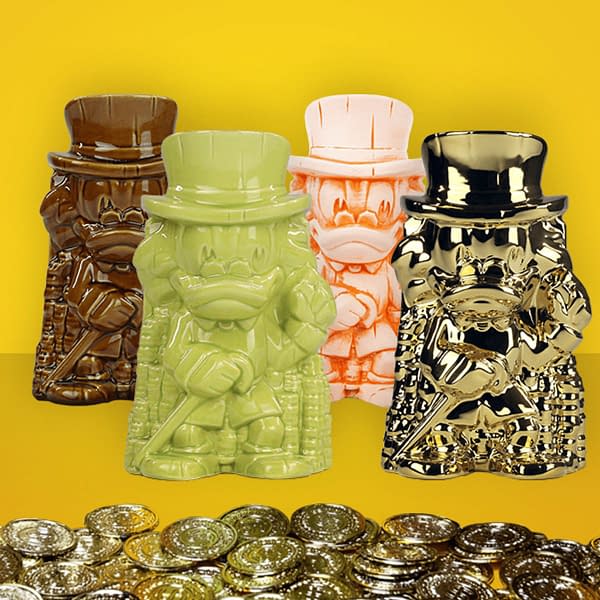 Mondo Scrooge McDuck Tiki Mugs Are All Awesome
"As the DuckTales theme reminds us, life is like a hurricane… and speaking of Hurricanes, with our new line of four Scrooge McDuck Tiki Mugs, you've got the perfect receptacle for your tastiest top-shelf concoctions. Bring the old rascal home in four shades – the Regular in a duckbill orange wash, the Cash Variant in greedy green, the Alamo Variant in billfold brown, and Uncle Scrooge's favorite, the shiny Gold Variant.
The design by Tom "Thor" Thordarson features Uncle Scrooge admiring his #1 Dime, but there's also a Money Bin on the back, with a sneaky Beagle Boy trying to get it. Sculpted by Tufan Sezer and produced with help from the ducklings at Tiki Farm, each mug holds 24oz of your most valuable liquid libation and is perfect for hot days relaxing next to your own gold coin pool. And you don't have to wait long. All four Tiki Mugs are available now in our Official Disney Collection, where you'll also find four fantastical Sorcerer Mickey Tiki Mugs still available."
Mondo and Disney just go so well together. They are producing some of the best Disney collectibles out there right now, from these Scrooge McDuck mugs to awesome enamel pins and their limited run posters. Everything a Disney fan and collector could want. You can order these by clicking here.
Enjoyed this article? Share it!