Mr.T Is This Years WWE Mattel SDCC Exclusive Figure
This years SDCC was canceled, but that doesn't mean that the exclusives go away. Revealed by Mattel this morning, their exclusive for the now Comic-Con at Home is a WWE Elite figure of Mr. T. He has a long history with wrestling, famously teaming up with Hulk Hogan to take on Roddy Piper and Paul Orndorff in the main event of the first WrestleMania. He made numerous appearances for the WWE, and is a member of their Hall of Fame. Now, Mr. T joins the Elite line of figures, figures with multiple points of articulation, enhanced deco and accessories, and because this is an exclusive, premium packaging.
Mr. T WWE Elite Exclusive
The packaging comes with a slipcase with the Elite logo and his signature gold chains. Once removed from there, the figure is housed in a box that mimics the old WWE Coliseum Video releases. The box opens to reveal the figure in a giant window box as well. So, MOC collectors can display Mr. T in all his glory forever in this box. Kinda like last years Slim Jim Macho Man.
Out of the box, Mr.T comes with a camo jacket, belt, and of course his gold chains, which are all removable. The gear he is wearing is a little strange, as he didn't wear blue tights at Mania, they were red. He wore blue while cornering Hogan on Saturday Night's Main Event. But, the knee pads and everything are Mania accurate. That tells me he will get a general release as well at some point. Mr. T's tradmark mohawk also couldn't look better.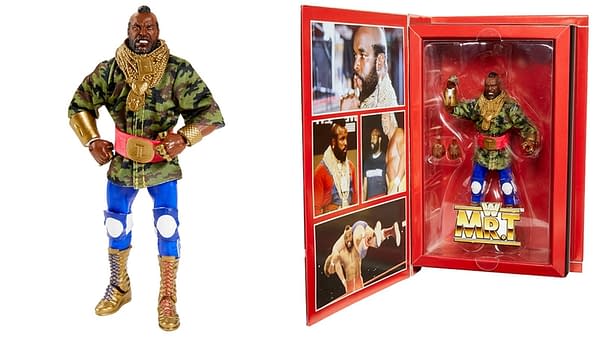 This figure is on sale today at Entertainment Earth on preorder for $30. While not everyone's cup of joe, Mr. T has played an important role in wrestling history and should be a welcome addition to anyone's wrestling collection.