My Hero Academia is a fascinating anime television show it is a perfect fusion of Japanese culture with the idea of American superheroes and it has just blown my mind. The characters are completely dynamic and I am in love with every single one of them. I like how you could have a television show where it be just an episode about each of the character's dorm rooms and they still make it entertaining. And nothing says entertainment like a new My Hero Academia statue and this time it is Himiko Toga. This beautiful deadly assassin is out for blood in the most adorable way possible. The character is posed in an action pose with a knife in hand and she is in her schoolgirl outfit. The word SHUK is emphasized on the base of the statue because that's the noise a knife makes I guess? The design of this statue is quite dynamic and unique as it nearly pulls the character right off the manga/television. This is a must-have a statue for any fans of the League of Villains from My Hero Academia.
The My Hero Academia Himiko Toga 1/8th Scale Figure from Bellfine is priced at roughly $178. She is set to ship out January 2020, and pre-orders are already live and you can't find her located here. Don't forget to check out all the other My Hero Academia statues already available from a Bellfine and others possibly coming to us in the future.
"Looks like we both want to learn about each other, huh? So now… Your turn. Why are you hoping to become a hero? Honor? Pride? For someone else's sake? I want to know… all about you."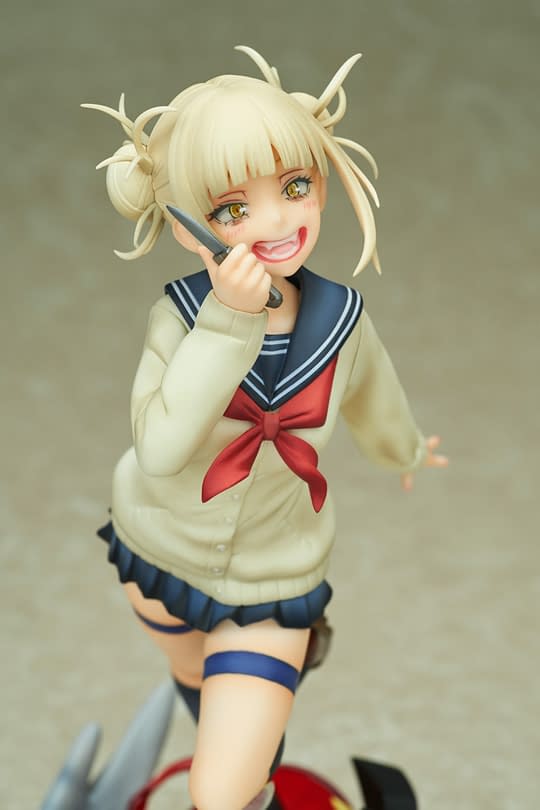 My Hero Academia Himiko Toga 1/8 Scale Figure by BELLFINE CO. LTD
Box Contents
Himiko Toga figure
Collar
Belt
Enjoyed this article? Share it!