Earlier this year we were teased with some new and upcoming statues from My Hero Academia. These are from Good Smile Company's newest statue series the Pop Up Parade. These statues are highly detailed pieces that are made to be super affordable and have a fast release schedule. This time Ochaco is getting her debut in her U.A. High School uniform. She will stand between 6.5 and 7 inches tall and is on a display stand. This giddy collectible shows off Ochaco is a way we don't really see her and it is quite refreshing. From the craftsmanship to her colors, this Ochaco statue will be a perfect addition to any dedicated fans collection.
The Pop Up Parade series is a great way to give collectors some amazing statues for cheap. This gives high quality collectibles to anyone out there without sacrificing quality. For My Hero Academia, we usually only see these characters in their hero costumes. It is very refreshing to see such a different use of these characters. We have already seen Deku and Bakugo get statues and Ochaco is the perfect next step. The My Hero Academia School Ochaco Pop Up Parade Statue from Good Smile Company will be priced at roughly $36. She is expected to come out in October 2020 and you can find pre-orders for here live and located here. Don't forget to check out some of the other amazing collectibles from My Hero Academia on the Good Smile Shop.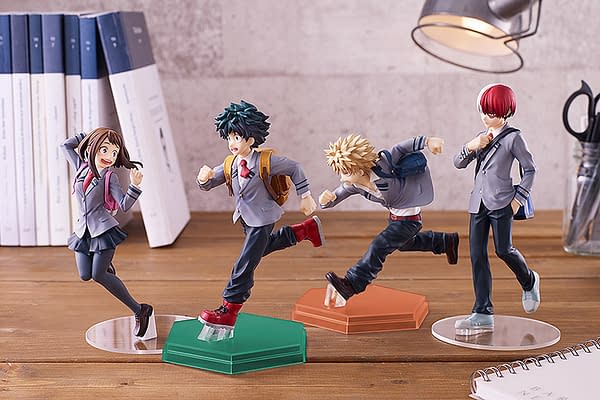 "On the way to U.A. High School! POP UP PARADE is a new series of figures that are easy to collect with affordable prices and releases planned just four months after preorders begin! Each figure stands around 17-18cm in height and the series features a vast selection of characters from popular anime and game series, with many more to be added soon!"
"The next figure to join the POP UP PARADE series is Ochaco Uraraka dressed in her U.A. High School uniform. Ochaco has been created in a dynamic pose with an adorable smile on her face. Be sure to display with the POP UP PARADE figures of Izuku Midoriya, Katsuki Bakugo, and Shoto Todoroki!"
Enjoyed this article? Share it!