NECA Shares Pics of 1/4 Scale TMNT Foot Soldier Figure
NECA has shown off a bunch of new pics of their upcoming 1/4 scale Foot Soldier from the 1990 TMNT film. This will match the four already released turtles figures, along with the also teased Shredder that will be coming soon as well. The Foot Soldier will come with three sets of hands, a baton, a sai, a sword, and an axe. It looks stunningly accurate. There is no word yet on if these will also eventually be released in the smaller scale like the turtles themselves were as an exclusive. For now, 1/4 scale collectors can look forward to building out their TMNT displays further.
This will be released late winter/early spring, so not that far off. Check out all of the pics and some details below.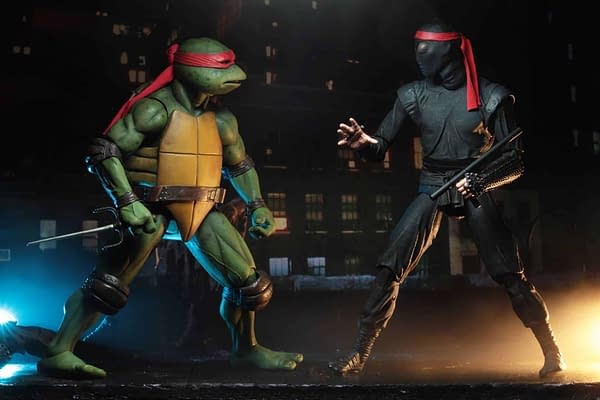 From the 1990 Teenage Mutant Ninja Turtles movie! The faceless soldiers of the Foot Clan exist to carry out the bidding of their mysterious leader, The Shredder… and while they lack the skills to face the Turtles one-on-one, in great numbers they are a force to be reckoned with.
The Foot Clan Soldier stands 18" tall and features over 30 points of articulation, including double knee and elbow joints. The figure is highly detailed and entirely accurate to the movie, and comes with an arsenal of ninja weapon accessories.