Optimus Prime Is Back From the Dead With Exclusive Figure From Hasbro
Transformers: The Movie was a big deal for fans back in the day. The film showed off the death of the Autobots leader, Optimus Prime. As his spark slowly faded tears were shed and some people even left the theaters. Hasbro is bringing this Alternate Universe Optimus Prime back from the dead with a new Amazon exclusive figure. The packaging will feature Transformers: The Movie inspired design with the broken front of Optimus chest. Hasbro is using a special "sparkless" grayscale deco for this figure to reference the color leaving his body. Optimus Prime's chest will open and will have a colorful Matrix of Leadership inside so collectors can recreate the iconic scene as well. Optimus will also transform into his iconic semi-truck vehicle mode in 35 steps. This is one figure that fans new and old will want to get their hands on before its too late.
Hasbro did state that this Alternate Universe Optimus Prime will be playing. Role in the future. This could be a figure that fans might want to get just in case someone big with the Prime is just around the corner. The Transformers War for Cybertron: Earthrise Alternate Universe Optimus Prime Amazon Exclusive figure will be priced at $49.99. Optimus is set to live again July 15th and pre-orders are live and you can find them located here. Don't forget to check out some of the other recently revealed Transformers figures coming soon like the new Transformers R.E.D. series, new Generations Selects, and the Weapon Pack with Centurion Drone.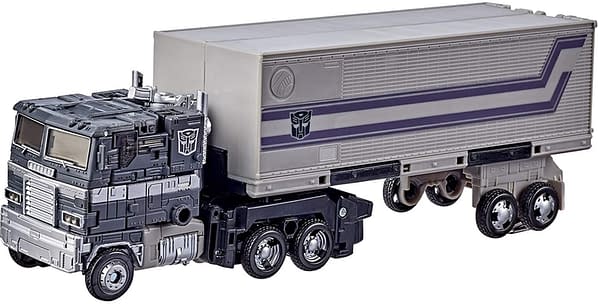 "Transformers Toys Generations War for Cybertron: Earthrise Leader Alternate Universe Optimus Prime Action Figure (Amazon Exclusive)"
INSPIRED BY THE 1986 FILM: Pack comes with an Optimus Prime figure inspired by the 1986 film Transformers: The Movie
GRAYSCALE SPARKLESS DECO: Figure features grayscale deco inspired by the appearance of Optimus Prime in the 1986 film when his death causes all his color to drain
INCLUDES IN-COLOR MATRIX OF LEADERSHIP: Figure comes with a non-grayscale Matrix of Leadership that fits inside his chest so fans can imagine Optimus Prime removing the still vibrant Matrix of Leadership from his chest and passing it on
CLASSIC CONVERSION: Optimus's figure converts between robot and truck mode in 35 steps. Imagine laying the legendary leader to rest in the converted truck trailer