Sideshow has just unveiled their newest Legendary Scale figure, and it's from the Star Wars line. Want this you will, says Yoda. Now they're not specific if this is a 1/3 scale or 1/2 figure, nor really any of the other details… but they give us a glimpse and a place to sign up for more information when it comes available. This is part of their 12 Days event they do each year. You'd think with a character as small as Yoda, they'd just go ahead and make him a 1/1 scale figure.
Do or do not, there is no try… The latest announcement in our "12 Days" event introduces a must-have Star Wars collectible for fans of the classic trilogy! Check out this first look at Sideshow's new Yoda – in Legendary Scale™! Our Legendary Scale™ presentation depicts fan-favorite characters in 1/3 to 1/2 life size, making them an eye-catching centerpiece in even the most extensive collection. Combining intricate sculpted details with meticulously crafted and weathered fabric elements, this new Yoda Legendary Scale™ Figure looks like he stepped out of the screen and into your home! Hit RSVP to keep up to date on all the latest news and images as they are released.
You can check out the new Legendary Scale Yoda right here.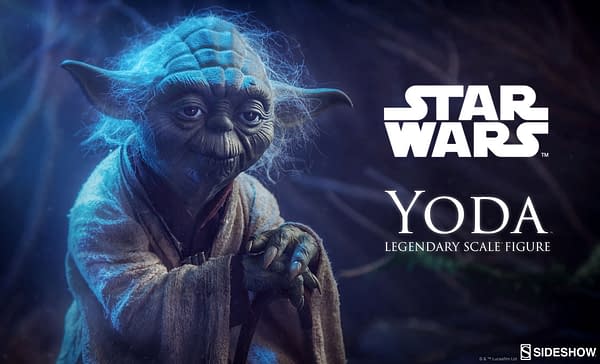 Enjoyed this article? Share it!