Rare Star Wars ESB Birthday Card Art On Auction At Heritage Right Now
Star Wars collectors go pretty gaga for production pieces, especially artwork. While for other properties that may mean stuff from the actual film or television productions, for Star Wars that can mean Dixie Cups, letterheads, and even Birthday Card art. Up for auction right now on Heritage Auctions is such a piece, and the auction ends on July 11th. This is original production art from a birthday card from Drawing Board Greeting Cards in 1980, from Empire Strikes Back, by artist Mary Grace. It measures 12.5" x 4.5" and features really awesome watercolor versions of the main characters from the film. You can see it below.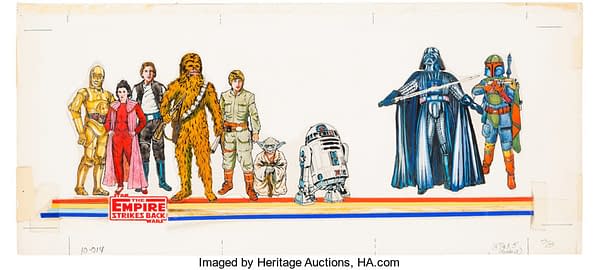 Star Wars Production Art Auction Details
"Star Wars: The Empire Strikes Back Birthday Card Production Art (Drawing Board Greeting Cards, 1980). If you were a pre-teen in the early '80s, chances are you had a Star Wars-themed birthday party, and C-3PO, Princess Leia, Han Solo, Luke Skywalker, Yoda, R2-D2, Darth Vader, and Boba Fett all made appearances via this brightly rendered advertisement art, drawn by Mary Grace. Also included is a vintage birthday party invitation from the set. On illustration board with an image area of 12.5" x 4.5". There is faint toning, adhesive residue on the top edge, the characters are photostat paste-ups that are watercolored, the strips on bottom are missing the light blue stripe, stripes are taped on the sides, there is paper tape on the sides, wear to corners, and pinholes at the top corners. In Very Good condition."
The auction for this awesome Star Wars item will end in 11 days, so you have some time to decide on this one. It currently sits on Heritage Auctions at $210, not bad at all for production artwork like this. I know of a similar piece in a private collection that she paid much more than that, so maybe jump in while this one is lower. You can click here to check out this; the auction ends on July 11th and many other auctions in this block.

Affiliates of Bleeding Cool buy from and/or consign to Heritage Auctions.