NECA TMNT SDCC Exclusive: Coming Out Of Our Shells Set
NECA has revealed their TMNT exclusive set for this year, and for fans, this is a doozy. The last couple years have seen the company do sets debuting their 1990 movie figures, which have been a collectors dream. This year, we are getting a four pack of the Turtles from their Coming Our Of Our Shells musical tour. Not sure what that is/was? Then you had a terrible childhood. The tour saw the TMNT tear it up on stage for their adoring fans, including this writer who was in the four row, terrified because I had no concept of what the people in the suits would actually look like in person.
Anyway, NECA being NECA, they are bringing the Turtles out of their shells and into out collections with an amazing looking box set. All four Turtles come with their instruments and are wearing all of the gear they had on that tour from the 90's. Brand new headsculpts match the terrible costumes they wore onstage, and features multiple points of articulation. It all comes housed in a VHS style outer box that on the back has a Raph face cutout. Once you slip the set out, the TMNT are posed in the box and the inside is a stage diorama. I mean, how perfect is this?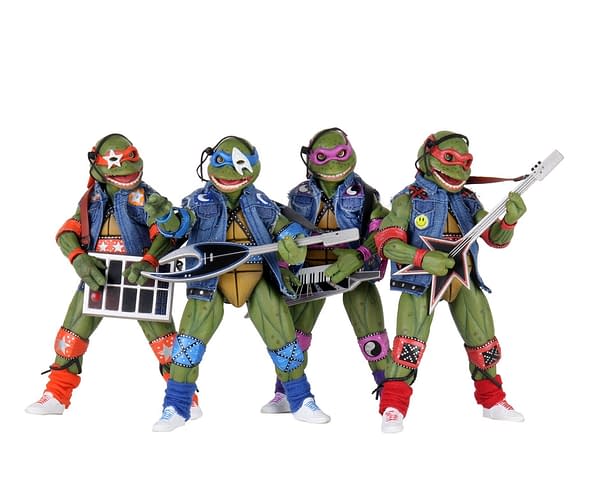 Teenage Mutant Ninja Turtles (1990 Movie) – 7" Scale Action Figure – TMNT Musical Mutagen Tour 4 Pack (SDCC 2020)
"Own a part of turtles history with the TMNT Musical Mutagen Tour 4 Pack!
This one of a kind box set will take you back to 1990 at the pinnacle of the turtles fandom where Leo, Donnie, Raph, and Mikey traded in their martial arts weapons for instruments and became rock stars. All 4 turtles are dressed in real fabric, band themed apparel and come with a slew of new accessories including a saxophone, keyboard, guitar, and a one string bass! Also included are mask accessories, a pizza, and 4 sets of interchangeable hands."
Look at that stage setup. My god is this perfect, and a perfect exclusive as well. Not everyone is going to want this, and that is fine. What is great about NECA is that they understand that, so they went ahead and made this years TMNT set one that diehards will drool over, and more casual collectors may be able to pass up. NECA made it because they think it is cool, and that's what should happen. Hopefully that means it will be a tad easier to get…
This set is going to be obtainable (hopefully) in a couple different ways. In the US, it will be available in stores on July 23rd, along with a TMNT accessory pack full of goodies to wear like a tour t-shirt and guitar picks and such for $24.99. The TMNT Musical Mutagen Tour set retails for $124.99. Both will also be available on Target.com the same day. For international customers, it will be available on the The NECA Store.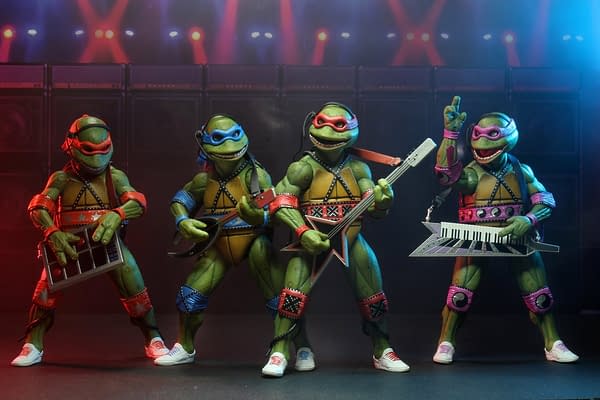 Hopefully this will be easy to obtain. NECA has a spotty record with this lately, as TMNT fans have been fervently trying to fend off scalpers and resellers to get their hands on these amazing figures they are putting out. Hopefully the sets are plentiful and we can all rock out with the Turtles later this month.