Two-Face Tests His Luck With New Mezco Toys One:12 Figure
Gotham is about to get a wake up call as a new threat is ready to terrorize the city. Mezco Toyz has just announced that the notorious gangster Two-Face is getting his first toy appearance with the company. Unlike the previous Two-Face figures, this one features real world scares on his burnt face. I already see some fans are split between the look he is given in this figure. I am digging his fabric suit and all the accessories he comes with. two-Face will come with a nice set of coin flip effects, guns, knives, and bullet effects. The iconic DC Comics villain even has 3 interchangeable heads, one of which is his unburnt face. On top of that, the gangster will come with 13 swappable hands that will allow a wide variety of poses. This is a figure I am very excited about and can't wait to get my hands on it.
The DC Comics Two-Face One:12 Collective Figure is priced at $95. He is expected to reign some terror in Gotham between September – November 2020. Pre-orders are already live and you can find them located here.
"The night is darkest just before the dawn. And I promise you…the dawn is coming."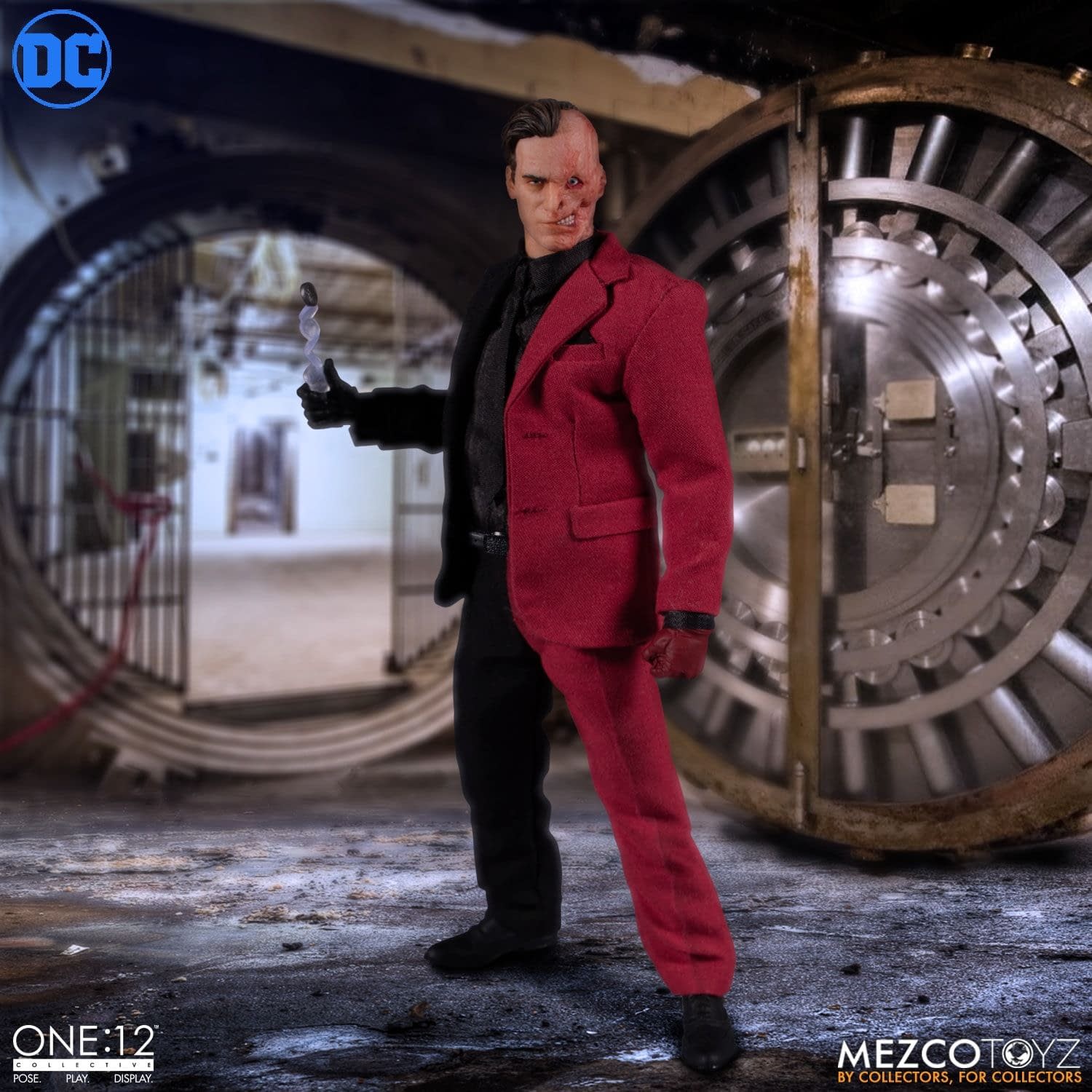 DC Comics – Two-Face One:12 Collective Figure
The One:12 Collective presents Two-Face, the alter ego and criminal mastermind persona of Gotham City's fallen District Attorney, Harvey Dent. Two-Face wears a tailored two-toned suit and comes with three head portraits, including two chemically disfigured portraits capturing his disturbing and enraged visage. His dual identity can be concealed with an included roll of gauze.
A master marksman, Two-Face is well-equipped to take on masked vigilantes, law enforcement officers, or rival criminals that get in his way. He wields an impressive arsenal consisting of an encased explosive device with light up feature, missile launcher, sub-machine gun, hand gun, and switchblade. Two-Face is never without his lucky coin which is affixed to multiple interchangeable hands.
After an incident with acidic chemicals left him hideously scarred and mentally unstable, Harvey Dent believed right and wrong no longer mattered and everything was ruled by chance. With a marred face and damaged psyche, Harvey Dent becomes "Two-Face", making decisions of good or evil based on the flip of his lucky double-headed coin. Having nothing to lose, Harvey "Two-Face" Dent is an extremely dangerous threat to all of Gotham City.
THE ONE:12 COLLECTIVE TWO-FACE FIGURE FEATURES:
One:12 Collective body with over 28 points of articulation
Three (3) head portraits
Hand painted authentic detailing
Approximately 18cm tall
Thirteen (13) interchangeable hands

One (1) pair of fists (L & R)
One (1) pair of posing hands (L & R)
One (1) pair of coin rolling hands (L & R)
One (1) pair of coin flipping hands (L & R)
One (1) coin flipping FX holding hand (R)
One (1) pair of handgun holding hands (L & R)
One (1) submachine gun support hand (L)
One (1) coin flip outcome hand (L)
COSTUME:
Tailored two-toned suit
Tie
Belt
Dress shoes
ACCESSORIES:
One (1) encased radioactive bomb with light-up function
One (1) roll of gauze
One (1) missile launcher
One (1) missile with smoke trail FX
One (1) sub-machine gun with two (2) removable magazines
One (1) handgun with two (2) removable magazines
One (1) gun blast FX
Three (3) gun firing FX
Four (4) switchblades
Four (4) lucky coins
Four (4) lucky coins flipping FX
One (1) One:12 Collective display base with logo
One (1) One:12 Collective adjustable display post
Each One:12 Collective Two-Face figure is packaged in a collector friendly box, designed with collectors in mind.