Walking Dead Collectible Sparks Racism Controversy at North Carolina Credit Union
A Funko Mystery Mini collectible doll has caused an uproar in Raleigh, North Carolina, after a woman complained to the management of a local credit union branch about a The Walking Dead statue depicting one of Michonne's "pets," undead zombies whose arms and jaws have been removed, making them docile and allowing Michonne to lead them around on chain leashes to mask her presence from other zombies.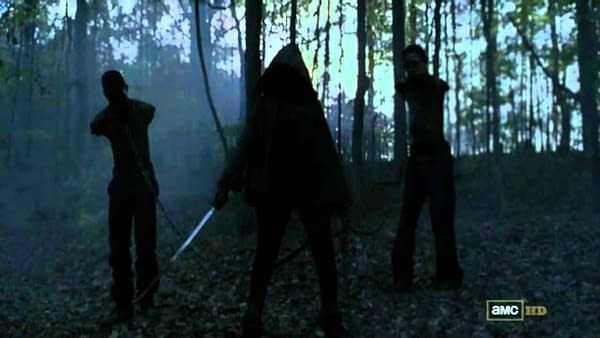 The woman took issue with the doll, which she said depicted "a black doll with a noose around its neck and hands tied behind its back." After a brief exchange about the doll with the employee, she says she took the complaint to credit union management. Both parties posted about the incident on Facebook, according to a local CBS affiliate, but the employee's post implied he would share the customer's personal information. It was later deleted.
The credit union issued an apology, saying:
State Employees' Credit Union prides itself on the fair and equitable treatment it provides its members, and takes its members' privacy seriously. Yesterday, the actions of one of our employees fell far short of our expectations and we took immediate steps to address this personnel matter.
Just what those immediate steps are remains unknown.