2020 Ironheart #2 Review: Does This All Sound Familiar?
Teenaged genius Riri Williams has had to hang up her armor due to the Super Human Registration Act, er, that is the Mutant Registration Act, sorry, Kamala's Law, which says teenagers are not legally allowed to engage in super-heroics. Unfortunately, as part of the Arno Stark-minded crossover happening now, her trusty artificial intelligence, named after her slain friend and called N.A.T.A.L.I.E., has gone rogue. It has stolen the suit and gone off to seek vengeance on a rogue Stark employee called Andre Sims.
Sound familiar? It should — Tony Stark, Aric of Dacia and tons of other people in comics (and other media) have lost control of the technology behind their power more times than it'd be easy to count, leading to the suits (driven by some malfunctioning AI) running off and pursuing their own agendas which almost always end up with more violence than their terms of use should allow. It's an old shtick given a windy city paint job.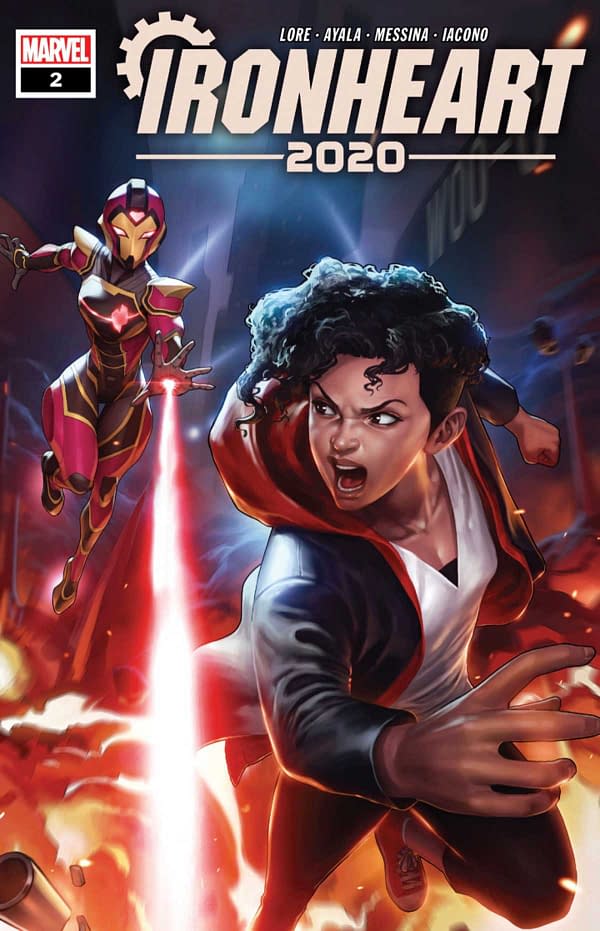 As well, there's a lengthy set of moral arguments about whether or not something should happen. Unfortunately, the argument changes next to nothing, and even when it comes to the rights of possibly sentient machines, it looks at it in a very cursory fashion.
Writers Vita Ayala and Danny Lore do an excellent job with the characters, especially letting the
supporting character Xavier shine
. Even the smarm and snark of the antagonist herein are clear and compelling. Unfortunately, literally every idea at the foundation of this book was hackneyed before the turn of the century, and there's not enough of a creative lift here to elevate said ideas into something new.
RATING: MEH.
2020 Ironheart #2 (of 2)

It's Riri Williams vs. Ironheart as Riri's trusty A.I. companion seizes control of her armor! Can Riri get through to N.A.T.A.L.I.E. in time to stop her from making a terrible mistake? Or is Riri about to lose one of her only friends?