31 Thoughts About 31 Comics – The Walking Dead, Death Of Wolverine, MPH, Batman Eternal, Ms Marvel, Caliban, Constantine, Death Vigil, Velvet, Copperhead, Regular Show, Amazing Spider-Man, Spread, Edge Of Spider-Verse,Thomas Alsop, Rot & Ruin, Suicide Risk, Avengers, Inhuman, Hawkeye, Magneto, Black Market, My Little Pony, Cyanide And Happiness, GI Joe, Hexed, Judge Dredd, Transformers, Teen Dog, TMNT and Wilds End Today is a day for shagging and smoking. Or smoking and shagging. According to Constantine: Futures End…
And Velvet…. still, there's more to life in this week's comics. And anyway, some prefer DIY… Caliban #6 knows its value, even if it's a little shy.
The Regular Show original graphic novel, teaches the kids the value of avan onanism. Meanwhile, MPH sees our protagonists turn Robin Hood.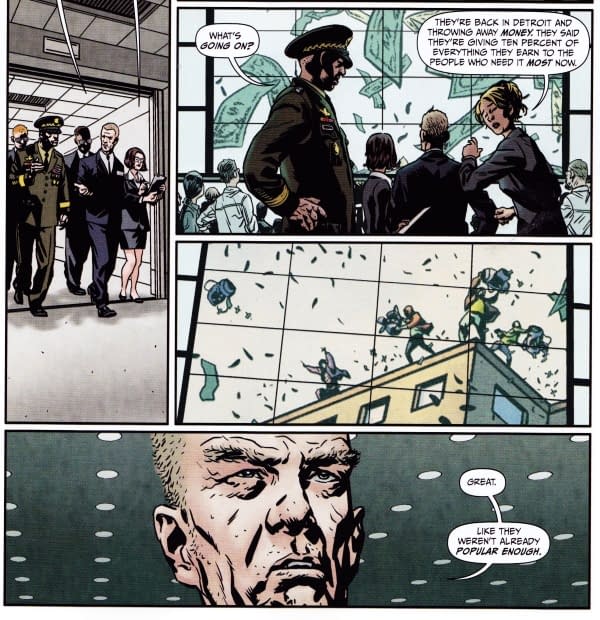 If only for the PR angle. The Death Of Wolverine gives us a look at what it is to be Tony Stark. As well as a look at the script that formed it.

As for bossy ladies, there's quite a lot of that going around. In The Walking Dead…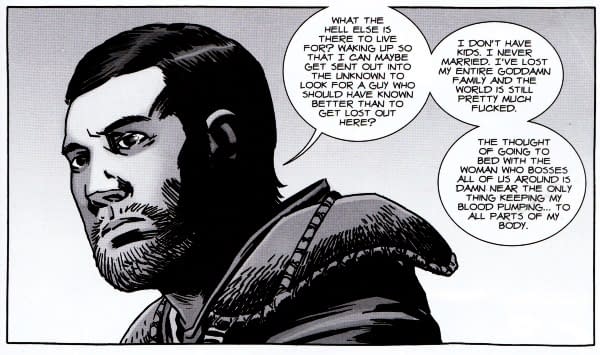 In the launch of Copperhead…
While over in Amazing Spider-Man, Black Cat steps up as a criminal overlord… Plays a similar role in Edge Of Spider-Verse: Spider-Man Noir… And Catwoman does the same in Batman Eternal. Swipe file?
Thomas Alsop #4 meets someone who also knows what she wants…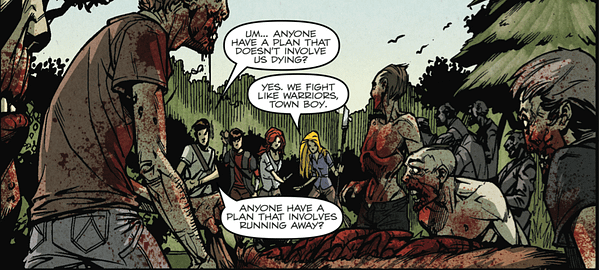 While Rot & Ruin #1 celebrates the brave female – and the cowardly male. I know whose side I am on… While Suicide Risk #17 takes the brave choice to stand up and say that going crazy and killing people might not be the ideal eventuality… Avengers #34.1 gives us a "special" episode of the Marvel Universe, as Hyperion gives us a philosophical run through what it means to be a superhero, but could be extracted to any vocational establishment role. You'll like this one…

The airport security in The Spread #3 is pretty severe. But you can keep your shoes and belts on. As you will with the new Ms Marvel, going on adventures with Lockjaw and creating the greatest comics team-up since Groot and Rocket. While fellow Inhuman title, gives us an indication into the spread of Inhumans across the world, and a wider knowledge base of certain Inhuman descendants than had previously been seen… Hawkeye nears its end with a Kate Bishop issue – and a new catchphrase that will be a T-shirt before I finish this article.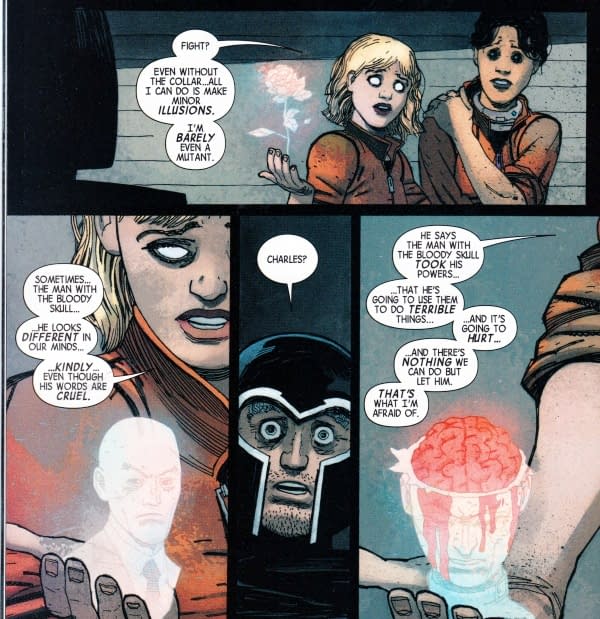 When reading this issue of Magneto, bear in mind this mutant and her seemingly useless power. I get the feeling it will come in very useful indeed… Black Market #3 seems to have its own take on the Red Skull's recent actions. Death Vigil #3 says what we've all been thinking. My Little Pony: Friends Forever #9 has an Apple Con – and the same kind f line for an apple peeler as there were for Infinity Gauntlets at San Diego this year. But everyone is so polite… With the swelteringness of New York Comic Con in its way, Cyanide And Happiness teaches us one way we could bring peace and happiness to convention etiquette… G.I. Joe however teaches some parking etiquette that would be frowned upon, even on the streets of Manhattan.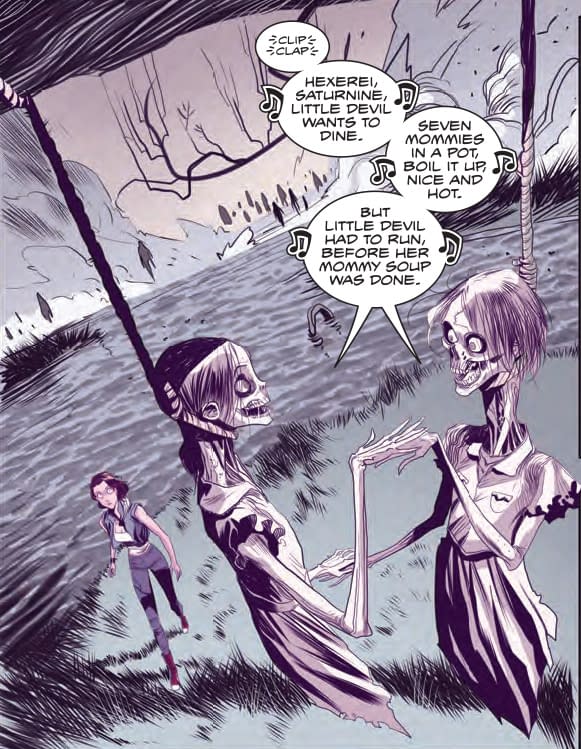 Hexed #2 switches to a recipe book for the matricidal out there. Apparently Mom's place is in the kitchen… and then in the stomach. Judge Dredd: Anderson #2 may present Anderson with a tricky situation, but at least this croc has better breath than Dredd. Seriously, it's all beef jerky and garlic for him after a night out.

Transformers Primacy #2 goes somewhere that Ocean's Eleven never did. But hey, isn't that a George Clooney smile there? Teen Dog #1 seems to be crossing over with Under The Dome. You know, spoilers… Uncanny X-Men introduced me to pizza. TMNT Animated Adventures #15 introduces me pizza dumplings. I am not sure if I'm the better off for this information. And Wilds End #1 sees the animals picking up weapons. Game over folks, game over…
So what comics did you pick up today?
Comics courtesy of Orbital Comics, London. With an exhibition and launch of David Ziggy Greene's original art from Scene & Heard, the acclaimed illustrated reportage as published in Private Eye magazine since 2011.