2000 AD, the famous stomping grounds of the infamous Judge Dredd, continue their anthology sci-fi series this February. Creators such as Ian Edginton, T.C. Eglington, Dave Taylor, Rory McConville, Arthur Wyatt, Patt Mills, Clint Langley, Peter Milligan, and Dan Abnett are working across their flaghsip 2000 AD Prog series and the Judge Dredd Megazine.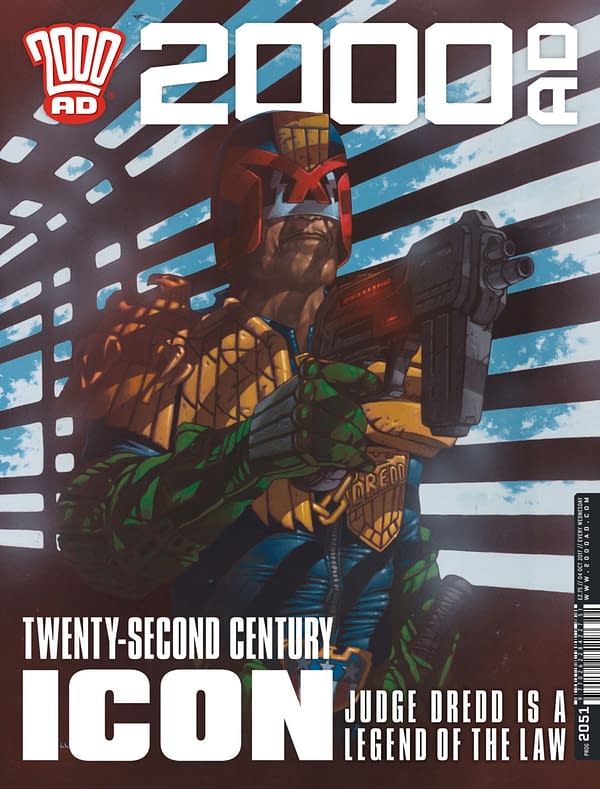 2000 AD PROGS 2067-2070
2067 on sale 7 February 2018
2068 on sale 14 February 2018
2069 on sale 21 February 2018
2070 on sale 28 February 2018
Blazing SF action from the Eisner-nominated UK anthology! Future lawman Judge Dredd battles his way out of a Siberian Gulag, then back in Mega-City One faces a threat from beyond the stars in 'Live Evil' by Ian Edginton and Dave Taylor; the ABC Warriors must regroup and tackle the true enemy in 'Fallout' by Pat Mills and Clint Langley; Bad Company fight the ghosts of Ararat in 'Terrorists' by Peter Milligan and Rufus Dayglo; Wren continues her mission in Brass Sun: 'Engine Summer' by Ian Edginton and INJ Culbard; and Howard Quartz brings out the big guns against Bill Savage in 'The Thousand Year Stare' by Pat Mills and Patrick Goddard!
32pp, weekly, £2.75 ($3.49) JUDGE DREDD MEGAZINE 393
393 on sale 21 February 2018
More action and adventure in the future-shocked world of Judge Dredd! The lawman and Harry Heston are prisoners of some damn dirty apes in 'Krong Island' by Arthur Wyatt and Jake Lynch; supernatural investigator Devlin Waugh takes the final gamble in 'Blood Debt' by Rory McConville and Mike Dowling; war comes to Badrock in Lawless by Dan Abnett and Phil Winslade; Cursed Earth Koburn is marooned in the rad-wastes in 'The Law of the Cursed Earth' by Rory McConville and Carlos Ezquerra; and undead entities are crossing the dimensions in the DREDD movie sequel 'The Dead World' by Arthur Wyatt, Alex De Campi and Henry Flint. Plus the usual interviews and features – and in the bagged graphic novel this month, a desperate mission to save loved ones from the alien Hurde in Outlier Vol 2 by T.C. Eglington and Karl Richardson!
64pp (+ bagged 64pp graphic novel), monthly, £5.99 ($7.99)
Enjoyed this article? Share it!