The Batman Hater Loves Dark Nights: Metal #2 OK, I'm officially on board with this story now.
While the first issue of Dark Nights: Metal was pretty good, I wasn't ready to proclaim its quality from the rooftops or anything. I wasn't completely enthralled, but it had merit and deserved some praise for that.
That has changed with Metal #2.
With the world falling into chaos, the Justice League and its allies are searching the globe for Batman. Kendra Saunders, former Hawkgirl and current member of the Blackhawks, is out to kill him, and he has an immensely powerful weapon that could threaten the world.
After a diversion through a swamp in the Amazon Rainforest, both the Justice League and the Council of Immortals which Kendra answers to come to the same conclusion: Batman is at the tomb of Prince Khufu, the original incarnation of Carter Hall, AKA Hawkman.
He has a plan, a wild plan. The League don't want him to try it. Kendra doesn't want him to try it. Batman isn't even sure if he wants to try it, but he's going to do it anyway.
Or he'll try, at least.
Yeah, this issue was intense and pretty damn awesome. It does a lot of things right, and I found myself enthralled.
I'm still annoyed that DC keeps teasing at other heroes like this instead of actually giving them regular parts of the DC Universe again, but it was at least kind of cool to see Zatanna again. Also, I'm hoping Kendra will don the wings once more, and I hope Hawkman actually shows up in the present plot of Metal instead of just flashbacks.
Batman continues to be an arrogant jackass, shown by his unwillingness to trust beings more powerful than himself even though some are well versed in this kind of thing. But, this comic actually punishes him for his hubris instead of the constantly rewarding him. Plus, he's genuinely scared in this issue, and that does this crazy thing where it actually humanizes the only "human" member currently in the Justice League.
I'm still digging the crazy ancient gods aspects of the story with Barbatos and his ancient and unknowable evil. As for the Cult of the Bat and why Bruce Wayne is at the center of this — well, I still hate the constant plot contrivances that make Batman the most important hero in the history of the universe. However, this comic does give it an explanation that links back to Final Crisis and somewhat cools my frustration with that.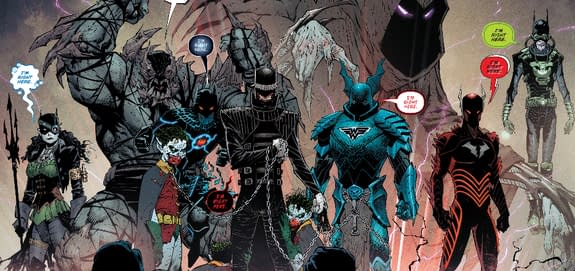 What really had me going is the Hellraiser-esque design of Barbatos and his Batman-themed version of the Justice League. You've likely seen the designs in adverts for Metal in almost all DC comics, but they look even better in Greg Capullo's art style. Plus, as you can see above, there are some things in the menagerie that you don't see in those advertisements.
Capullo's gritty and textured art style is perfect for the horror movie-esque qualities of this comic book. He fit Batman well, and his talents are put to good use here. He and writer Scott Snyder are quite a team. I may not like Batman, but I won't disparage their skills when it comes to writing the character.
Color artist Jonathan Glapion gives the perfect level of dark and dreary in his color palette choices. He works with Capullo's style very well.
So yeah, I'm on board. This is a ridiculous story built on some crazy conceits, and it's finally coming together after the questionable Forge and Casting comics. I recommend this comic. Give it a read.
---
---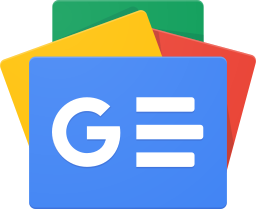 Stay up-to-date and support the site by following Bleeding Cool on Google News today!