Bloodshot Salvation #8 Review: A Decent Story Elevated by Incredible Artwork
[rwp-review-recap id="0"]
Ninja-K watches over Magic while Bloodshot, Jessie, and Bloodhound try to survive the Deadside. After Ray and Hound fight off a horde of demons, Shadowman arrives and offers a solution to Bloodshot's woes. Unfortunately, it involves meeting up with Baron Samedi.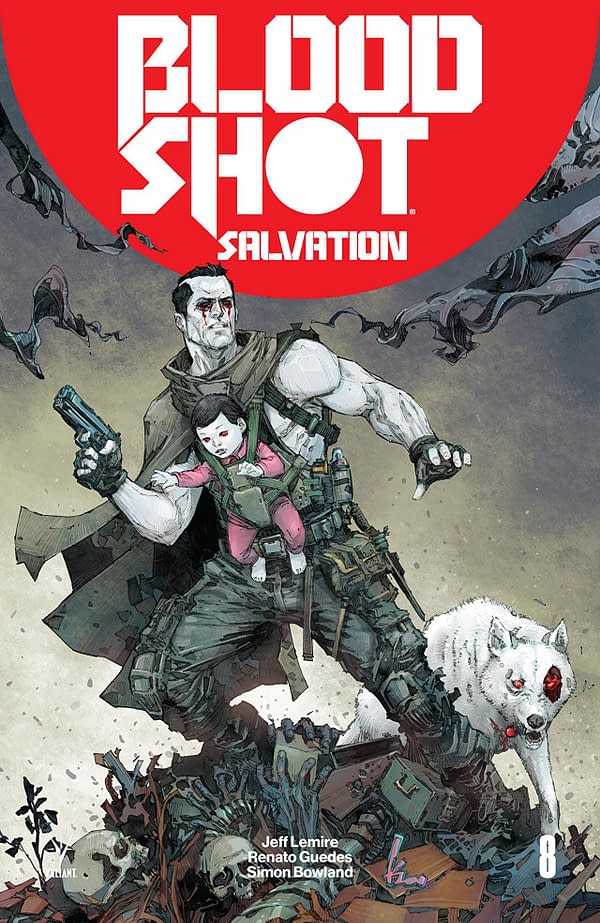 So, this issue of Bloodshot Salvation actually has art! That's already a vast improvement over the previous issue.
Snarkiness aside, Bloodshot Salvation #8 is a fairly fun issue of the series. The story doesn't move particularly far until the final pages. The first chunk is mostly Ray and Hound fighting the demons of the Deadside. The action looks nice and has a decent flow to it. Both Ray and Hound get some sweet panels. Shadowman has only a brief role to play in the book.
The Baron Samedi portion is where the comic comes to life; sequencing and the flow of time are played with, and things get weird. The deal-making between Ray and Samedi doesn't hit the cliched beats of such as scene. It's actually interesting, and the ending twist takes a turn one may not expect.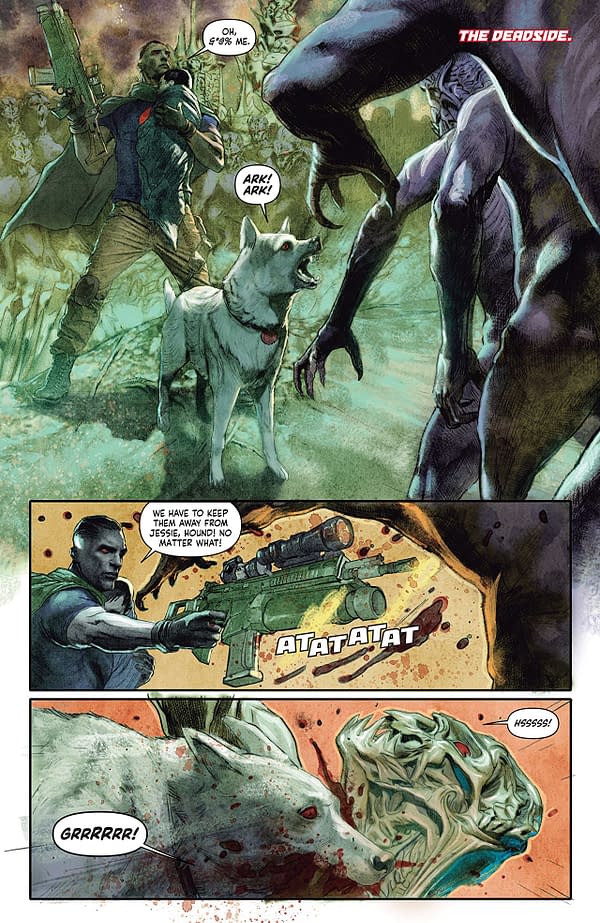 The real deal-maker of this issue is the incredible art of Renato Guedes. It looks amazing, and the comic benefits greatly from the unique stylism and fantastic texturing. The book looks not unlike the work of the great Adi Granov, and the color art adds a completely otherworldly vibe to the visuals. I can't describe it well enough this time, so just take a look at the above page.
Bloodshot Salvation #8 is a fun read that pits our hero against demons and into the paths of Shadowman and Baron Samedi. The narrative doesn't dazzle, but the art is so incredible that the comic is something that you need to take a look. This comic gets a recommendation. Check this one out.
[rwp-review-ratings id="0"]
[rwp-review-form id="0"]