What kind of exclusive items can be picked up at C2E2 this weekend? Here's a look at a few…
From the Retailer Breakfast, Inked version of International Iron Man #1
And for everyone else on the show floor… Power Man & Iron Fist #1 ECCC/C2E2 Variant Comic $10 by Dave Johnson and Bengal
Liberty: Deception – Zero Issue (C2E2 Limited Ediiton Variant Cover) by Dave Doman, from John Dossinger Publishing, booth 130. Dark Knight III #1 Matt Wagner Cover 2500 copies, $10, Sketch Cover 1500 copies, $15 from Comic Pop Collectibles.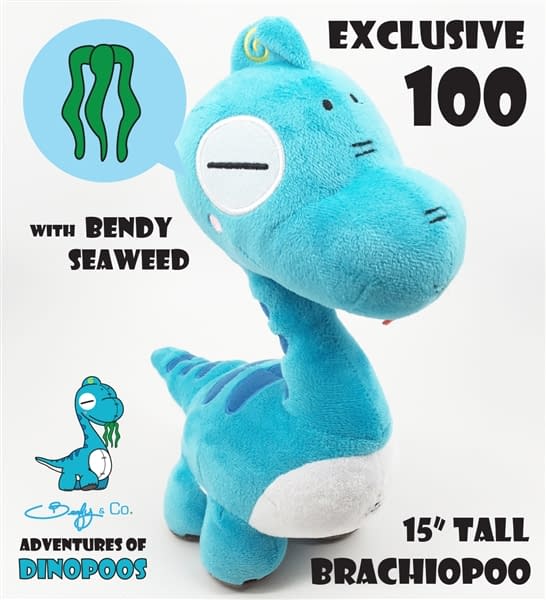 Brachiopoo from Beefy & Co, Booth 663. 50 editions, $28
Brachiopoo is our first character from Adventures of Dinopoo series. Brachiopoo towers up to 15" inches tall. Our Biggest Poo plush to date! This Exclusive includes Brachipoo's favorite food, a Yummy Bendy Seaweed! Deep Space Tragedy C2E2 Exclusive 11×17 Print by Mike Wagganer, limited to 100 units. Cosmic Times booth #133 for $10.00 each or free with $25.00 purchase. Porkupine printed art pillow with artwork by J. Spencer Shull on the front and back. Limited to 25 pieces. $25 each from jellykoe, Booth 770.
Power Pug Amigo, a quintet of fun plush pug comic book and sci-fi homages. A small number were made and they may never be made again, Nerfect Artistic Novelties, Booth 471.
T-shirts from the show for $25 each.
Her Universe exclusive Spider-Woman and Captain Marvel tops, $65
Beanie $20, Water bottle $15 Lanyard $8
Hoodie $50, Baseball shirt 30
Enjoyed this article? Share it!