Comics Artists, Writers, Colourists, Editors, Marketers – JobWatch
There's a lot of job worries in the comic book industry these days. Bleeding Cool's Comics and Graphic Novel JobWatch is an occasional look at people hiring in the comic book industry at all manner of levels, sales, creation, editorial, production or more. And if you are looking for staff, creators (paid) or know a job going, contact richjohnston@bleedingcool.com with the details and we'll run them in the next column. You can check out a few previous editions here, here, here, here, and here to catch up.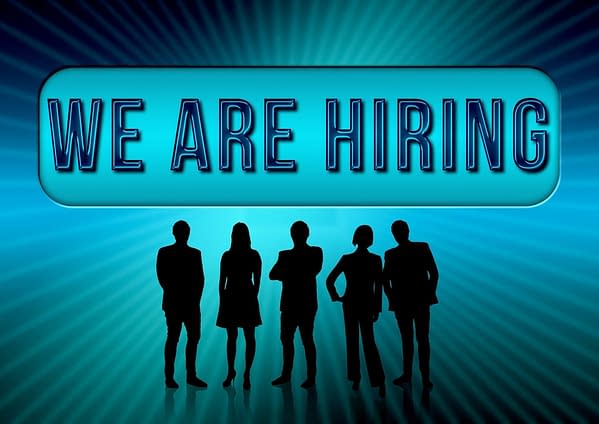 Senior Illustrator
Marvel Studios, Burbank, California
Marvel Studios Visual Development Artists compose a small team of illustrators and designers that focus on delivering high quality concept art for the heroes, villains and key moments of the Marvel Cinematic Universe. They work closely with a project lead to understand the visual needs of the filmmakers and create highly detailed character design images and keyframes that help define the look of each film. Each artist is tasked with developing a series of character design images centered around a unique art direction and will be required to adjust the visuals based on feedback from the Directors and Producers. Additionally, artists will create dramatic and dynamic keyframe illustrations to visualize important story moments from the film.
Artist
Phoenix Comic Weekly, DFC, Oxford, UK
We're looking for an artist for a project that we're unbelievably excited about! It's the part biographical story of a young girl who develops a debilitating condition that prevents her living the same life as her friends. To be published in The Phoenix & then as a graphic novel.
Artist
Chase Kantor
**PAID COMICS GIG** Looking for an artist for interiors on a science fiction 8-pager. Submit samples of your work/portfolio.
Artist
Bria Strothers
PAID GIG: Looking for BIPOC and/or queer artist for longterm webcomic opportunity. Genre is afrofuturist, sci-fi, mythological, urban fantasy. Contact bria.strothers@gmail.com for more details and feel free to share portfolio work below!
Artist
Magdalene Visaggio
GIG ALERT. Working on a small project at a big company and we're looking for Black transgender comic artists. THIS IS A PAID POSITION at industry scale. *must* be professional-level work. Please REPLY with samples or a portfolio.
Artist
Anthony Pollock
Artist wanted for post-apocalyptic 9 page short story. B&W. Paying $500 AUD for entire project. Professional artists only. If interested send your portfolio to: anthony@sodaandtelepaths.com
Artist
J Keppler
PAID GIG: looking for an interior artist on a crowdfunded cyberpunk comic. Ideal candidate has strong line art suited for a black and white story. Email jkeppler@moosecatcomics.com, and provide a link to your portfolio, your page rate (USD), and information about any previously published work.
Artists
Sha Nazir
Comic Artists show me your work. Would love to find someone I don't know for a new mainstream project. pop 1 or 2 examples of your comic pages below.
Artists
Justin Jordan
I'm looking for artists who do kind of Final Fantasy or cyberpunk things. This can be you or just people you think are rad. Please drop a link
Artists
Anna Hollinrake, Mediatonic
I'm on the lookout for immediately available freelance comic artists! graphic designers! illustrators! to work on some short form projects! Please post examples of your work, your portfolio link and your email below!
Artists
Kerri Resnick, Wednesday Books
Always on the hunt for new artists to work with. Please reply to this post with a work sample and/or portfolio so I have it handy! No DMs please
Comic Script Writer
Sequential Potential Comics
SPC creates custom comic art and illustrations to translate the complex processes and outcomes of research and technology for non-specialist audiences. Employees work on exciting and fun projects, develop new art skills, build their personal art portfolios, and work with a team to communicate scientific findings to public audiences. We are searching for a comic script writer. Pay is $200 per comic page, including proposed layouts. Most comics we sell are 4-8 pages, so a full script would range from $800-1600.
Comics Creators
1919 Magazine
The 1919 Abolition Arts and Writing Program is a paid opportunity for cultural workers and artists to curate a project or publish a series of works with 1919 over the summer from July to September 2021. This program is for artists, writers, journalists, activists, workers, organizers, performers, scholars and anyone who is thinking, imagining, and dreaming about abolition and is interested in publishing work to our digital publication.
Comic Creators
Tim Pilcher, UK
I'm looking for Disabled, BAME, and LGBTQI comics creators (ideally UK-based writer/artists) for a paying gig. Send me some samples of your work. Ideally kid-friendly material and experience in scriptwriting in other areas (film, TV, radio).
Character Artist
Rebellion, Wakefield
Rebellion is a leading developer and publisher of games, and is also one of Europe's biggest independent studios operating across books, comics, TV and film.
Colourists
BlackBox Comics
Flatters, Colourists, Letterers
Abram Books
I'm always on the lookout for flatters, colorists, & letterers (especially folks who can work in InDesign!) and would love your recs or links to your work. Fellow designers, if you have suggestions or are available for freelance, DM me. POC & LGBT+ to the front!
Letterer
Fell Hound
Lettering/design folks! I'm looking to expand my list of potential letterers for future projects If interested in being on the list, please drop portfolios below and/or your most dramatic lettering of gunshots/blood splattering.
Proofreader
Shaun Manning
PAID GIG: Looking for a Lakota reader/cultural consultant to check a 14-page comic script. (Script is by an Indigenous but not Lakota writer.)
Senior Proofreader, Standards & Practices
Marvel Entertainment, New York
The Senior Proofreader, S&P, is responsible for proofreading, check-ins with editors, and helping ensure content is appropriate for rating. Read proofs from all Marvel Publishing departments including (but not limited to) single-issue comics, handbooks, trade collections, advertisements, dust jackets, and covers.
Editor
Arancia Studio, working with art director Mirka Andolfo, Italy only.
Ti piacciono i fumetti? Conosci bene il francese e l'inglese? Hai notevoli abilità organizzative? Se la risposta a tutte le domande precedenti è "sì", allora questo post potrebbe interessarti. Arancia Studio, società specializzata in produzione di contenuti editoriali, per la pubblicità e per l'entertainment, è alla ricerca di una figura da inserire in organico, presso la sede di Torino (inizialmente, con un tirocinio, con l'obiettivo di un inserimento fisso in azienda). Per candidarti, manda il tuo CV e una breve lettera di presentazione via email a submissions@aranciastudio.com (ogni altra forma di candidatura non verrà presa in considerazione). PS: le condizioni di lavoro sono migliori rispetto a quelle rappresentate nell'immagine! Promesso! (il fumetto da cui è tratto è "Sweet Paprika", prodotto da noi e realizzato dal nostro Art Director Mirka Andolfo)
Sales Manager
Oni Lion Forge Publishing Group, Portland, Oregon
The Sales and Marketing Manager will be responsible for maintaining relationships and updating communications to partners in the Direct/Comic Shop Market, including individual shops and at the distributor level. The Manager will also serve as a sales assistant to the Book Trade Market, updating and generating metadata (with an eye toward SEO) while also (in conjunction with the SVP – Sales and Marketing and the Director of Marketing) creating a strategy to develop marketing, sales, distribution and retail planning for all of the company's imprints. This position works daily on our business through the company designated distributor coordinating sales, publicity, and marketing. The Manager coordinates distribution in the following markets: Digital, Hobby/Game, Direct Market, Book, Specialty, and E-Commerce.
Marketing Representative
DC Comics, Burbank, California
The Marketing Representative is focused on supporting the marketing team on the implementation of consumer and trade marketing plans for priority DC publishing (print, digital, digital-first), DC Universe Infinite subscription service and aiding communication with DC's distributors.
Director of Sales and Marketing
Ablaze Publishing, Portland, Oregon
Candidate has a background in publishing and will drive growth, build brand awareness, and create market demand. This position will be approximately 70% Sales and 30% Marketing. On the sales side, the Director will create and use engaging product descriptions, response-driven copy, and compelling messaging. The Director will develop and lead strategic sales activities. On the marketing side, the Director will oversee multi-channel marketing plans based on expert product knowledge and customer insights. This is a "hands-on" role and requires someone with the ability to thrive in a small, fast-paced entrepreneurial environment.
Sr Manager Of Sales Operations
Marvel Entertainment, New York,
Marvel is looking for a dedicated and highly-motivated Publishing Sales Operations Sr Manager to be responsible for supporting our sales operations with key distribution partners, and ensuring critical metadata creation and changes are delivered accurately and on time to our distributors. The Sr Manager is responsible for supporting the Publishing sales team in creating, updating, tracking and planning all sales and sales materials for the direct, book, and digital markets based on the direction from the VP of Print & Digital Publishing. The Sr Manager will also assist in managing inventory and out of stock titles for comics and collected editions. This position will also actively interact with the Publishing Operations, Print Production, and Editorial departments regarding project and metadata creation and maintenance, reacting to manufacturing issues that affect sales or transfers of stock, and securing direction and support to various publishing programs in order to meet set goals and due dates.
Public Relations Manager
Skybound Entertainment, Los Angeles, CA
Reporting to the Communications Director, the Public Relations Manager plays a key role within the Skybound Entertainment consumer products division where we are launching video games, board games, collectibles, and merchandise for diehard fans, community, and loyal customers. The Public Relations Manager will be responsible for getting the word out and shaping the public narrative on the vast and exciting portfolio of Skybound consumer Products. You will own the messaging platform across tabletop, merchandise, comic, and digital property go-to-market campaigns.
Publicity & Marketing Assistant
Insight Editions, San Rafael, California,
The ideal candidate will have 1-2 years of direct experience supporting a marketing or publicity team in a publishing environment. This position reports to the Senior Manager of Marketing and Publicity and will be responsible for supporting the Marketing and Publicity Specialist, Marketing & Publicity Associate, freelance Publicity Consultants, creating and distributing publicity reports and special projects including Holiday Gift Guides, awards submissions, events, fair and festival submissions and assigned influencer and title campaigns.
Publicity & Marketing Specialist
Insight Editions, San Rafael, California,
We are looking for candidates with a focus on Entertainment, Gaming, Film, Music and Television to develop and implement publicity and marketing strategies that drive pre-orders and sales of assigned titles. The ideal candidate will have 5 years of direct experience and a proven track record as a book publicist. You have developed strong working relationships with authors, journalists, fansites, bloggers/influencers, and other members of the media. In this role, you will formulate and execute pitches and implement targeted marketing campaigns for authors and their books. This position involves formulating the hook, writing and distributing press releases and pitches, requesting the shipment of review copies, cultivating relationships, securing partners for content reveals, distributing social media content, submitting titles for consideration of awards and reviews, tracking and following up until publicity is secured, and capturing and tracking coverage and communicating to management, in-house stakeholders and partners.
Manga Editor
Kodansha, New York
Penguin Random House Publisher Services is seeking an editor or senior editor to oversee manga titles on behalf of our client, Kodansha. Since it began publishing in 2009, the Kodansha Comics imprint has been a runaway success, with hits including Sailor Moon, Attack on Titan, Battle Angel Alita, and AKIRA vaulting it into the top ranks of global English-language graphic novel publishers. The successful candidate will have a deep knowledge of and passion for comics and Japanese culture, excellent English-language editing and writing skills, and strong professional organization. They will be excited for the challenge of editing manga translations in a variety of genres and age categories. This role is open to those outside of NYC.
Assistant Editor
Marvel Entertainment, New York
Report to Senior/Executive Editor on all aspects of book production. This includes:Proofread manuscripts, Maintain communication with freelance artists and writers and provide feedback on story and art, Set Deadlines for talent, Traffic materials, Coordinate with Production, Manufacturing and other departments to ship the book, Coordinate with senior editorial staff to ensure that character and content developments are planned and shared with the entire staff. Assist Supervising Editor to develop new series ideas and initiate projects. Various writing responsibilities (solicitation text, letters columns, ad copy). Gather reference materials for freelancers
Editorial
Ram V, Mirrormakers Studios, London
Position for a paid, part-time Admin+Editorial assistant. Work-ex/skills will involve an interest in writing, comics, proficiency with basic comp & web-skills. Any experience with editing/proofing/writng/making comics is a + Apply. Contact@mirrormakerstudios.com
Associate Editor, Special Projects
Marvel Entertainment, New York
This position is responsible for coordinating licensing approvals for adult prose fiction and nonfiction. The employee also will be responsible for editorial functions related to the Marvel Studios art books. The ability to multitask as well as a strong editing and project-management background is required, as is a knowledge of Marvel comic books and films.
Associate Editor,
DC Comics, Burbank, California
DC Comics seeks an Associate Editor for the Editorial – DC Comics department. Assists Supervising Editor in creation, development, and maintenance of DC Comics with an eye toward new markets.
Managing Editorial Intern
Yen Press, New York
Yen Press's Managing Editorial department is seeking a six-month intern to help manage our growing list of manga, graphic novels, and light novels. You will get a behind-the-scenes look at how books get made, helping to shepherd manuscripts through copyediting and proofreading, working to maintain production schedules, and coordinating with the Editorial, Design, and Production departments. The ideal candidate is a self-motivated grammar nerd who has an eagle eye for catching errors and enjoys puzzling over creative problems. The position is part-time (28 hours per week) and offers an hourly wage. Part-time commute to the Manhattan office is required.
Editorial Intern (manga)
Yen Press, New York
Yen Press's Editorial department is seeking a six-month intern to help manage our growing list of manga, manhwa, and graphic novels. The position is part-time (28 hours per week) and offers an hourly wage. Japanese skills is a must. Part-time commute to the Manhattan office will be required.
Editorial Intern (manhwa)
Yen Press, New York
Yen Press's Editorial department is seeking a six-month intern to help manage our growing list of manga, manhwa, and graphic novels. The position is part-time (28 hours per week) and offers an hourly wage. Korean skills is a must. Part-time commute to the Manhattan office will be required.
Editor
WebToons, Los Angeles
The Content Department is looking for an Editor to join WEBTOON's Los Angeles headquarters. The Content Department is responsible for Original Programming on US WEBTOON. The Editor position, reporting directly to the Managing Editor, will be responsible for working with creators to deliver a variety of Original series on the platform.
Associate Editor
WebToons, Los Angeles
The Content Department is looking for an Associate Editor to join WEBTOON's Los Angeles headquarters. The Content Department is responsible for Original Programming on US WEBTOON. The Associate Editor position, reporting directly to the Managing Editor, will be responsible for working with creators to deliver a variety of Original series on the platform.
Designer
Kat Calamia
PAID WORK: Looking for a GRAPHIC DESIGNER for some work related to the queer webcomic Slice of Life and the upcoming Bi Visibility anthology. This can turn into even more work. Reply with your portfolios.
Think Selection, London
Our client, a leading pop culture and licensed entertainment publisher has asked us to help recruit a Junior Designer to work across a range of print media. You'll design magazines and graphic novels from cover to cover as well as promotional materials which range from posters and flyers to adverts, and you'll also design web banners which promote the company's publications.
Comics Consultant
Kickstarter
Kickstarter PBC is seeking a part-time independent contractor to help us support comics creators across the industry. We're particularly interested in speaking to those with an in-depth knowledge of webcomics and manga, but we are also open to a more general or traditional comics specialist. This role is primarily scoped for approximately 25 hours per month for six months.
Project Manager
Marvel Entertainment, New York
Marvel Entertainment is seeking a Project Manager to work closely with our lines of business. The ideal candidate must be a self-starter and team player who loves breaking down problems, building solutions, and working in a changing environment. Importantly, s/he must have the proven ability to collaborate and communicate effectively with all levels of the organization. This includes engaging with senior management, operations & engineering teams to communicate timelines, prioritization, risk, and status.
Manager, Financial Planning & Analysis
DC Comics, Burbank
Warner Bros. seeks a Manager, Financial Planning & Analysis. This role will lead the Financial Planning & Analysis functions for priority WarnerMedia franchises, including those in the DC, Wizarding World, Looney Tunes, and Hanna Barbera brands. Drive planning and reporting activities in alignment with WarnerMedia's financial calendar. Partner with Business Development to track results against targets.
Royalty Analyst
Marvel Entertainment, New York
The ideal candidate will work within the Royalty Department (Finance/Accounting), which interacts with sales, accounting, brand assurance, and legal departments. Substantial interaction with domestic partners, with an emphasis on auditing reports for product approvals, is required. Ad hoc, weekly, monthly, and quarterly reports to other departments and upper management also necessary. Furthermore, the ideal candidate will be a recent college graduate (0-2 year's post-graduation) who is conscientious, meticulous, operates at a consistently high level, can regularly balance multiple responsibilities, and meet varying deadlines. He or she should possess a keen willingness to learn, analyze, and desire to enhance the licensing business team of Marvel Entertainment, a subsidiary of The Walt Disney Company.
Product Manager – UX
Viz Media, San Francisco
We're looking for an experienced PM to lead the User Experience (UX) aspect of the Shonen Jump product across platforms (web, apps), and between the service's free and paid subscription product segments. This role will report to the Sr. Director, Consumer Acquisition and Retention (CAR). We're looking for a true customer advocate to help us create a great user experience on Shonen Jump balanced with our business goals. The candidate should be well-organized, an excellent collaborator and communicator, able to manage and prioritize multiple business goals, who thrives in a dynamic, fast-growing business.
Senior User Acquisition Manager (LATAM)
Webtoon, Los Angeles
You will be responsible for driving aggressive user acquisition by localizing and optimizing digital marketing and paid media channels across key markets in the LATAM region. This role requires an extensive understanding of the nuances and differences in the Gen Z mindset and pop culture by country, expertise in media strategy and buying, a proven track record of developing and optimizing creatives, and the experience and ability to build and strengthen relationships with new partners and local agencies in the region.
New Account And Data Entry Clerk
Diamond Comic Distributors, Fort Wayne, Indiana
This position provides administrative support and data entry functions for the Sales Operations Director. The job has the potential grow into an Account Representative.
Category Manager
Comics & Collectibles: eBay US, San Jose, California
We are looking for a Category Manager, Comics & Collectibles to join our Verticals team at eBay. Based remotely or in San Jose, CA, you will be a key contributor on the overall Collectibles team at eBay North America. If you are driven to win, have an ownership mindset, are able to build meaningful cross-functional relationships, and are ready to make an exciting move, we would love to hear from you! It would be great if you also have a passion for, or some knowledge of, the Comics & Collectibles Industry. The collectibles category includes Disneyana, FUNKO, Bullion, Sports Memorabilia, Coins, and Stamps.