DC Nation #0 Review: Two Out of Three Isn't Bad, Plus It's Free in Digital
[rwp-review-recap id="0"]
The Joker pays a man named Roger Martello an extended visit while waiting for a very special invitation. The Daily Planet tries to cope with the leaving of Lois Lane and the arrival of a promising new hire. The Justice League tries to stop a threat on Colu before it reaches Earth with four unique and bizarre teams.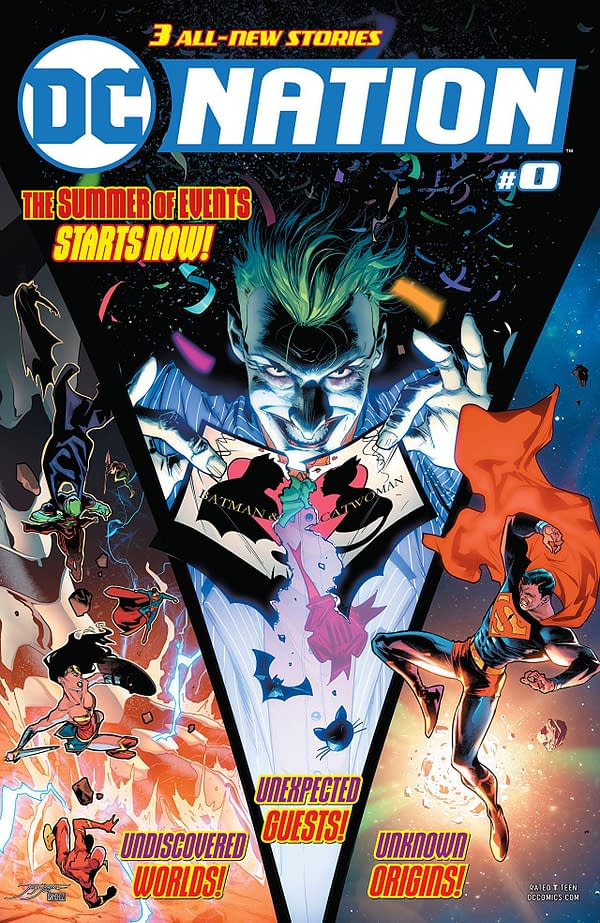 DC Nation #0 is a preview comic for three upcoming stories from DC: The Wedding of Batman and Catwoman in Batman, Man of Steel, and No Justice.
In terms of getting me excited for the stories, the Batman and No Justice succeeded markedly more than Man of Steel, and that continues to worry me about the potential future of Brian Michael Bendis' Superman and Action Comics.
"Your Big Day," the Batman story, is a tense and uncomfortable stay with the Joker as he tells bad jokes and Roger Martello slowly loses his own mind in waiting for the Clown Prince to do that for which he is best known. Clay Mann and Jordie Bellaire make it visually unnerving as well, with Mr. J granted some truly frightening faces.
The No Justice prelude is flawed, but it rides off its bizarre setup of four Justice League teams based around "universal concepts" such as mystery, entropy, and wonder. The visuals are a cluttered mess, but they at least look unique. Plus, the finale promises much.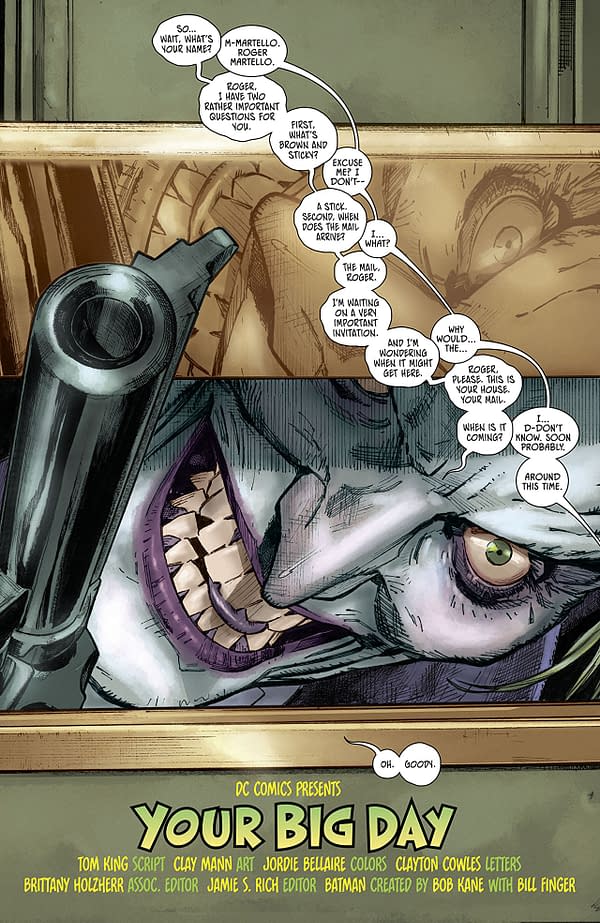 That leaves "Office Space," the Man of Steel prelude, to be simply a dull excursion into the Daily Planet's operations without injecting anything of interest or lively to awaken the processes. Even, the "twist" ending is a lackluster dry breath that doesn't earn its attempted shock. Unfortunately, the visuals do little to help this, even if they look decently enough.
DC Nation #0 provides three stories that range from dull to genuinely engaging. As I said, the Batman and No Justice stories worked well to get me genuinely excited for their upcoming stories. The Man of Steel prologue was just dull, and it makes me worried for the miniseries. The art holds together well throughout with talent like Clay Mann, Jose Luis Garcia-Lopez, and Jorge Jimenez. Plus, at the low, low price of free on digital and $0.25 in print, it's hard to not recommend some genuinely good comic reading, even if it's mixed in with some more underwhelming fair. As such, you should definitely pick this one up.
[rwp-review-ratings id="0"]
[rwp-review-form id="0"]