DC Publishes Nine New Batman Comic Books Today (Spoilers)
DC Comics published fifteen monthly comic book titles today. Of those fifteen, nine are Batman or Batman related comic books. This seems quite a lot. They include Catwoman #38, Catwoman: Lonely Night #2, Robins #2, Legends Of The Dark Knight #8, Batman/Catwoman #9, One Dark Knight #1, Batman Vs Bigby #1, Justice League Incarnate #2, and Nightwing #87 – and only six are not. But can we find common threads?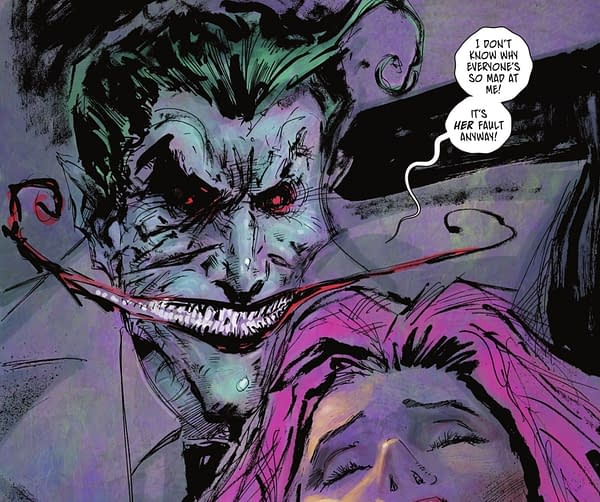 Nightwing #87 will no doubt be the most commented upon and most reviewed comic, not only being one 22-page splash panel split up across the comic book, a geometric chase and fight scene across Bludhaven, a wonderful piece of construction that, along with the chase, the fight, the denouement and the puppy, also gets to do its fair share of world-building along the way.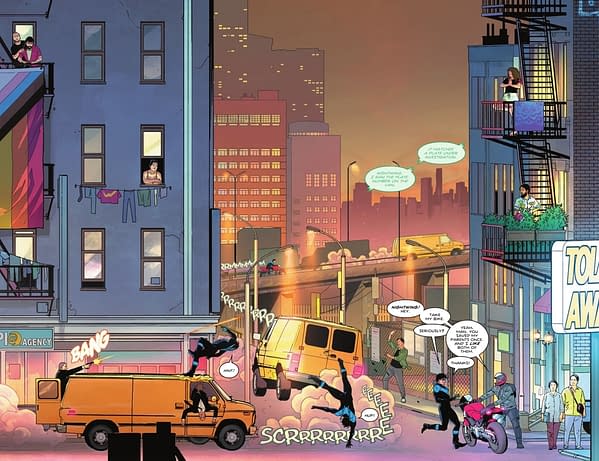 A city where superheroes get motorbikes handed to them like it's Oprah. Ram V's final Catwoman #38 also touched on that kind of thing too.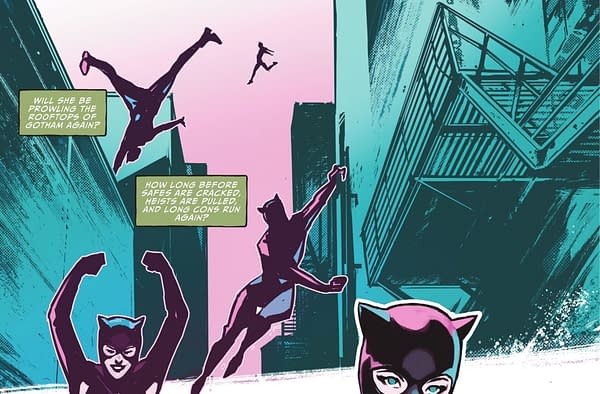 Creating a world for Catwoman to operate in, and also one tied into the wider scope of Bat storytelling of late.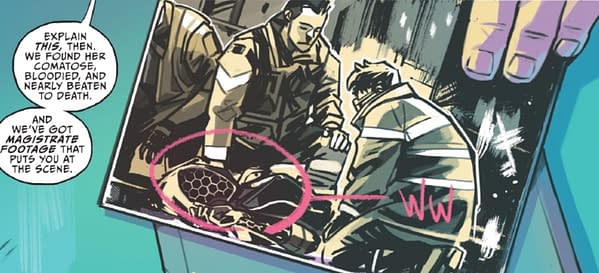 The Magistrate may be gone, downed in the river but it still has its cameras all over the place, it seems, and the GCPD has access.
But as Catwoman does her Keyser Soze in her main book, she's also heavily featured in two other titles, both of them set in different futures where Batman has died and an older Catwoman meets up with past foes. Catwoman: Lonely City #2 tells her story after Batman, though seemingly still dealing with future Magistrate technology via way or Rocket Red.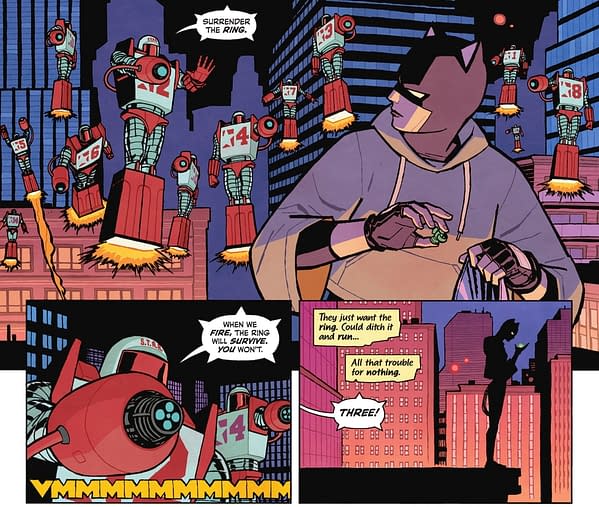 While Batman/Catwoman #9 sees Selina take drinks with the Penguin and reminiscences…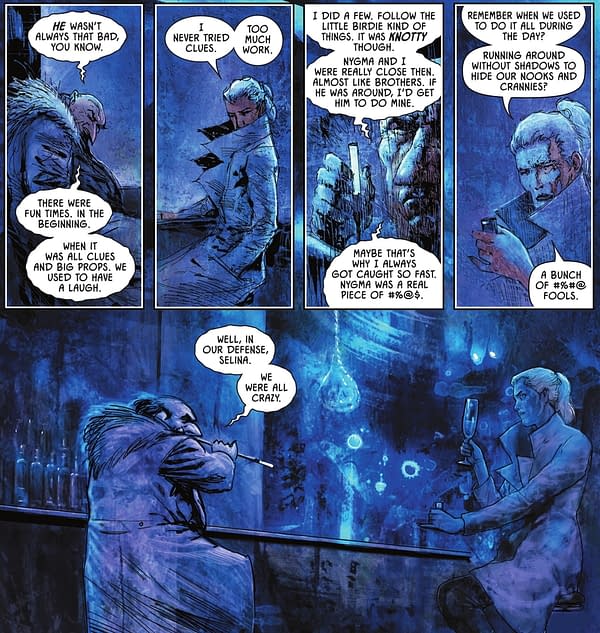 As Catwoman: Lonely City #2 brings in older versions of all manner of characters, such as Killer Croc and Poison Ivy…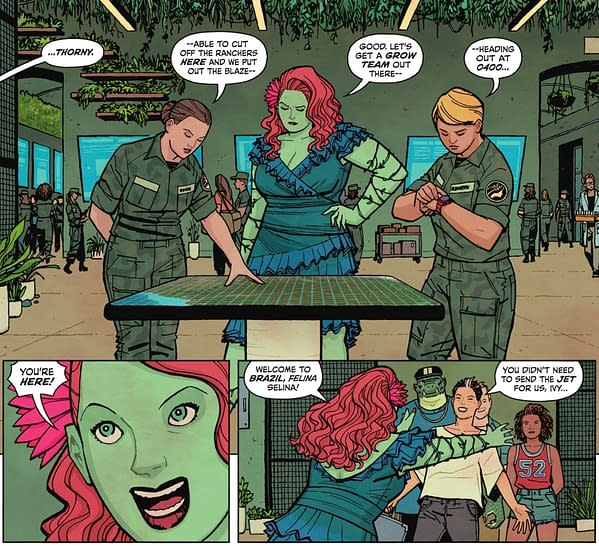 Who is still balancing that act of sisterhood and radical political activism. In Batman: One Dark Knight, the GCPD turn against Batmanning on the streets juts like the Magistrate did, but with no one getting those toys to play with.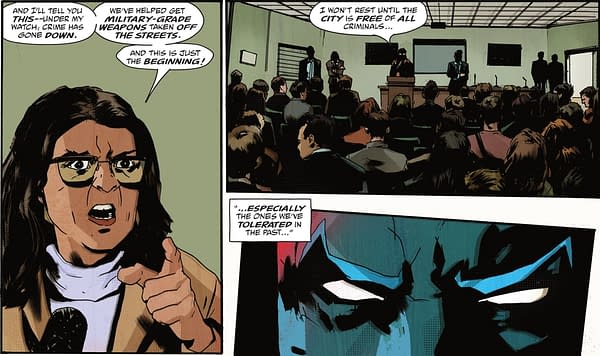 But in Lonely City, Mayor Harvey Dent has build his premiership on having secret access to a certain onboard Batcomputer…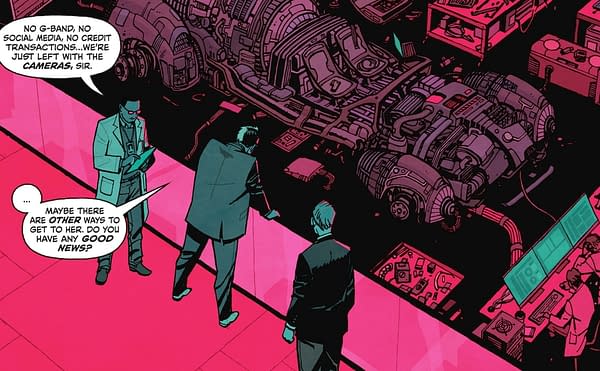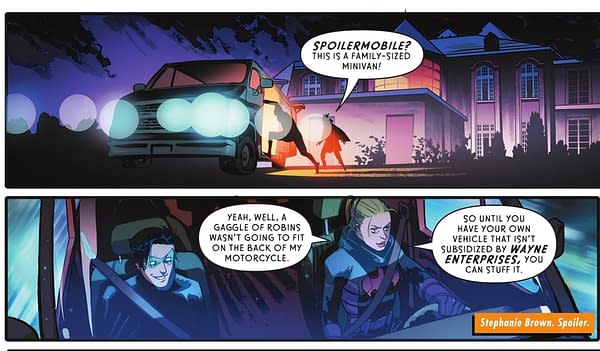 Well, it beats the hell out of the vehicle choice in Robins #2.
And while in Catwoman, her neighbourhood celebrates her by dressing up as her…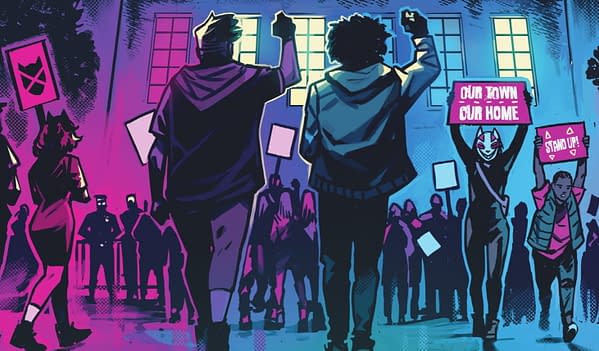 In Legends Of The Dark Knight #8, one seems to have even greater inspiration.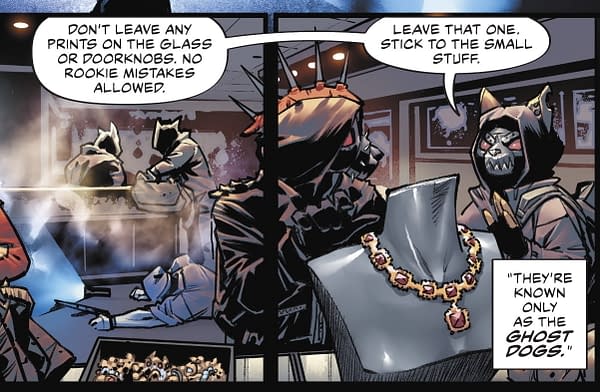 Meet Ghost of the Ghost Dogs. Though this jewelry thief of the night is more of a cat…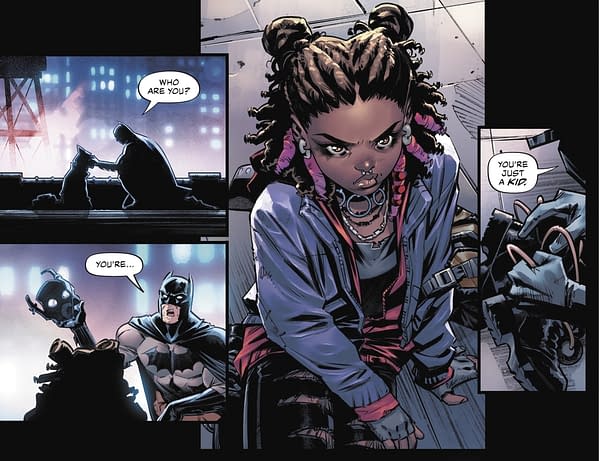 Something you'#ll also find going down in Robins #2. Though I prefer Ghost to Kitten…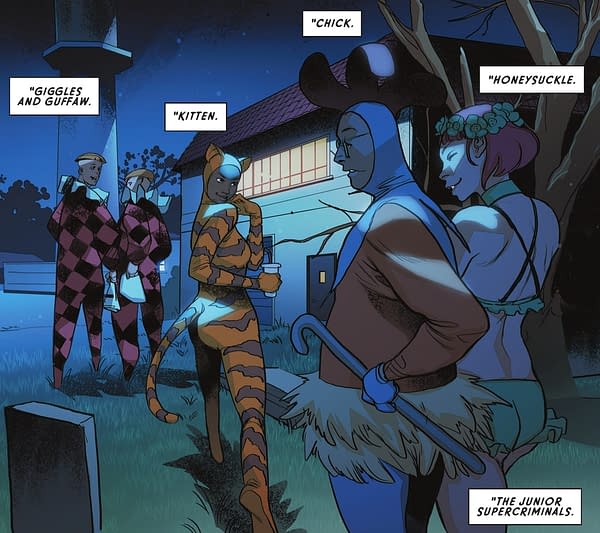 While other Robins get a very different sight in Batman Vs Bigby #4…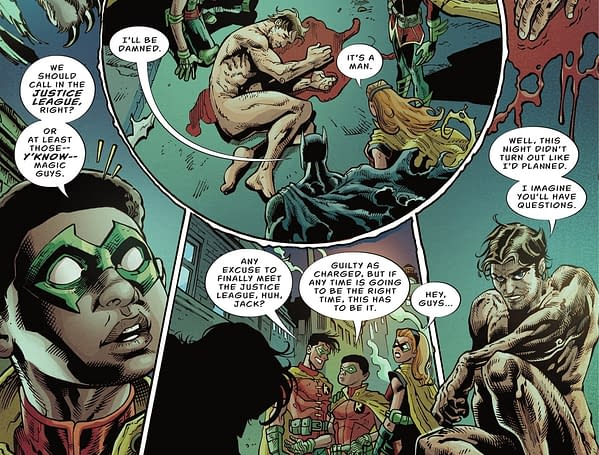 And why not call the Justice League? Any Justice League? Just watch what you call Batman…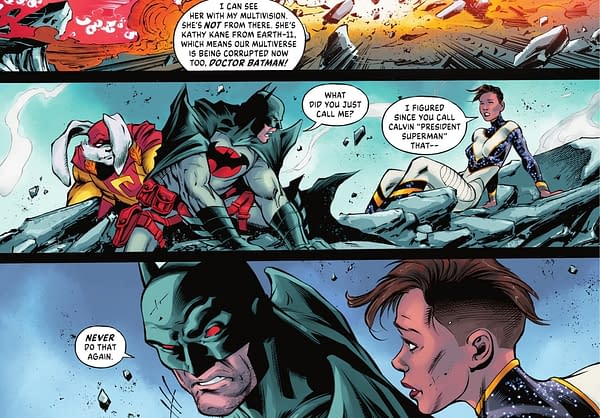 …it might not always go over well, especially if it's Daddy Batman. After all, as Legends Of The Dark Knight #8 teaches us, Thomas Wayne knows all about the importance of what you call things right now…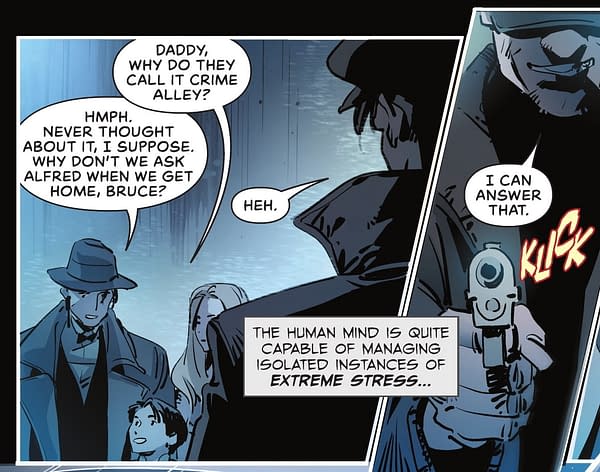 BATMAN CATWOMAN #9 (OF 12) CVR A CLAY MANN (MR)
(W) Tom King (A) Liam Sharp (CA) Clay Mann
Batman and Catwoman may have just gotten back together, but Joker is ready to complicate things by asking Selina for a favor that could lead to Batman's demise! That's not the only trick he has up his sleeve…he's also hiding a secret that will drive Phantasm mad. Plus, Batwoman hunts down her own mother!
Retail: $4.99 In-Store Date: 12/21/2021
BATMAN ONE DARK KNIGHT #1 (OF 3) CVR A JOCK (MR)
(W/A/CA) Jock
From high above the sweltering summer streets of Gotham, Batman planned to escort the GCPD as the dangerous metahuman super-villain known as E.M.P. was transferred from a holding cell to his permanent home at Blackgate Prison. E.M.P.'s electrical powers posed a threat, but the situation was in hand—until it wasn't. Now every light in Gotham is out, the police are in disarray, and a broken, bleeding Batman must fight his way to Blackgate, block by block, dragging E.M.P. behind him. But the dark corners of Gotham hold many surprises…and E.M.P. has many more shocks to deliver before the night is through! One of the most iconic Batman artists of the 21st century, the incomparable Jock (The Batman Who Laughs, Batman: The Black Mirror), has focused all his storytelling powers on the tale of one very, very dark night in Gotham City. It's always darkest before the dawn—if it ever comes…
Retail: $6.99 In-Store Date: 12/21/2021
CATWOMAN #38 CVR A YANICK PAQUETTE
(W) Ram V (A) Filipe Andrade (CA) Yanick Paquette
Fear State aftermath! A "new" Poison Ivy now walks the Earth, one who seems more familiar to Harley Quinn and Catwoman than she ever has been before. And as the dust of Fear State settles in Alleytown, Selina comes to the heartbreaking conclusion that it may be time to surrender her crown and leave her kingdom. She has brought too much damage, too much horror, to her adoptive city. But are the Strays ready to take on the responsibility of defending their homes without the help and guidance of the Catwoman? And what is to become of Catwoman's protégé herself, Cheshire Cat? Retail: $3.99 In-Store Date: 12/21/2021
BATMAN VS BIGBY A WOLF IN GOTHAM #4 (OF 6) CVR A YANICK PAQUETTE (MR)
(W) Bill Willingham (A) Brian Level, Jay Leisten (CA) Yasmine Putri
Batman and Bigby call a cease-fire as the city recovers from a night of violence, and evidence of a shared enemy surfaces when Gotham's magical connection to Fabletown is revealed. But with egos at stake and wounds to lick, will a common cause be enough to transform this tenuous truce into a heroic alliance?
Retail: $3.99 In-Store Date: 12/21/2021
CATWOMAN LONELY CITY #2 (OF 4) CVR A CLIFF CHIANG (MR)
(W/A/CA) Cliff Chiang
If Selina Kyle is going to break into the Batcave at her advanced age, she's going to need a crew to help…and luckily for her, some of Gotham's craftiest former villains have time on their hands and bills to pay. But who is the mysterious OGBeast? And with political pressure mounting, how long will Mayor Harvey Dent let this cat stay out of the big house? Retail: $6.99 In-Store Date: 12/21/2021
LEGENDS OF THE DARK KNIGHT #8 CVR A BELEN ORTEGA
(W) Che Grayson, Yedoye Travis (A) Belen Ortega, Nina Vakueva (CA) Belen Ortega
A Legends of the Dark Knight double feature! In "The Ghost and the Knight," rising-star creative team Che Grayson and Belen Ortega have Batman chasing down the Ghost Dogs, a group of thieves plaguing Gotham City, and he'll have to face down their leader: the glorious Ghost! And in "Healing," writer/comedian Yedoye Travis and fan-favorite artist Nina Vakueva have Batman's ultimate trauma removed by the Scarecrow, and he's going to have to fight to get it back! Retail: $3.99 In-Store Date: 12/21/2021
NIGHTWING #87 CVR A BRUNO REDONDO
(W) Tom Taylor (A/CA) Bruno Redondo
This special Nightwing issue is ONE CONTINUOUS IMAGE! That's right—if you placed every page next to each other, you'll have one poster image with this story! Now that billionaire Dick Grayson has publicly dedicated his funds to save Blüdhaven, he's a wanted man—and that's why he finds hired killers breaking in to steal his dog, Haley!
Retail: $3.99 In-Store Date: 12/21/2021
ROBINS #2 (OF 6) CVR A BALDEMAR RIVAS
(W) Tim Seeley (A/CA) Baldemar Rivas
The former Robins launch into action after the assault at Dick Grayson's apartment. Not wanting to turn to Batman for help, the five former wonders start to investigate on their own by digging deep into their pasts. But what is their assailant's connection to the Robin name, and why are they coming after the ex-sidekicks?
Retail: $3.99 In-Store Date: 12/21/2021
JUSTICE LEAGUE INCARNATE #2 (OF 5) CVR A GARY FRANK
(W) Joshua Williamson, Dennis Culver (A) Kyle Hotz, Andrei Bresson (CA) Gary Frank
As Darkseid's quest leaves a bloody trail across the MultiversE, the Justice League Incarnate ventures to the dark world of horror known as Earth-13. They must enlist the aid of Super-Demon and his League of Shadows against not only Darkseid but also the evil power couple of Asmodel and the Sheeda Queen! While on Earth-11, the Batwoman Who Laughs begins her schemes.?
Retail: $4.99 In-Store Date:12/21/2021
ROBINS #2 (OF 6) CVR A BALDEMAR RIVAS
(W) Tim Seeley (A/CA) Baldemar Rivas
The former Robins launch into action after the assault at Dick Grayson's apartment. Not wanting to turn to Batman for help, the five former wonders start to investigate on their own by digging deep into their pasts. But what is their assailant's connection to the Robin name, and why are they coming after the ex-sidekicks?
Retail: $3.99 In-Store Date: 12/21/2021