Defenders #9 Review: The Exciting Peak of an Already Great Series
Jessica Jones pleads with Misty Knight to allow her to see the Punisher for information. After some convincing, Jess gets some face-time with Frank Castle.
Later, the Defenders get the drop on Diamondback. All seems to be going smoothly until back-up in the form of Fixer, Moonstone, and Titania arrives. From here, it becomes a super-powered rumble between the Defenders and Diamondback's crew.
Oh, also Brian Michael Bendis himself makes a cameo, and it's pretty great.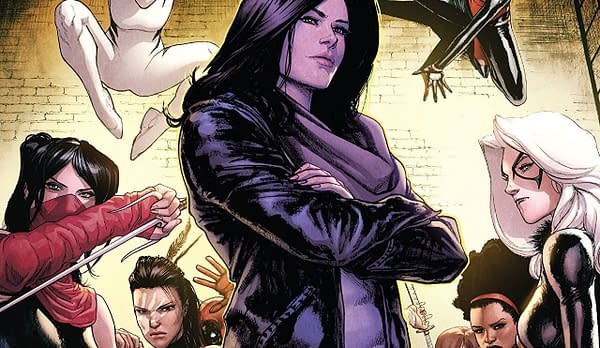 Defenders #9 brings wall-to-wall entertainment and kick-ass action. David Marquez and Justin Ponsor make this a visually stunning "hell yeah" comic, as the Defenders get another shot at bringing down Diamondback in a super-powered street fight for the ages.
This is a fun comic on the level of Robert Venditti's Hal Jordan and the Green Lantern Corps. It's the culmination of what I've been wanting to see from this comic from the beginning. The characters get to be their charming and chatty selves. They get to fight an opposing superhero team of comparable power (though, a Thunderbolts fan may expect Moonstone to be more of a problem than this).
As you could guess from the cover, there are a lot of guest-stars in this issue, namely the ever-awesome Spider Woman, the Daughters of the Dragon, White Tiger, Echo, Elektra, and Black Cat. They don't show up until the end and don't get a lot of panel space, but it is nice to see a lot of these back in a comic again. It's been a while for most of them.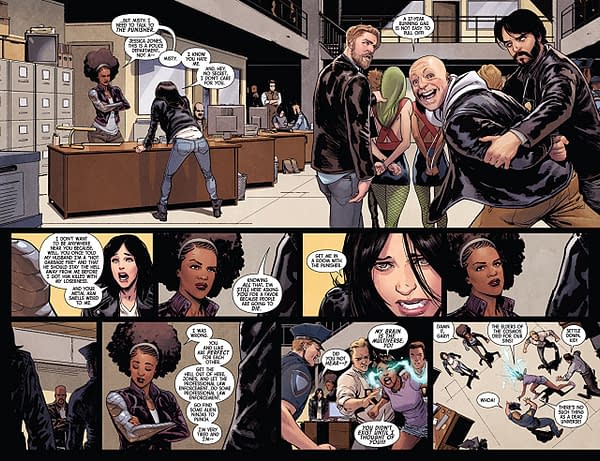 As usual, Marquez and Ponsor kill it in the art section. They get creative with the fight scenes and bear the powers of the players in mind. Luke Cage also gets to beat the tar out of Diamondback with a van, and that's just plain awesome.
Sometimes, a comic just fires on all cylinders, and it's hard to go too in-depth on how it works without taking the fun out of it. In short, the characters are charming and engaging, the action is thrilling, and the art is fantastic. Defenders #9 definitely gets a review. Give this one a read.