Digging Into The Dresden Files With Mark Powers
Did Jim Butcher have any idea the juggernaut he was creating back in 2000 when he unleashed Harry Dresden on the world in the first novel Storm Front? Now fourteen novels later with number fifteen Skin Game coming out next month, The Dresden Files has found success in the comic shops as well. Dynamite has recently announced a new series War Cry written by Butcher and Mark Powers. I got a chance to talk with Powers about the urban fantasy world he gets to play with.
BLEEDING COOL: For those who aren't familiar with the Jim Butcher novels… who is Harry Dresden and what is the world he lives in like?
MARK POWERS: Harry Dresden is a wizard for hire who works out of Chicago. In between trying to scrape together a living by helping ordinary folks with their problems, and consulting with the Chicago PD's Special Unit, he puts life and limb on the line to protect the innocent from threats they don't know exist. Vampires, necromancers, warring faerie factions, Lovecraftian monstrosities—you name it. For comic fans who may not be familiar with Harry, he shares some similarities with Peter Parker—his fierce loyalty to his friends, a sometimes tortured (and sometimes nonexistent) love life, and the fact that he is physically vulnerable despite his strange power—he's usually fighting through an assortment of injuries.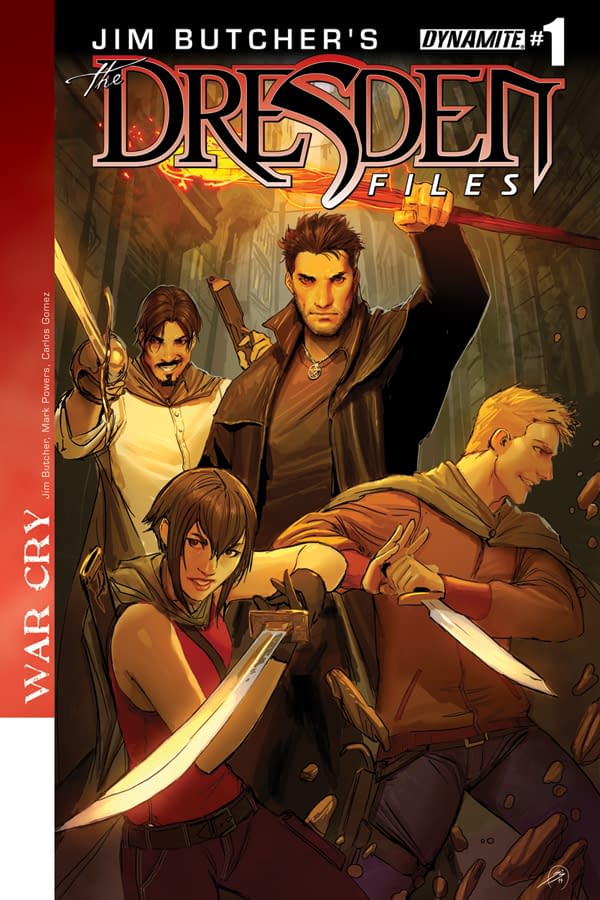 BC: Tell me about War Cry. What can fans expect from the new story and where does it fit in to the overall mythos?
MP: WAR CRY takes place several months after the novel Dead Beat. The White Council, who are basically the magical authorities in the Dresden-verse, have suffered massive losses in their war against the vampires of the Red Court. They're desperate, and because of that, they have drafted Harry to serve as a Warden. This is puts Harry in a very unfamiliar situation, as he's often ran afoul of the Council due to his propensity to bend their rules. But with the Red Court closing in on victory—which would have apocalyptic consequences for humanity—Harry assumes the responsibility for a team of young wizards. Fans can expect a massive amount of wizard vs. vampire action, with the odds stacked in the vampires favor by a factor of about 100 to 1.
BC: This is the first time the comics are doing an original story and not an adaptation. Why the change? And how much involvement does Jim Butcher have in the project compare to when you are adapting a completed novel?
MP: Actually, this is the second one—last year, we did GHOUL, GOBLIN. And Jim is very involved—he provides a loose outline for the story, and I build out from there. Because of this, both WAR CRY and GHOUL, GOBLIN are very much a part of the greater Dresden Files tapestry.
As for how it compares to adapting the novels—frankly, it's more fun!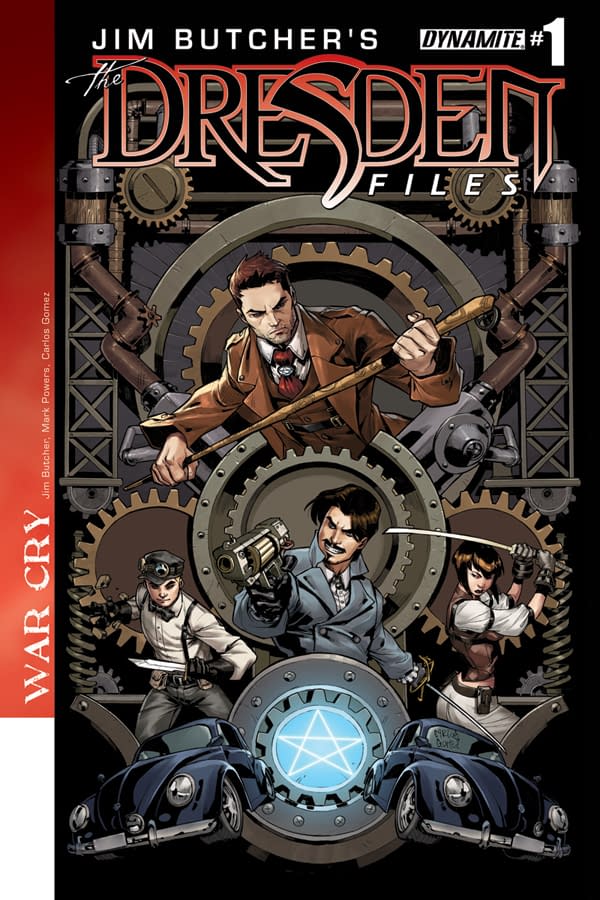 BC: You've written all of the Dresden comics so far, how did you get involved in the project originally and what about the character keeps bringing you back each time?
MP: I was approached a few years ago when Dabel Bros were working with Jim, and when Dynamite acquired the rights, I was very fortunate to be given the opportunity to continue on with both the adaptations and the new stories.
As to what brings me back—it's simple. Harry. He's a great character that is simultaneously dependable, believable, and surprising. I always say that we'd all like to think there's a little Harry in us, or maybe vice-versa. And the world in which he lives and breathes is rich in detail and intrigue. "World Building" is an overused term, but Jim is a great world builder.
BC: For those who remember the short-lived television series on SyFy staring Paul Blackthorne… what did you think of the television series and why do you think it didn't catch on where the novels and comics are doing so well?
MP: I'll be honest—I don't remember the show that well. It may just have been a case of poor timing—with the success of shows like Game of Thrones, House of Cards, and others, with large casts of compelling characters and long form storytelling, I think DRESDEN FILES would make for a great tv series now. Capturing the tone of the novels would be key.