Doctor Strange #390 Review: A Funny, Charming, and Heart-Warming Finale to this Strange Era
[rwp-review-recap id="0"]
Zelma Stanton returns to the Sanctum Santorum in search of Doctor Strange. Instead, she finds the Amazing Spider-Man housesitting for the Sorcerer Supreme. He does, however, know where to lead Zelma. She and Spidey find Stephen at his short-lived veterinary clinic with Bats the Ghost Dog. Zelma and Stephen have a heart-to-heart while Bats expresses his admiration for Spider-Man.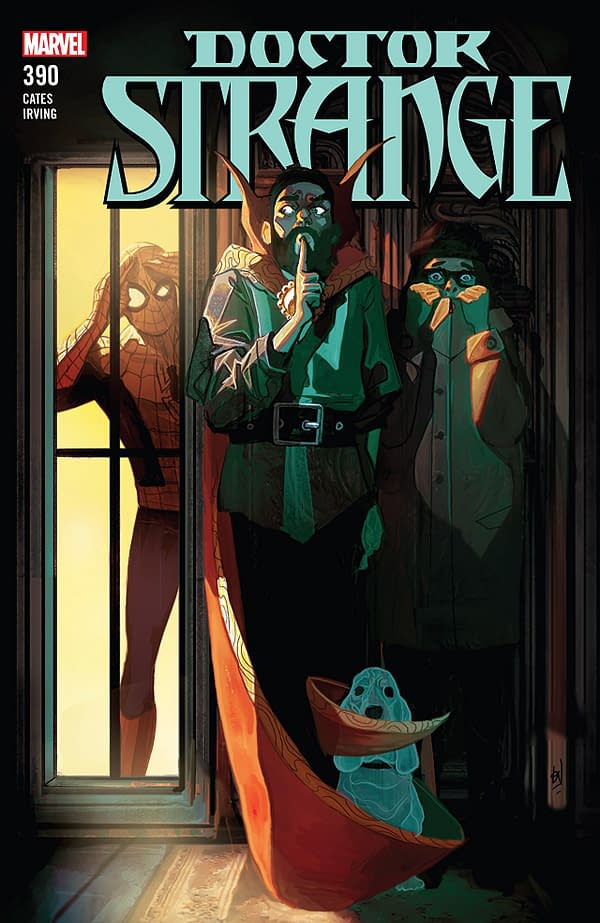 Doctor Strange #390 is a closing-out issue for Donny Cates' stint on the comic, but it also rounds out stories started by Jason Aaron from the beginning of All-New, All-Different Marvel. Stephen and Zelma work things out and figure out where they are in relation to one another, and Bats gets to be both adorable and funny with the Web-Head.
Also, the comic has a completely random digression where Stephen gives Peter the power to talk to an actual spider, and suddenly we have Chip Zdarsky artwork. It is both hilarious and surprisingly dark. I imagine this will bother some people, but, to me, it was a highlight of the comic.
The overall book handles itself excellently. The character stuff between Stephen and Zelma is meaningful and weighty without dipping down into cheese territory. Spider-Man gets to be his endearing and compassionate self for Doc Strange, showing concern for everything the Master of the Mystic Arts has grappled with in recent years.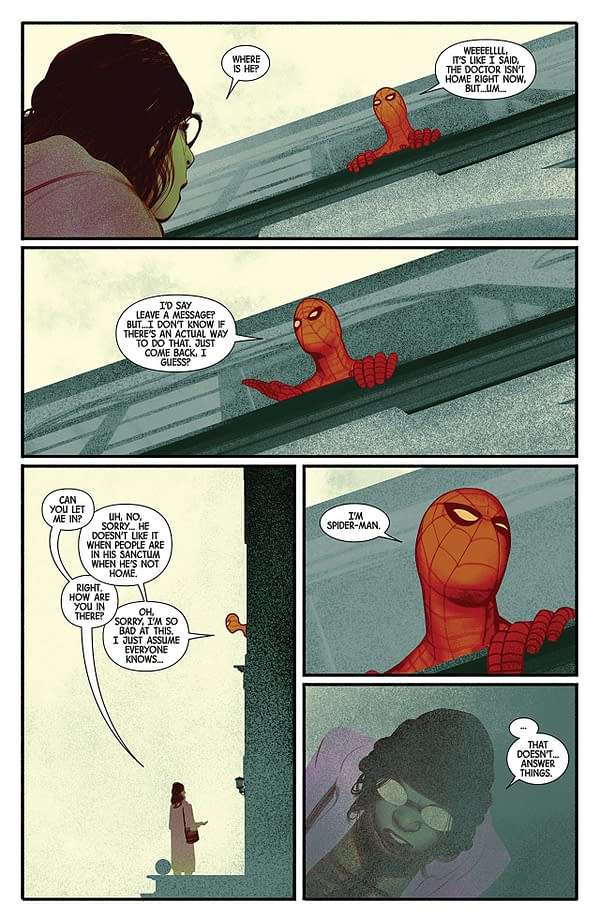 Frazer Irving provides downright incredible artwork throughout the comic. His well-detailed yet otherworldly style mixes elements of realism and surrealism to make what may be the perfect Doctor Strange aesthetic. Characters are expressive, but shadow is also used to convey emotional tone in many scenes. The world can be unnervingly sterile and excellently-detailed. Plus, the color palette bounces between strangely sick and oddly warm. This book looks damn fantastic.
Doctor Strange #390 gives this era of the title the finale it deserves. Its subtle, understated, and a ton of fun. Bats, Stephen, Spidey, and Zelma each get a moment to put a smile on your face, even if you haven't been following this series. This book was a great one, and it gets a strong recommendation. Give it a read.
[rwp-review-ratings id="0"]
[rwp-review-form id="0"]