Writer's Commentary: Erik Burnham Talks Red Sonja Vol. 4 #17
Dynamite has sent us a writer's commentary from Erik Burnham on Red Sonja Vol 4 #17. This issue had Daniel HDR doing the interiors and covers by Mike McKone, Tula Lotay and Jordan Gunderson.
* * * * *
Heya folks, welcome to another Red Sonja commentary. Erik Burnham here, and we're switching things up on the art side of things, welcoming Daniel HDR for this one-off while Carlos Gomez skips ahead to #18. Natalia Marques joins Daniel on color, and we got Tom Napolitano on letters.
Amy Chu and I are sticking around on the words.
Quick glance at those variant covers shows Mike McKone, Tula Lotay, Jordan Gunderson, Anthony Marques/J Bone/Chris O'Halloran, and also a cosplay variant. Plenty of variety there.
Let's jump into the story, yeah?
PAGE 1:
Welcome to some exposition. Sonja's been in another time, and returning to Hyboria has shaken her reputation some. Bad place to be for an adventurer-for-hire. No one likes to remind the world of their reps.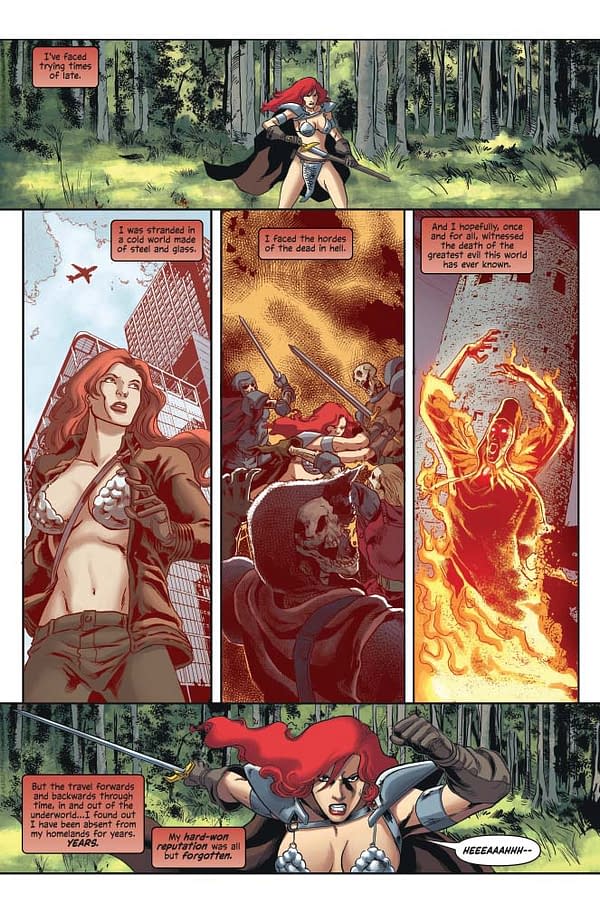 PAGES 2-3:
Meet Adin the Unkillable! This is a fun character Amy dreamed up — an orc that can't die becomes a sparring partner for adventurers, allowing them to work to their full potential.
I just like the notion that we could have someone get stabbed and calmly notice the blade he was stabbed with is imbalanced. It made me chuckle.
PAGES 4-7:
Now we meet Belo the Blacksmith, who discovers some writing on the sword Sonja's been using for a while. Gasp! Sonja acquired the sword in the future, in New York, but it has a SECRET HISTORY! A secret history that Amy has decided to share with you all. (And I helped.)
Buckle up!
PAGE 8:
MEET SKATH! A big ol' honking barbarian. Totally not inspired in any way by any other barbarians you may have heard about at any time in any other forms of fiction, at all. Honest!
PAGE 9:
I love this shark guy Skath is fighting, though it made me think of the old Tiger Sharks cartoon. Do you all remember that? Like Thundercats, but with fish? And how did some people go through the machine and turn into mammals instead of — ahem. Sorry about that, I got away from myself. Enjoy Skath vs. a Shark Man.
And in Panel 2, I defy you to not start humming Gaston's intro song from Beauty and the Beast now that I've put it in your head.
PAGE 11:
I realize now I could've asked for a He-Man easter egg and had a striped cat with green and orange fur. Missed opportunity.
PAGES 12-13:
Skath is not the kind of guy who wants to fight first. We went that way because it seemed less cliched to have a big ol' battling barbarian try to exhaust all options before fighting.
PAGES 16-17:
All the way into the battle, and we bring in a Dragon (and a nod to the country Skath was born in.)
It's a short fight — hey, Skath is good — but it shows just how the warrior wound up losing the sword Sonja later found.
PAGES 19-20:
Sonja's sword has been fixed up, and she's heard the story of Skath.
Will she reunite the warrior with his blade? Maybe … if the price is right.
And, as Sonja says, it's been a while since she's visited Cimmeria …
On to the next arc of Red Sonja, for more Sonja and the final fate of the Blade of Skath!