Exclusive First Look At Dynamite's Media Tie-In Titles For October 2016
We've been showing you exclusive first looks at Dynamite's covers and solicitations for their titles shipping in October 2016. Well, this is the big one. The Media Tie-in group. From television tie-ins like Battlestar Galactica, Grimm and The Six Million Dollar Man, animated series like Bob's Burgers and Brickleberry or internet sensations like the Smosh Bros or Boo: The World's Cutest Dog… they're all here.
BATTLESTAR GALACTICA VOL. 3 #3
Cover A: Alex Sanchez
Cover B Subscription: Michael Adams "Action Figure"
Cover C: Michael Adams "Costume Variant"
Writer: Cullen Bunn
Art: Alex Sanchez
The Galactica has embarked on what might be its strangest adventure. Bizarre alien cultures. Old enemies–thought long lost–rising once more from the shadows. New, terrifying threats nipping at their heels. But perhaps the most surprising encounter is yet to come–as the Cylons approach the Colonial Fleet once more with an offer of peace.
BOB'S BURGERS ONGOING #16
Cover A: Mario D'Anna
Cover B: Travis Millard
Writer: Rachel Hastings
Art: T.G. Hopkins, Maggie Harbaugh, Brad Rader
Gene, Louise, and Tina share a spooky story of a burger gone bad in issue #16 of the Bob's Burgers Comic Book! Bob prepares a burger with a strange spice, but when a hungry Gene reaches for it and pricks his finger, the kids find out that it's the burger that's hungry – for blood. As it grows and brings great success to the restaurant, the kids have to decide whether to continue to feed the burger, or fry it.
BOO, THE WORLD'S CUTEST DOG #2 (OF 3)
Cover A: Katie Cook
Cover B: Agnes Garbowska
Cover C: Steve Uy
Cover D Subscription: Photo Variant
Writer: Sholly Fisch, Adara Sanchez, Ricardo Sanchez, Jeff Dyer
Art: Agnes Garbowska, Shouri, Steve Uy
When the world's most adorable Pomeranian pup comes to comics, the fur flies… sometimes literally! Join internet sensation Boo and his best friends, Buddy and Bluebeary Pie, on whimsical flights of fancy with this sensational second issue! What adventures of doggy discovery will Boo take readers on today? The world's full of delicious scents to pursue, strange objects to explore, and new people (and animals) to befriend. Readers of all ages will be charmed by Boo's delightful demeanor and fun-filled stories!
BRICKLEBERRY #4 (OF 4)
Cover: Jeffrey Rebner. Mick Rose
Writer: Waco O'Guin, Roger Black
Art: Robert Negrete
Brickleberry Issue 4 is the dramatic conclusion of the Armoogeddon saga. Future Steve, unable to prevent the Alien Cow Invasion of 2015, rallies his fellow Brickleberry Park Rangers to engage in an epic battle with the Bovine Overlord. All of your favorite Brickleberry characters must band together to save humanity.
GRIMM VOL. 2 #2
Cover A: Maria Sanapo
Cover B: Kyle Strahm "Mask Variant"
Writer: Caitlin Kittredge
Art: Maria Sanapo
Juliette may have the incredible power of a Hexenbiest, but not the control that can allow her to trust herself, and when her and Rosalee's investigation into a string of murderous Wesen art thefts requires intimidation, who better to take lead than the one Grimm left in Portland, Trubel!
SIX MILLION DOLLAR MAN: FALL OF MAN #4 (OF 5)
Cover: Ron Salas
Writer: Van Jensen
Art: Ron Salas
Is there love in the air? Is that even relevant with the questions facing Steve Austin? Such as… Is Steve losing his humanity? Who can he trust? Are his enemies bringing the world closer to the end times or to the precipice of the singularity? Who exactly ARE those enemies? As the answers start to reveal themselves, the ultimate question remains: Who will survive and what bionic parts will be left of them?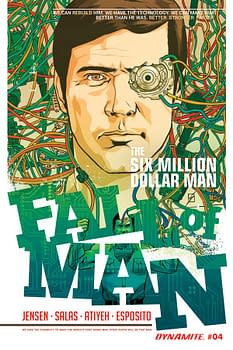 SMOSH #5 (OF 6)
Cover A: Jerry Gaylord
Cover B: Franco Viglino
Writer: David Atchinson, Yale Stewart
Art: Jerry Gaylord, Yale Stewart
"Boxmania" blazes across the country as consumers go crazy for Box Man swag! From apparel to toys to games to a BOX MAN MOVIE, audiences can't get enough of the "Cardboard Kid." Is all this fame going to his head? As Box Man's star rises, he grows distressingly distant from his friends. But he can't see the forest for the trees as he's gotten the attention of Kate, the only woman attracted to a man made of boxes. Can our hero balance a massive career, friends, and budding love?