Someone at BOOM! Studios must not have gotten the memo that this is BOOM! Box Jam week, highlighting the publisher's Young Adult comics, because BOOM! Studios has accidentally released this preview of a non-YA comic from its regular BOOM! line of comics. We're not about to complain, though, when that comic is Coda, by the creative team of Simon Spurrier and Matías Bergara. The issue is set to hit stores in a few weeks, but you can put your eyeballs on five pages early!
From the press release:
This all-new series, which sold out at a distributor level before the release of the first issue, reveals the aftermath of an apocalypse which wiped out nearly all magic from a once-wondrous fantasy world, in which an antisocial former bard named Hum seeks a way to save the soul of his wife with nothing but a foul-tempered mutant unicorn and his wits to protect him…but is unwillingly drawn into a brutal power struggle which will decide forever who rules the weird wasteland.

In CODA #3, featuring a main cover by Bergara, along with variant covers by Eisner Award nominated cover artist Julian Totino Tedesco (Hawkeye) and artist Toni Infante (Sons of The Devil), Hum returns to Ridgetown, only to find the city under siege by Thundervale, a bandit city that rests on the back of the last living giant. Hum manages to get back inside, but when an outerwall is breached by the enemy, all seems lost.
With the amount of press releases BOOM! sends out, it's a wonder their editors every have time to do anything other than come up with quotes for them. But Eric Harburn is up to the task, saying:
Hum continues to find—or is it cause?—more trouble than he bargained for, and CODA #3 is our wildest issue yet. Si and Matías continue to pull out all the stops each and every month.
Coda #3 is in stores on July 11th. Check out the preview below: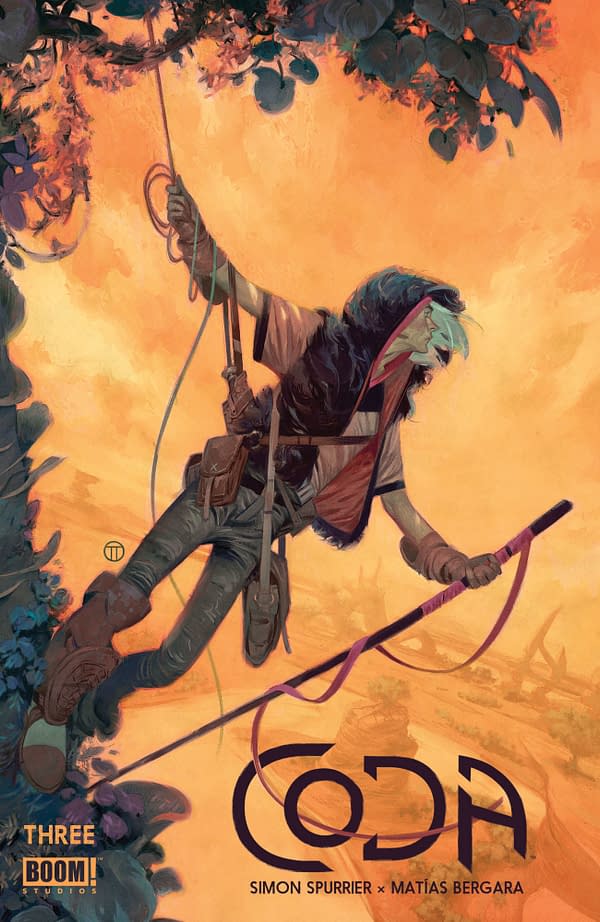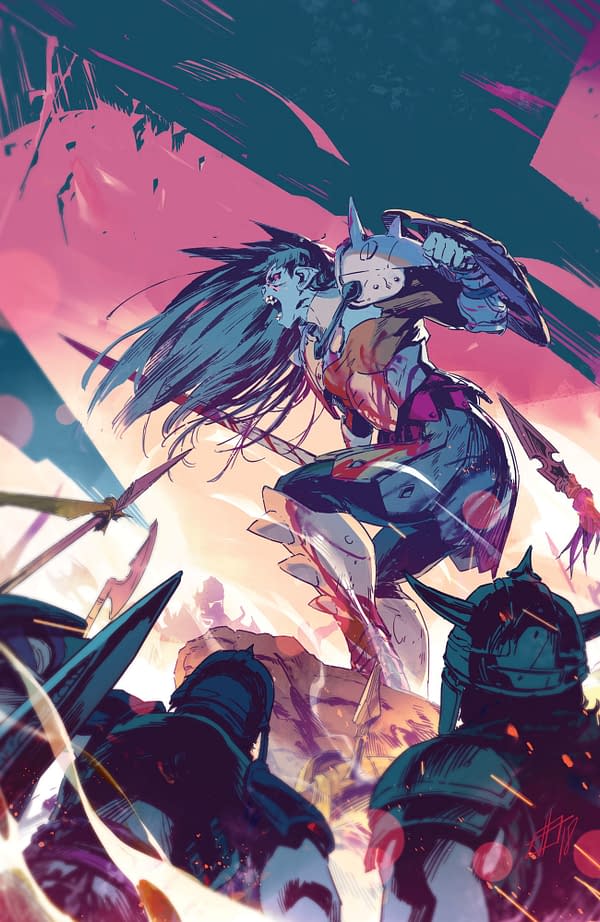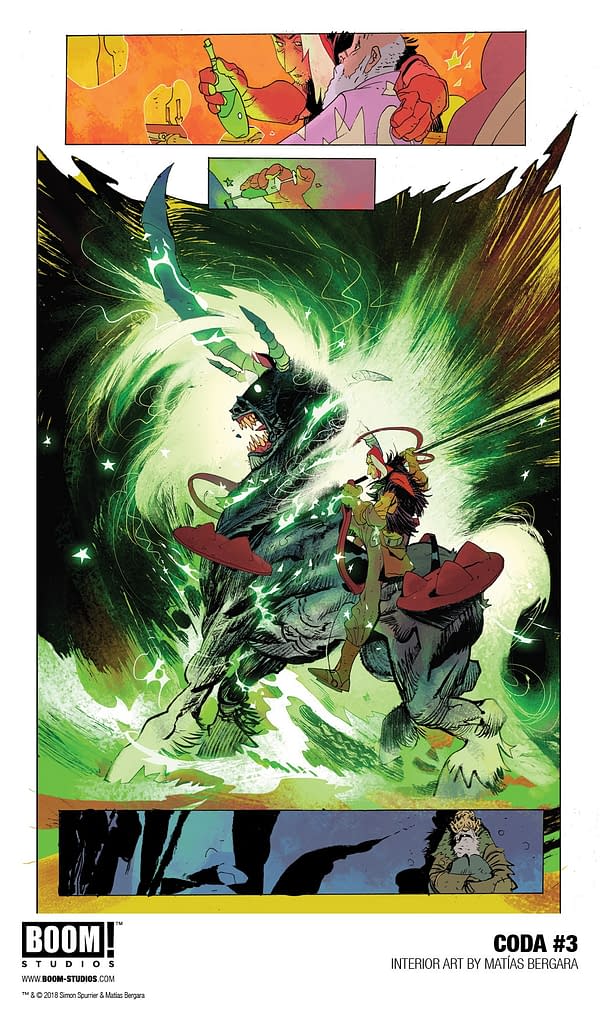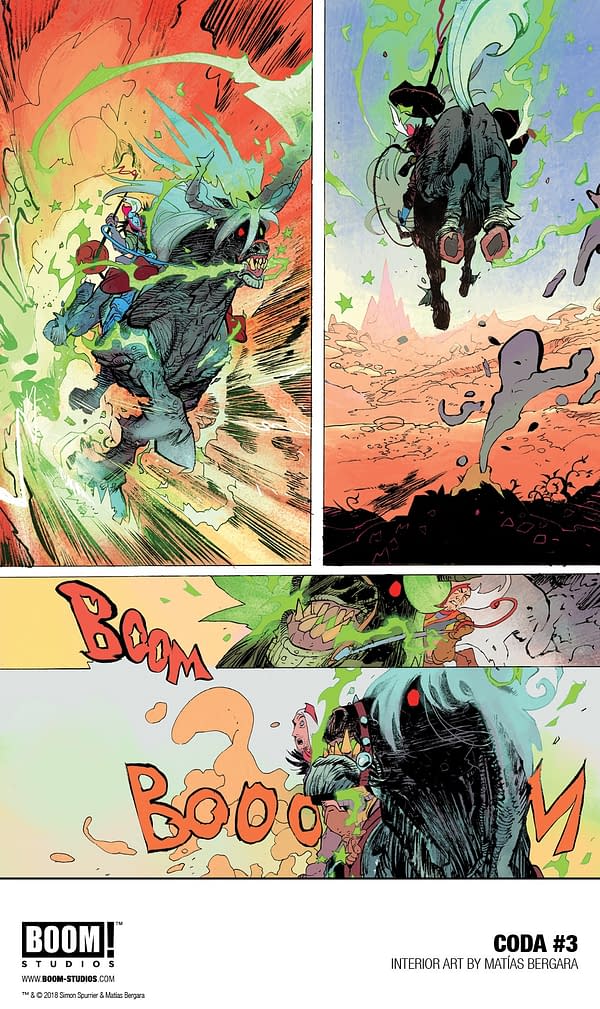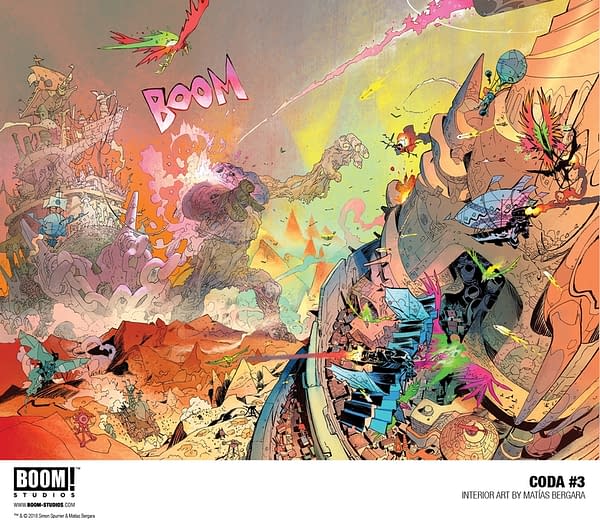 Enjoyed this article? Share it!