Posted in: Comics, DC Comics, Review | Tagged: andy troy, dan jurgens, dc comics, green lantern, Green Lantern Corps, Green Lanterns, guardians of the universe, guy gardner, jessica cruz, john stewart, justice league, kyle rayner, mike perkins, pete pantazis, sci-fi, simon baz, superheroes
---
Green Lanterns #50 Review: Frustratingly Vague but Still Fun
A Guardian of the Universe detects something during his meditation. Green Lantern Corps Leader John Stewart answers a distress call to find a far larger threat than he could have anticipated. Guy Gardner and Kilowog make a similarly startling discovery on another distress call. The remaining Guardians of the Universe sense something dangerous on the horizon. Green Lanterns Simon Baz, Jessica Cruz, and Kyle Rayner return to Mogo to find their headquarters amid a destructive storm. During all of this, the Green Lantern rings begin to behave strangely.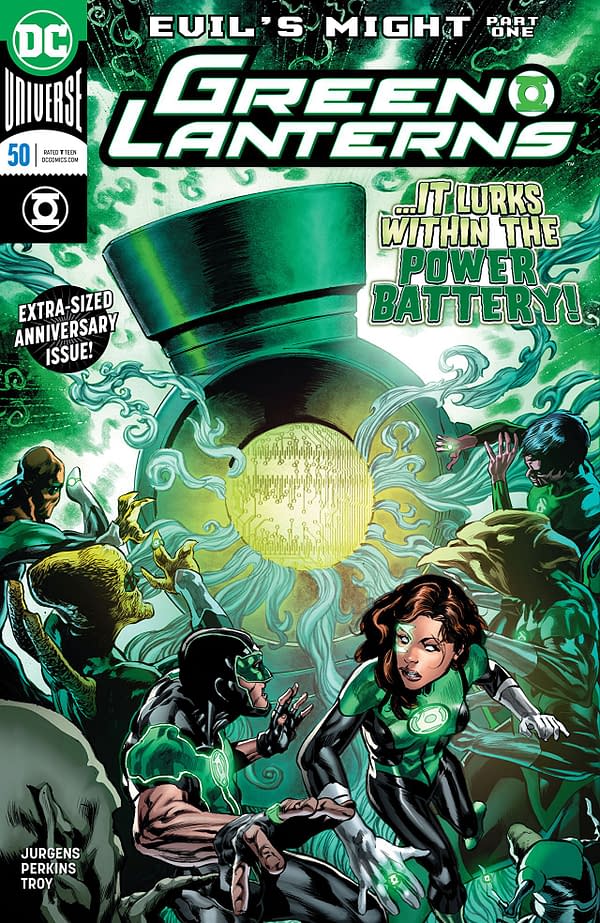 Green Lanterns #50 is the beginning of a new era for this title as well, with writer Dan Jurgens taking the helm. The book makes immediate changes by focusing more upon the Corps than just Jessica and Simon, though that may not be a permanent shift.
This issue has a far larger scope than many of the book's previous installments. There is a massive cosmic threat on the horizon, and Jessica and Simon are just part of the response.
The comic is frustratingly vague with what this threat is. The book is all vague warnings of apocalyptic arrivals. The fight John Stewart faces is the closest thing to nailing down a specific, but even that jumps around any real explanations.
This isn't a fatal flaw, as there is still a lot to like about this comic. The Green Lantern Corps members are presented well, the tone and atmosphere are established very well, and there are a handful of good lines sprinkled throughout the book.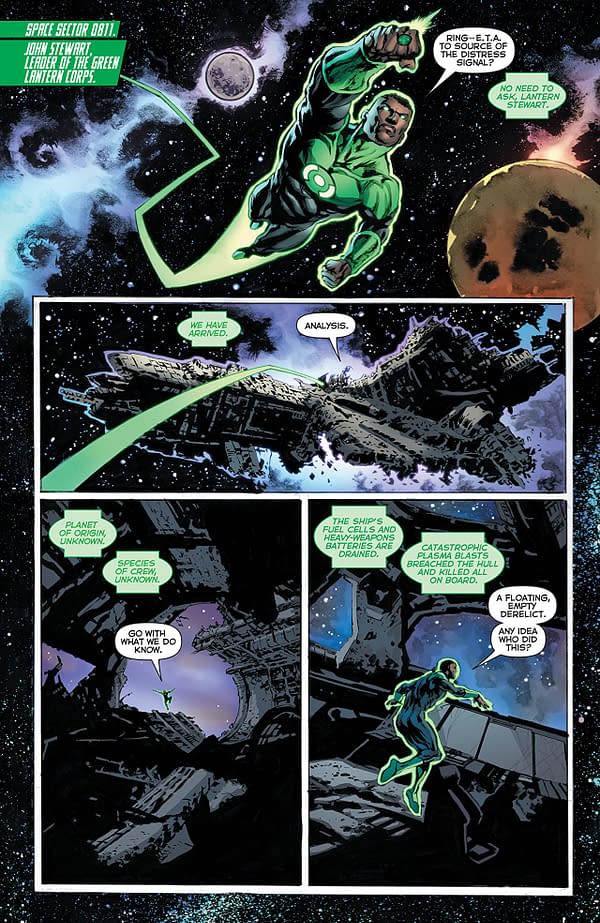 Mike Perkins, Andy Troy, and Pete Pantazis make up the art team behind this book. I'm a huge fan of Perkins work, and it holds up mostly well int his book. Some of the finer detailing is lost in a few of the splash pages, and some of the faces do look odd. That said, most of the book is the bleak and heavily shadowed pseudo-photorealistic glory for which Perkins is known. Troy and Pantazis provide a darker color palette offset by the occasional brighter environment or the neon green of the rings. It looks good, though more brightness scattered throughout the book would have been appreciated.
Green Lanterns #50 is an intriguing new start for the book. It's a little to vague for its own good, but Jurgens and the art team nail the atmosphere-building the comic warrants. Plus, the characters are still enjoyable, even if leads Jessica and Simon don't receive that much panel time. In any case, I can recommend this one. Check it out.
---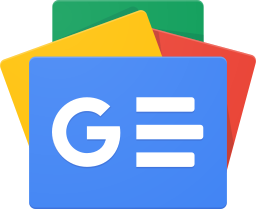 Stay up-to-date and support the site by following Bleeding Cool on Google News today!