Posted in: Comics, DC Comics | Tagged: flash, jay garrick, Jeremy Adams, The Flash
---
Jeremy Adams Gets a Different Flash, Jay Garrick, with Diego Olortegui
Jeremy Adams and Diego Olortegui are teaming up for Jay Garrick: The Flash, a new six-issue mini-series beginning in October from DC Comics.
---
Jeremy Adams and Diego Olortegui are teaming up for Jay Garrick: The Flash, a new six-issue mini-series beginning in October. It's hard being a parent, especially when your kid is a speedster! Jay Garrick has been reunited with his long-lost daughter, Judy, but figuring out how to connect with her is proving to be difficult. They'll need to work to find common ground when a mission that started in Jay's early days as the Flash comes roaring to today. But will The Flash and The Boom be able to thwart a plan that's been in the works for decades?!
Ahead of Stargirl: The Lost Children's last issue next week on the 9th of May, DC is revealing a number of new titles that will be under The New Golden Age banner showrun by writer and former DC Comics COO Geoff Johns and will launch in October 2023.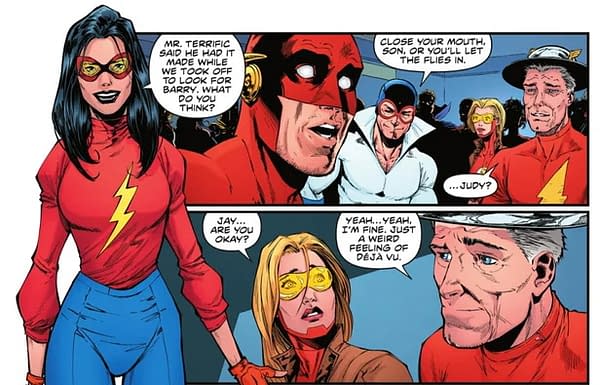 Recently, Judy Garrick debuted in DC Comics as The Boom! Previously there was no mention of Judy Garrick, and she did not appear in Flash #10 (above), but that recently changed at DC Comics, with the three following mentions of the daughter of the Golden Age Flash, Jay Garrick, in Flash, Stargirl Spring Break Special and Flashpoint Beyond.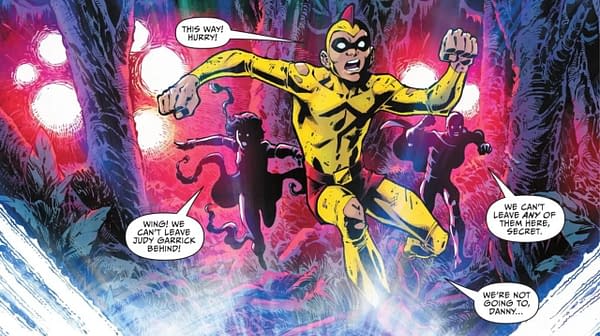 Not even the Psycho Pirate remembers Judy Garrick…
Now, courtesy of Golden Age and Stargirl she is back. And so is her dad.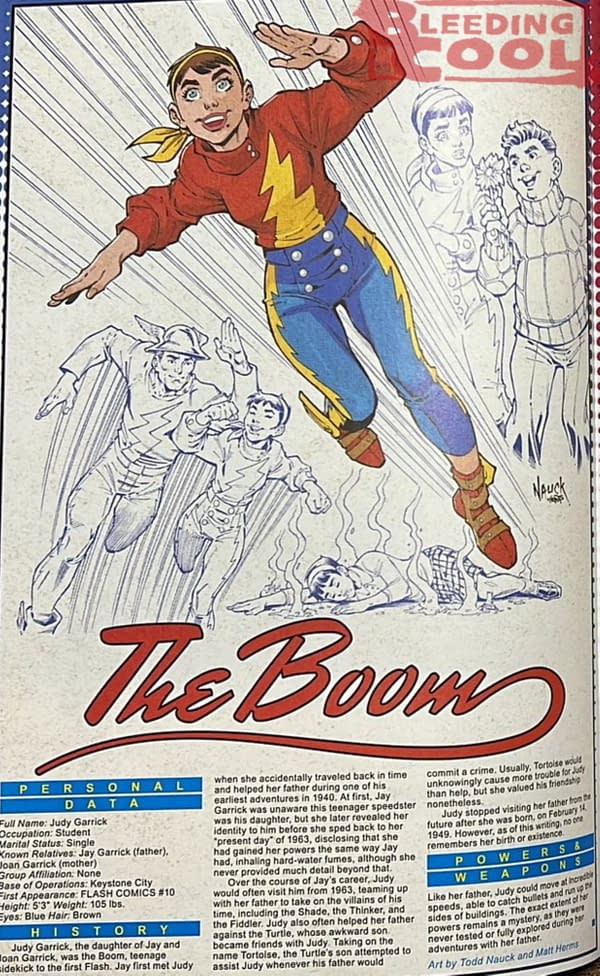 And Jeremy Adams, who is leaving The Flash with #800 rather suddenly, to the chagrin of himself and readers, will be returning to tackle the Flash family again – just a different one.
Full Name: Judy Garrick
Occupation: Student
Marital Status: Single
Known Relatives: Jay Garrick (father), Joan Garrick (mother)
Affiliation: None
Rase of Operations: Keystone City
First Appearance: FLASH COMICS #10
Height: 5'3'
Weight: 105 lbs
Eyes: Blue
Hair: Brown

Judy Garrick, the daughter of Jay and Joan Garrick ,was the Boom, teenage sidekick to the first Flash. Jay first met Judy when she accidentally traveled back in time and helped her father during one of his earliest adventures in 1940. At first, Jay Garrick was unaware this teenager speedster was his daughter, but she later revealed her identity to him before she sped back to her present days of 1963, disclosing that she had gained her powers the same way Jay had, inhaling hard-water fumes, although she never provided much detail beyond that. Over the course of Jay's career. Judy would often visit him from 1963, teaming up with her father to take on the villains of his time, including the Shade, the Thinker, and the Fiddler, Judy also often helped her father against the Turtle, whose awkward son became friends with Judy. Taking on the name Tortoise, the Turtle's son attempted to assist Judy whenever his father would commit a crime. Usually, Tortoise would unknowingly cause more trouble for Judy than help, but she valued his friendship nonetheless. Judy stopped visiting her father from the future after she was born, on February 14th, 1949. However, as of this writing, no one remembers her birth or existence. Like her father. Judy could move at speeds, able to catch bullets and run up the sides of buildings. The exact extent of her powers remains a mystery, as they were never tested or fully explored during her adventures with her father.
---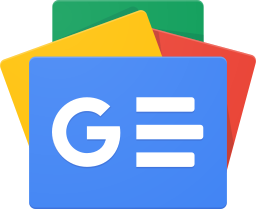 Stay up-to-date and support the site by following Bleeding Cool on Google News today!