Mech Cadet Yu #9 Review: An Underwhelming Monster vs. Mech Battle
[rwp-review-recap id="0"]
Tanaka, the Mech Cadets, and the Engineering Corps are on the approach to the Sharg mothership. General Park tries in vain to get them to head back, but the team is determined to save the Earth without sacrificing their Mechs. Tanaka and the Mech Cadets are to keep the main Sharg forces busy while the Engineering Corps plants explosives on the mothership with Mech Cadet Yu covering their backs.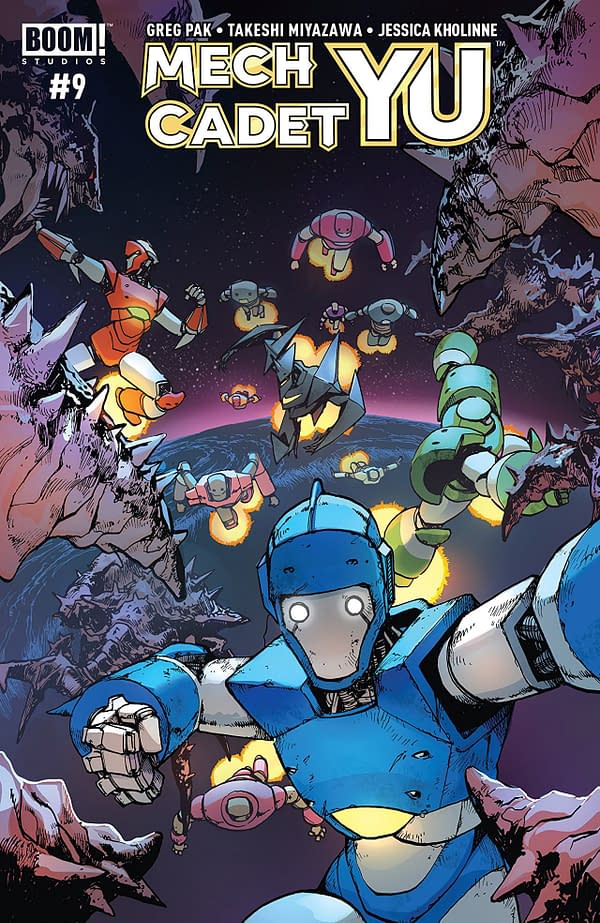 Mech Cadet Yu #9 is intended to be part of a climax to the series. This is part of the big final battle between Earth and the Sharg, and the Mech Cadets are at the frontlines of the battle.
The comic is not failure in this regard, but it misfires a few times in speeding towards the conclusion to this issue. It tries to tie up plot threads while adding mistimed additions that gum up the pacing. The big battle between the Mechs and the Sharg mothership only takes up a few pages, and you only get to see half of it. I get that Yu is the protagonist, but it would have been cool to have some of Tanaka, Olivetti, Park, and Sanchez fighting the large Shargs.
In the end, it's not much of a climactic issue. It's not the climax though, as the battle's not yet over. Hopefully the next issue or two will be more exciting.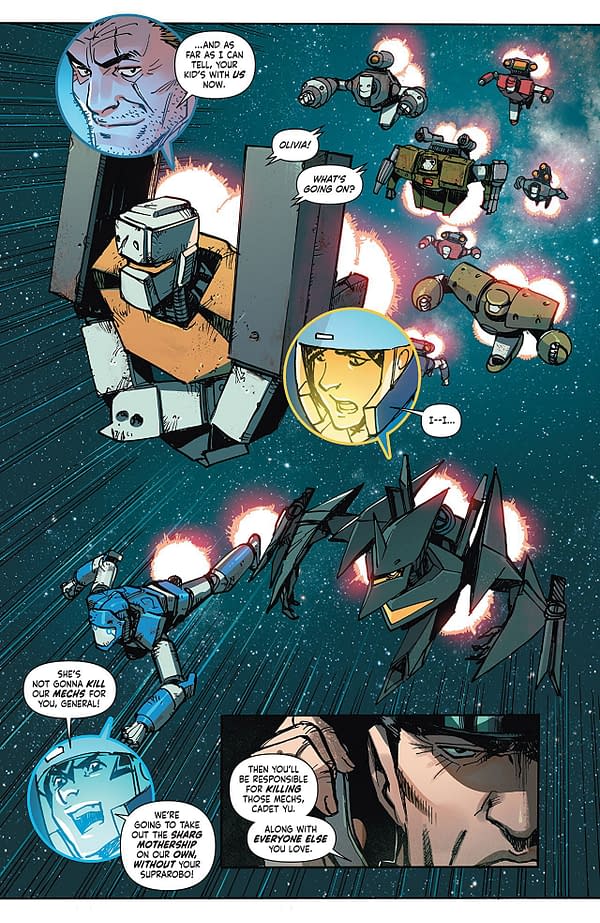 Takeshi Miyazawa makes up for some of this by once more providing excellent artwork and understanding what makes for a good action scene. There's a sense of collision, a kineticism to the motion, and a consistently good aesthetic to the world and its parts. Jessica Kholinne joins up as the color artist on this issue, and she continues the comic's streak of bright colors and flashing contrast.
Mech Cadet Yu #9 is an underwhelming issue considering the build-up. The battle is very brief, and it's slowed up by the comic trying to make sure it establishes the foreshadowing plot threads before moving further. It's not bad, but it's far from one of the better issues of the series. I can recommend it, but it's not required reading for the week.[user_id]
[rwp-review-ratings id="0"]
[rwp-review-form id="0"]