Monstress #13 Review: An Enthralling if Complex Story with Beautiful Art
[rwp-review-recap id="0"]
Maika and her allies manage to narrowly escape the Blood Queens, and they hold up at a refugee camp called Tear Shed. Here, they plan their next move.
Elsewhere, the powers that be decide the future of the world. Maika's mother chooses what to do about her daughter. The Prime Minister of the Federation determines what can be done about the Mother Superior situation.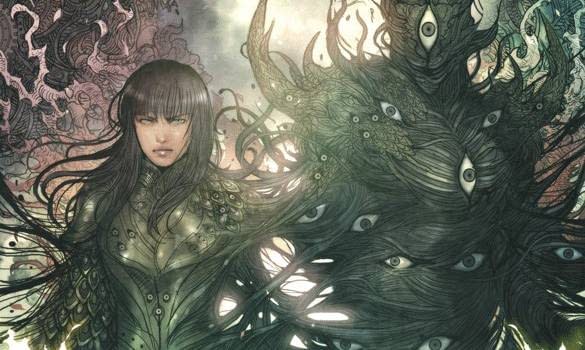 I mentioned this in my Redneck #9 review, but there is something to be said about a comic that can bring you up to speed within a few pages. Monstress #13 — while I did come away having something of a grasp on its plot — doesn't entirely succeed in that regard.
I get the broad strokes of the plot, but I had to wade my way through a lot of terminology to get there. The meaning of said terminology still alludes me to a point, but I could completely understand other people being completely turned off by the inundation of Monstress lore terms throughout the opening pages.
In fairness, Marjorie Liu and Sana Takeda have built a massively complex world with a deep history in Monstress, and it is one I may have to explore further should I ever get the time. It's interesting and takes some notes from high fantasy, anime/manga, and a little bit of young adult fiction. There's growing strife between humans and nonhumans, murderous fundamentalists, prophecies, an elder god monster living within the protagonist Maika, political intrigue, magic, and Maika herself is a drifting outlaw in the middle of all this madness.
The progression of this gargantuan, sprawling story takes some exposition dumps to move forward. The ending to the last issue involved a major mystic development, and this issue goes into the ripple effect of that action on Maika's part.
I definitely dig how much of the major players and powerful people or women and people of color. It definitely gets some points for that.
Also, there is a sea monster that drops the f-bomb a lot. That also gets some brownie points.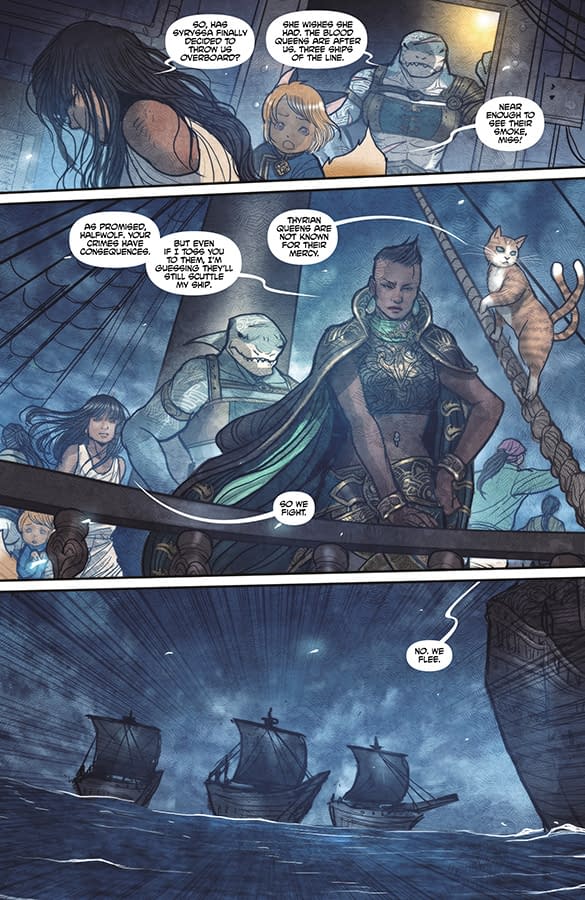 Regarding Maika herself — I don't find myself being attached to this character. She's mostly just bitter, and we don't see her treating others very well. She also seems a bit selfish. Now, I will concede that it may just be the presentation she receives in this issue. The side characters were more engaging. There is a chipper fox-girl named Kippa and a talking cat named Ren. The former is just really charming, and the latter is interesting and brimming with personality too. Hopefully, Maika is far more engaging in other issues.
Takeda's artwork is quite breathtaking and helps maintain the delicate balance Monstress strikes. Even when the story itself can get a little slow, Takeda's artwork keeps the eye drawn to the page. The designs of many of the mystic creatures are fantastic too. Takeda's color art is beautiful and well balanced, too. There is a texture and identity to this world created by Takeda's talent, and it's great.
Monstress #13 is a challenging but overall intriguing read set in a deep and complex world with complex politics and driven characters. It's hard to get into it, especially with its liberal use of its own arcane terminology. However, I still find myself recommending it for how interesting the world is and the beautiful art by Sana Takeda. Give it a try.
[rwp-review-ratings id="0"]
[rwp-review-form id="0"]