Audible Review: The Tethered Mage, a Light Fantasy Beach Read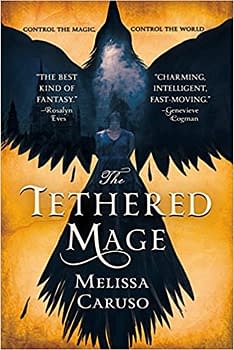 [rwp-review-recap id="0"]
The Tethered Mage by Melissa Caruso is a nice light beach-read of a fantasy novel. Romantic subplots, cheesy politics, and the usual trappings of high society meet together with a rich-meets-poor story; in this case, two women from opposite sides of the tracks are forced together by magic gone wrong, and for the good of the country. This isn't Game of Thrones, where you need to remember a thousand folks and political machinations across multiple generations. This is a book to sit back and enjoy on a nice day. It was fun, brisk, and not too overly self-serious.
I enjoyed this book through Audible; the narrator, however, was not pleasing to my ears. I found the voices she picked for characters either grating and annoying, in the case of the women, or indistinguishable, in the case of the majority of the male characters. But still I trudged through; the story hooked me enough that in spite of listening to the most annoying voices I'd heard on audio. I still wanted to know what happened; how the story ended.
The world-building included an interesting take on magic, and control of it, with its own slang and terminology unique to it, which I found refreshing; it helped make the world feel its own, and not generic, even if some of the characters felt so. The main characters are women; a firebrand and a bookworm, both struggling against the confines of their society and trying to find their way in a world where stakes are high and apparent choices seem limited.
At 480 pages, it's roughly average book length, and the audible edition tops out at 14 hours and 15 minutes. I'd definitely sample this one before getting it. If the voices don't annoy you, this'll be good for a road trip or a summer beach read.
[rwp-review-form id="0"]