Chilling Adventures of Sabrina: Shipka on Sabrina's Strengths, Aguirre-Sacasa Talks "Dark Education"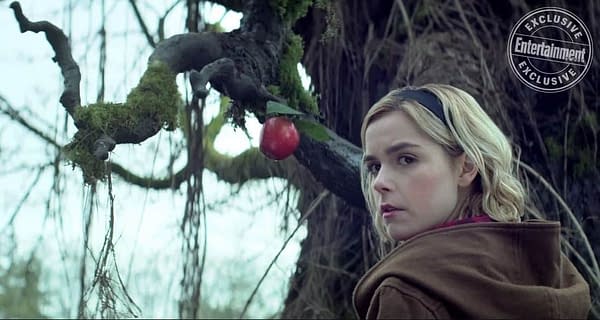 Following Netflix's release of the first official teaser for the upcoming Kiernan Shipka-led supernatural horror series Chilling Adventures of Sabrina from Roberto Aguirre-Sacasa and Arrow's Greg Berlanti, Shipka and Aguirre-Sacasa offered viewers some additional insights into what viewers can expect when "The Witching Hour" arrives next month (courtesy of our friends at EW):
● The series introduces us to half-witch, half-human Sabrina on the eve of her 16th birthday, when she's expected to renounce her human side and all the mortal trappings that come with it – including boyfriend Harvey Kinkle (Ross Lynch) – and embrace her supernatural side. Except no one stopped to ask Sabrina what she wants – which is a problem:
"There's this minor little thing of signing your soul away that sounds a little intense to Sabrina. She's this young, really badass, outspoken girl who is still individuating herself and figuring out love, as well as honing in on her power and struggling between these two completely separate worlds." – Shipka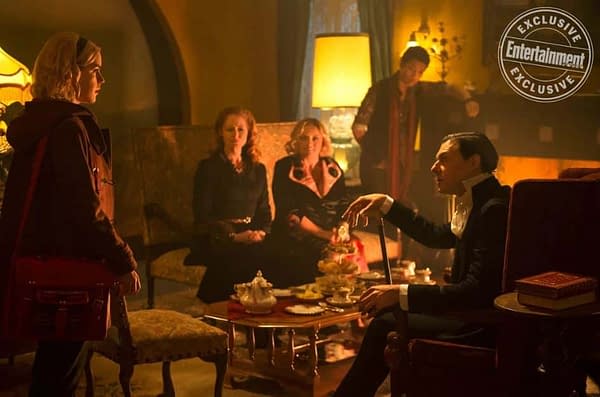 ● With the challenges that the budding witch finds herself facing, Sabrina will need to tap into strengths that extend beyond witchcraft – strengths Aguirre-Sacasa sees in Shipka: "Sabrina has to stand up to the devil and these very formidable opponents, and someone like Kiernan has the gravitas and assuredness to do that."
● While each episode of the season is described as a "mini-movie," they collectively add up to a very important – and potentially very deadly – lesson for Sabrina: "[The season is] following her dark education. It's all part of a bigger arc, which is her trying to hold on to her humanity as her witch nature is developed."
● As for how Shipka deals with her now-confirmed allergies towards her feline friends, it looks like it's all about "personal space" when the actress jokes, "We keep at a safe distance. It's like, 'Actors That Didn't Get Along in Shows: Kiernan and the Cat Hated Each Other.'"
The Chilling Adventures of Sabrina imagines the origin and adventures of Sabrina the Teenage Witch as a dark coming-of-age story that traffics in horror, the occult and, of course, witchcraft. Tonally in the vein of Rosemary's Baby and The Exorcist, this adaptation finds Sabrina wrestling to reconcile her dual nature — half-witch, half-mortal — while standing against the evil forces that threaten her, her family and the daylight world humans inhabit.

Kiernan Shipka, Ross Lynch, Jaz Sinclair, Michelle Gomez, Chance Perdomo, Lucy Davis, Miranda Otto, Richard Coyle, Bronson Pinchot, Tati Gabrielle, Abigail Cowen, Adeline Rudolph, and Justin Dobies star in the upcoming Netflix series.