While there was a brief hope that Lewis Tan was being considered to play Nightwing in the upcoming DC Comics film adaptation, it looks like he may be eyeing a return to the Marvel (well… 20th Century Fox's Marvel) movies. (The following contains Deadpool 2 spoilers — read at your own risk.)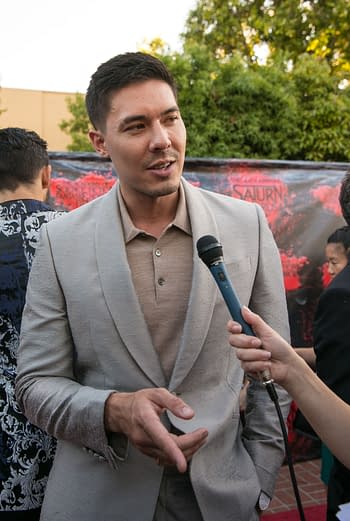 Tan already made his superhero mark this summer as Shatterstar in Deadpool 2. Unfortunately during the timeline of the film, Shatterstar and pretty much all the other members of X-Force except Domino (Zazie Beetz) meet untimely ends.
However, in one of the post-credits scenes we see Deadpool (Ryan Reynolds) go back to save my favorite character in the film, Peter (Rob Delaney). As Tan pointed out to SyFy Wire at the recent Saturn Awards, there's nothing to say that the rest of the crew weren't saved at some point too, leaving the door open for them to all return to Drew Goddard's X-Force film.
X-Force's cast hasn't been confirmed yet, but it's safe to assume Beetz, Reynolds, and Josh Brolin's Cable will return. We'd also LOVE to see Peter back for more.
If you aren't familiar with Lewis Tan, you can catch him as Gaius Chau on the current season of Into the Badlands where he shows off his martial arts and action chops. You can also see him on Netflix's Iron Fist or in Den of Thieves.
Tan did clarify that his meeting with DC was not explicitly about Nightwing, but that doesn't mean the subject wasn't broached nor that he's out of the running. We can still hold out hope, he also wouldn't be the first actor to appear in both the DC and Marvel universes. Either way, we hope to see him return as a superhero soon.
Enjoyed this article? Share it!