Review: Amelia Cole and the Unknown World TPB
Alasdair Stuart writes;
Monkeybrain have, in just over a year, proved themselves to be one of the most interesting companies on the market. Not only is their line up diverse (Kids' action comics! A sequel to A Connecticut Yankee in King Arthur's Court! Contemporary supernatural fiction! Super villain black comedy! Two fisted science adventure!) their books have spearheaded the next stage of the original, digital comic revolution.
The idea of comics which have the story and professional production values without the space-eating dead tree component is very attractive to some people. To others, it's anathema. Which, conveniently, is also an excellent horror comic from Rachel Deering, who worked on Amelia Cole and the Unknown World which arrives in print from IDW this week.
Segues. They're not just for guided tours around Santa Cruz.
Amelia Cole and the Unknown World follows Amelia, a female magician in her early '20s. Amelia's smart, talented and, with the exception of her Aunt Dani, alone. When their lives are threatened, Amelia is thrown sideways into a world that's both familiar and completely alien. Here, magic and technology co-exist, the city has a Protector and Amelia is a criminal rather than an outcast…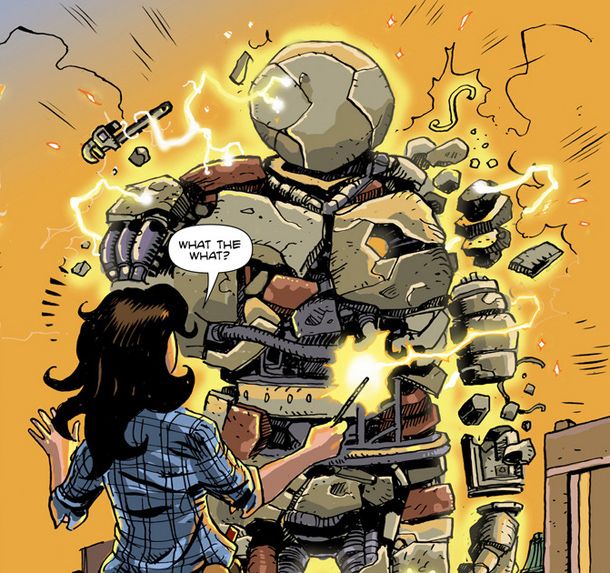 There are four reasons I love this book. The first is Adam P Knave and DJ Kirkbride's script. It's nimble, light-footed story telling that sets the world up in under one issue and then explores it through character rather than info dump. They have huge fun with Amelia's new home and as a result, so do we, as we watch her struggle to fit in. There's a healthy dose of pragmatism behind everything too, with Amelia using a wrench for a while when her wand gets broken and creating a rubble golem that she, of course, calls Lemmy. The world may have changed, the rules may be different but she's still her, still sensible, still more than a little heroic.
The second reason is Nick Brokenshire, Rachel Deering and Ruiz Moreno's work on art and lettering. Brokenshire's style is unique; rounded and friendly but with a real edge to his design work and a fierce eye for detail. He's also absolutely comfortable with the narrative gymnastics the story occasionally requires, leading your eye around the page without ever seeming like it's being dragged. Moreno's assistance on colors is invaluable, giving the book a smart, grounded palette that emphasizes both the normality and differences in Amelia's new home. Deering's lettering is exemplary too, coping with the numerous sound effects and various speech patterns with ease and again leading rather than dragging the reader. I've said before, and still believe, there isn't a tighter, more coherent creative team than this working today. They mesh perfectly and the end result is very special.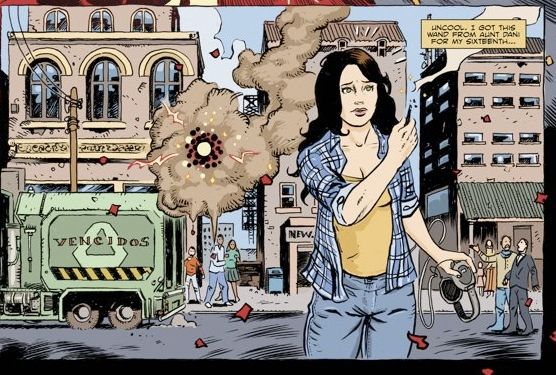 The third reason I like the book is the fact that the characters are so profoundly likable. Amelia in particular is one of my favorite heroines of recent years. She's pragmatic, sensible, just a little goofy and copes with her situation with a very believable combination of terror and one step at a time bravery. You like her and want her to be okay inside a couple of pages and that's a hell of an achievement for a new series.
Finally, and most importantly, this is a really fun book. It's got a great central premise, a wicked sense of humor and a massive heart. This is urban fantasy at its best, heroic and human and completely enthusiastic. It's a great book, easily my favorite in Monkeybrain's incredibly strong first line up and it's a pleasure to see it in print. If you were interested but haven't gone digital yet, now's the time. This is one of the best comics on the market, and now? You can be reminded of that every time you look at the copy on your shelf.
Amelia Cole and the Unknown World is published by IDW and is available now priced £14.99