Sixty-One Thoughts About Sixty-One Comics – The Walking Dead, Catwoman, Mighty Avengers, Larfleeze, Bravest Warriors, Teen Titans, Elephantmen, Uncanny Avengers, Miracleman, Guardians Of The Galaxy, Superior Spider-Man, Fantastic Four, Hawkeye, Revenge, Pariah, Hacktivist, Wraith, Aquaman, Auteur, Rat Queens, Super Soldiers, Black Science, Batman/Superman, Flash, Justice League Dark, World's Finest, Regular Show, Mass Effect, Manhattan Projects, Origin II, Wolverine, Three, Superman, Umbral, Wolverine & The X-Men, Bounce, Five Weapons, Deadly Class, Sex, Satellite Sam, Chew, Artefacts, Turtles x3, Serenity, Star Wars Legacy, Tiomb Raider, Damsels, LOEG: Roses Of Berlin, X-Files Conspiracy Transformers, Star Trek, Samurai Jack, Powerpuff Girls, My Little Pony, Judge Dredd, Ghostbusters, Cryptozoic Man, Robocop and Deceivers
Sorry for the paucity of offerings this week but I have a hospital appointment, I know, on New Comics Day, so life has got in the way a little…. Speak for yourself, Pariah #1, I'm currently on the 85 bus on the way to St Georges Hospital in Tooting. Plenty of unpleasantness to come. Well yes, Hacktivist #2, I would like go have fun, but instead I'll be in a waiting room watching people cough up their lungs or some such. I'm feeling quite queazy about the whole thing. But thankfully I've got a big stack of comic books from Orbital Comics to read and a hand held scanner. What could possibly go wrong? There's a lot of amputation around this week, even if it's not always quite as gleeful as in Wraith #4. Though there's a soupcon of glee and admiration in the Walking Dead that seems just the right amount out of place… And there's Aquaman which has has its fair share of amputations over the years, adds a few more to its tally. And that's before people start removing faces, such as the stomach churning Revenge #1… Or the launch of Auteur from Oni Press. Rat Queens has a go, but only gets so far. Mass Effect has the skinned look but apparently that's from being grown from the inside out rather than having the outside stripped off. Still looks like a Scandinavian art/science exhibit to me. Of this evisceration in Manhattan Projects. Nasty stuff all round. Has your breakfast made a repeat visit to your mouth yet? If not, maybe reading this may help. Remember when Wolverine had a healing factor? Origin II #3 does, and gives us a close up view. Which, with the text, is hard to forget. Just imagine that. Go on, imagine in… Wolverine remembers as well. It's not exactly working out well for him. Last week's Wolverine-kills-someone did feel a bit man-bites-dog but here, Wolverine lays down his new moral code. No, I don't believe it either. Actually, you get a lot more Superior Spider-Man/Goblin Nation fighting in Wolverine #2 than you do in Superior Spider-Man today… Because here it's "Peter Parker"'s life that is falling apart as the centre cannot hold. It seems that this is Otto Octavius' fate, for his best laid plans to always gang aft aglay.
Okay, something nicer now.
Okay, so it's two weeks after Valentine's Day, but there's a lot of love in the air for comic books today. Let's look through a few… See, that's the classic model from Elephantmen, out today. At least that's how it begins. But how do other comic books take the Valentine's Day model and apply it elsewhere? It may be two weeks late, but Catwoman is getting down to a nice meal. Hmm. No issues with sexual politics of domination here, then. Still, on Valentine's Day, who am I to judge? Well, White Tiger is someone to judge, it seems, in today's Mighty Avengers. You know, there are easier ways to break it to someone. Larfleeze gives us a rather destructive version, that love loses us, to fall in love means to be defeated. Everyone's at it, it seems. Even the Bravest Warriors! And as expressions of love, this wish by Kid Flash in Teen Titans for someone's death as a pensioner isn't quite as romantic as maybe he thinks he is making it. And sounds just like the like of stupid thing I'd say… Or James Cameron would put in Titanic. Okay that, in Uncanny Avengers, is stupider. No, what we need is something purer, more direct, more focussed. One of my favourite scenes from Miracleman, one of the first moments where the idea of a man with a secret identity, living in two bodies, two brains, has an actual affect on the person and the way they think. Not just super speed and super breath but super thinking too. And a move well away from the Captain Marvel trope. Well, that from Guardians Of The Galaxy comes pretty close. A boy and his long-lost dad. Or course, who didn't do the dishes also comes up but for now, it's a moment.
Awwww.
Three offers its greatest put down on the Frank Miller version of 300 yet, in the panels themselves rather than the backmatter. That's right, you never saw the enslaved helots in the battlefield in 300 did you? No, no you didn't… From Superman, that's right folks, they'll be squawking about this and posting it on Faceroom all day today. Except… there is a Hive. A real one. A rather fun one. The V Hive. I wonder if this will get it any more traffic? Wolverine And The X-Men gives us a glimpse into the future again. Which doesn't bode well for Storm… or indeed Kid Apocalypse. And is this what healing factor-less Wolverine will look like in a few years time? No, its never good to see your own future.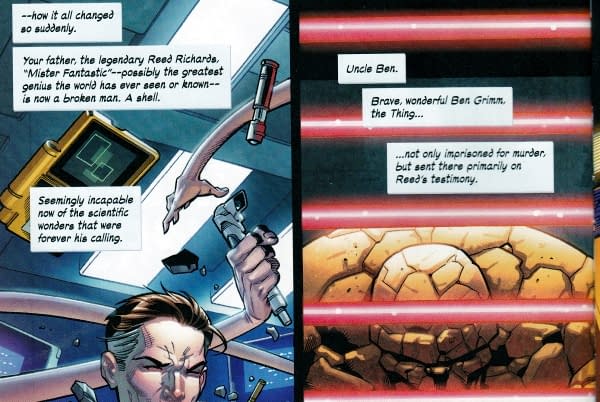 And the Fantastic Four #1 relaunch seems to back that up with a glimpse of what is to come. A stupified Mr Fantastic and a Thing in prison for murder? And this is the story James Robinson is going to tell? Yeah, okay, I'm in. Clint is a super hero. He can do the witty banter. His brother is not a superhero and can't. This, as we discover in the rather late Hawkeye #15, is pretty much the only real difference between them… that's all it comes down to in the end. Okay, Super-Soldiers was a Marvel UK not even I read, but its return in Revolutionary War does make me think I missed a trick there. It's just funny, weird and bonkers. I feel like losing my head over it. And, yes, Black Science as well, as the battle with the colonial oppressing Americans vs the native European continues… Do you remember Pogs? Regular Show does and so do I. I don't think I ever owned one but was fascinated that others did. Cardboard discs used for gaming with a visual on them. And forcing collectors to get into another thing. And now seen as the straw that broke the collectible market's back. Seriously, pogs… Jae Lee does so many things so, so right. This is another. Heat vision from Power Girl in Batman/Superman that look solid, as if they are somehow being ripped out of Power Girl's eye sockets, as if they are puling out her eyes as much as they are burning whatever is being looked at. Horrific, fascinating and just one tiny detail. Deadman gets a spoiler in Flash. Dan Slott would not approve, I'm sure. Well how about that pair of wings you just ripped off? Try flapping them! Oh bloody hell, Justice League Dark is still going on about the "Blight". I'd forgotten. Can this really be putting on sales for the affected books? Because if I'd have remembered, I think I'd have put it right back on the shelf. That's right Superman, because you're her mother! Okay, maybe not, but as Power Girl appears in Batman/Superman, so Superman appears in World's Finest. It's a kind of exchange program they've got going on. From Umbral there, someone who may not have looked so hard at the folk he's talking to. Wives? With those kind of faces? They'd be lucky if their own hand didn't find them to repulsive to go through with it. Bounce introduces me to the Glasgow Coma Scale. Which is handy, because until I wikipediaed it, I thought it might be a scale of exactly how hard someone headbutted you before you slipped into continual unconsciousness. There are many reasons I love Image Comics, and here's one. You can have a comic like Five Weapons, about a school for assassins, killers and the like…. with a lone outsider not quite fitting into the existing cliques and clans. And then you can have a comic like Deadly Class about exactly the same thing. And no one bats an eyelid, no more than if you were publishing Superman and Captain Marvel at the same time. Other publishers would have a problem. Image reckons you can just work it ou yourself.
Sex, with issue 11, does the unthinkable. It doesn't have any sex in it. This mop up job is as close as you get this month. Thankfully Satellite Sam is there to keep the ante upped. And the thin dressing room walls play perfectly with the panels of the comics and the thin gutters between them… I'd like to think that this hallucinatory issue of Chew looks odder than usual, but it's just not true is it? Chew always looks this insane. In Artefacts #31, Hannibal Tabu explores the reaches of the Irish accent… It's Turtles Day at IDW, so New Animated Adventures (despite not being animated) discuss the finer points of IP trademarks… And so do TMNT #31. So anyone reckon that Tai Chi will remain mocked for the next few panels? And TMNT Utrom Empire #2 forgets that… its only #2. More issues to come, sir, don't get so down. Serenity #2 reminds us just how awesome River Tam is. I mean that could really come in handy when preparing a risotto. That's right, folks, with those kind of skills, River Tam belongs in the kitchen. Star Wars Legacy shows us that in a galaxy of light sabres, Death Stars and the Force, what really gets you out of a tight pinch is a punch to the gut. That's right, what every Tomb Raider needs. A man. Do you think that's going to remain as valid for the next few panels? Looks like Pirate Genieveve is Damsels #13 is also letting the side down a little. So who is the woman in most charge today? Why that would be…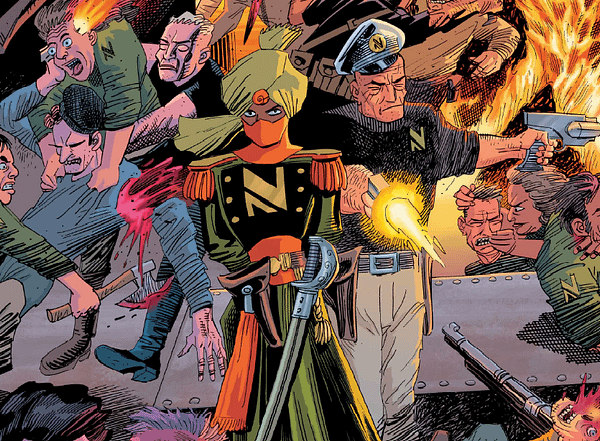 Captain Nemo. Pirate Jenny. In League Of Extraordinary: Roses Of Berlin, out in print and normal digital soon, out from Sequential today…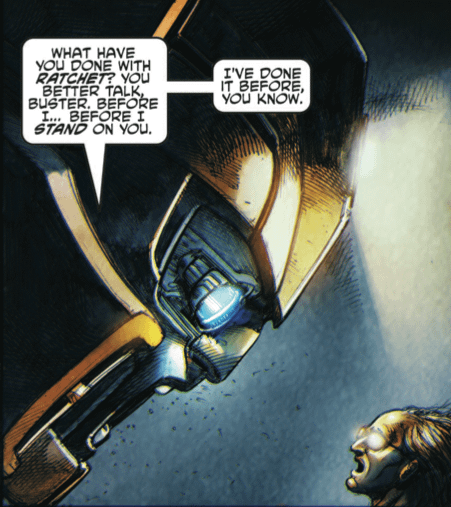 X-Files Conspiracy Transformers gives us the art of bullying with a twenty foot robot screaming at a five foot geek.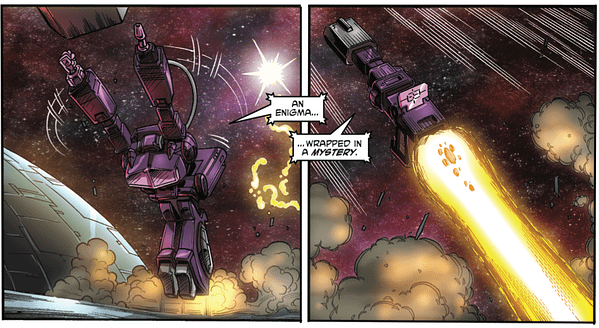 In Transformers Regeneration One #99, Shockwave gets philosophical. I've suddenly realised I now want a The Philosophy Of Transformers text.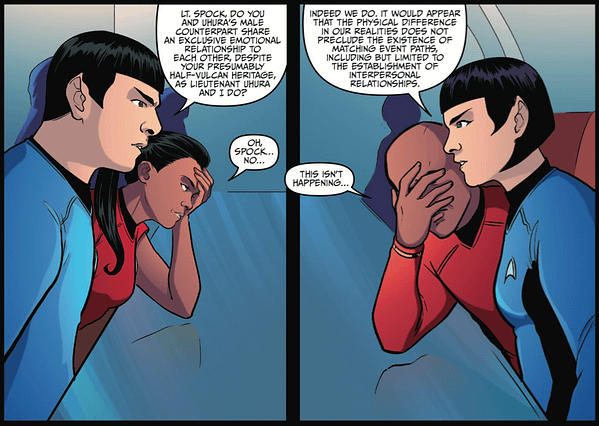 Star Trek #30 mixes up the genders… but hey, how come in their universe, Uhura doesn't get to wear short sleeved tops?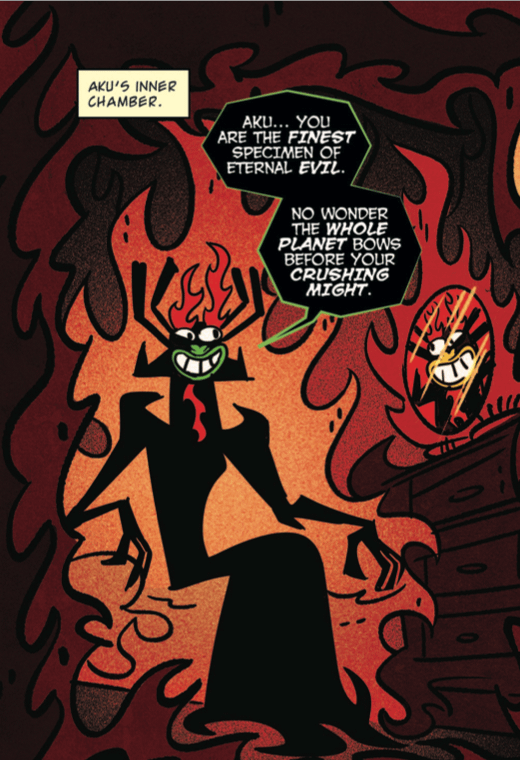 Samurai Jack #5 gives us the echo chamber of hell. You know, I'm sure this is what happens behind the scenes of Fox News every night.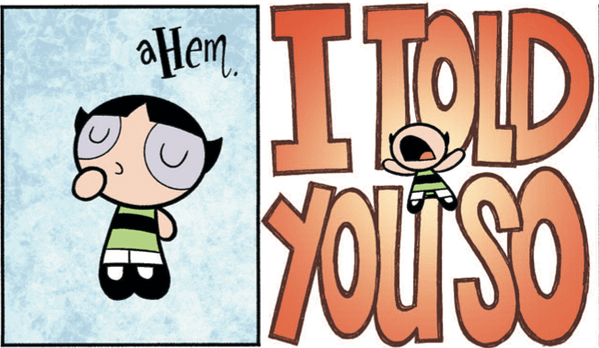 So this scene from Powerpuff Girls #6. We need it on a shirt. On a card. On an internet meme. Something. It all starts here…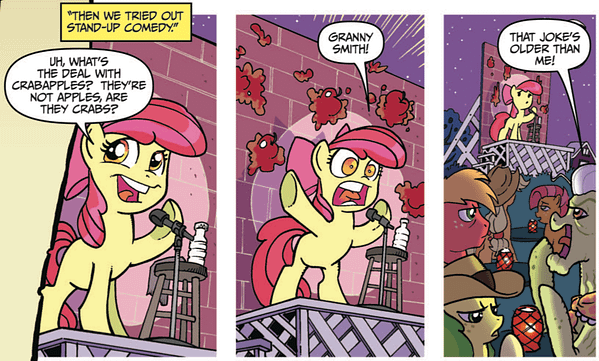 In My Little Pony Friends Forever #2 we get some bad gags… and the horrible conclusion that Granny Smith has got crabs.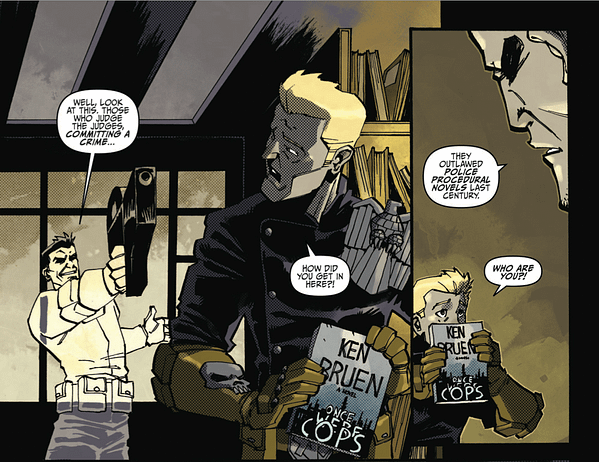 Judge Dredd #16 poses a solution to the CSI-sation of modern publishing.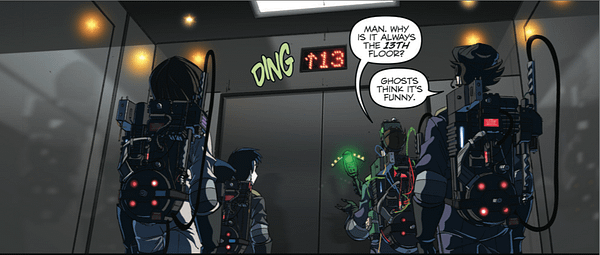 Ghostbusters #13 tackles spectral humour and horror tropes. But here's the thing… most American building and hotels don't actually have thirteenth floors for this very reason. So there must be a lot of dissatisfied ghosts living on fourteenth floors and getting really annoyed.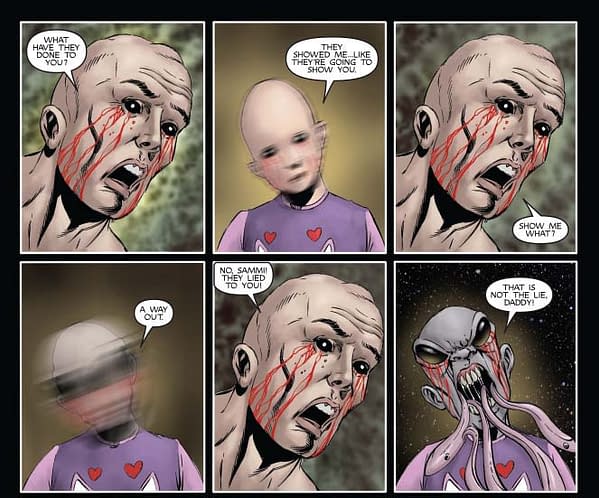 Cryptozoic Man #2 teaches us the dangers of what happens when kids pulls silly faces. The wind changes and they get stuck like that.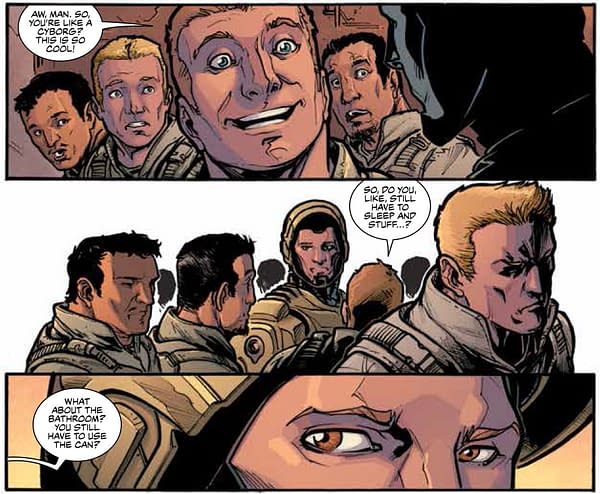 Robocop Beta asks the questions everyone has been asking since the movie. The answer? He doesn't have to use the can… he is a can!

From Deceivers #3. Now, you know that someone somewhere is already drafting a copy of "Fifty Shades Of Don't Do Anything Stupid."
Number one? Don't read Fifty Shades Of Grey.
Okay, they've called my number. See you later folks. Nothing too serious I'm hoping…
Comics courtesy of Orbital Comics, London.Who are adding a Transformers signing to the Great British Comics Month in March!