A Graded And Cast Signed Copy Of Marvel Star Wars #1 Up For Auction

Star Wars fans love their rare pieces, and this one is pretty unique. Up for auction over at Heritage Auctions right now is a CGC 9.4 copy of Star Wars #1 from Marvel in 1977. This is the 30 cent cover and is signed by multiple people. First, Roy Thomas and Howard Chaykin, the creative team on the book, signed it. Which is cool already, but then this one is also signed by some of the cast of the Star Wars films. Billy Dee Williams, Anthony Daniels, Darth Vader himself David Prowse, and both men to play the Emperor, Clive Revill, and Ian McDiarmid. The auction is sitting at $625, with bidding ending on July 11th. You can see this unique Star Wars piece below.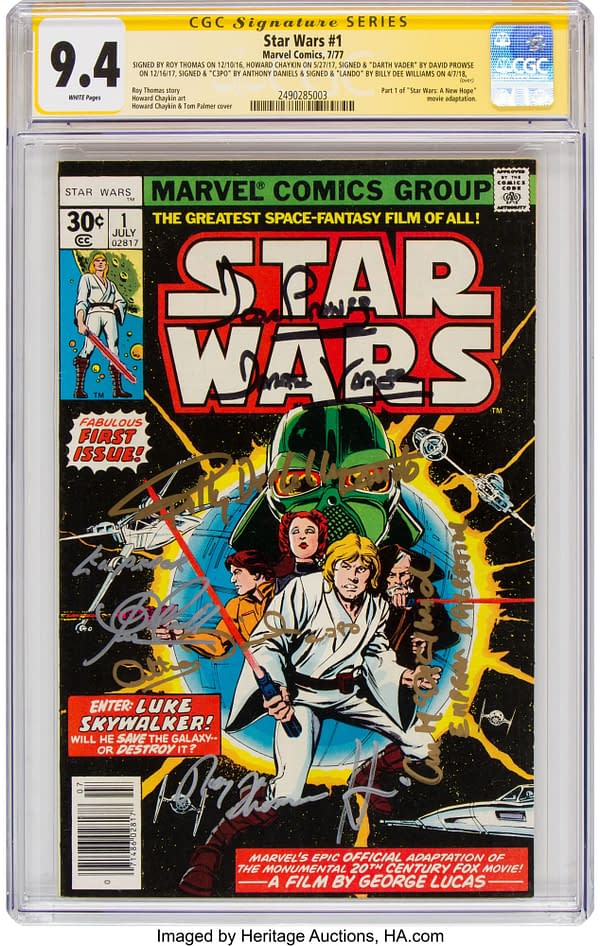 Star Wars Signed CGC 9.4
"Star Wars #1 Signature Series – Signed by Cast Members and Artists (Marvel, 1977) CGC NM 9.4 White pages. Part 1 of the six-issue adaptation of the first Star Wars movie, on newsstands before the movie was released. First comic appearances of Luke Skywalker, R2-D2, C-3PO, Princess Leia, and Darth Vader. Howard Chaykin cover and art. CGC notes, "Signed by Roy Thomas on 12/10/16, Howard Chaykin on 5/27/17, signed and 'Darth Vader' by David Prowse on 12/16/17, signed and 'C3PO' by Anthony Daniels and signed and 'Lando' by Billy Dee Williams on 4/7/18, signed and 'Emperor' by Clive Revill on 2/24/19, and signed and 'Emperor Palpatine' by Ian McDiarmid on 4/13/19." Overstreet 2019 NM- 9.2 value = $215. CGC census for Universal grades 5/20: 1615 in 9.4, 2329 higher; for Signature Series 5/20: 1615 in 9.4, 2329 higher."
So not only if you buy this, would you have a really nice copy of the book, but one signed by the creative team, Lando, C-3PO, Darth Vader, and the Emperor. What more could you want as a Star Wars fan? As stated above, this one is currently sitting at $625 and is accepting bids until July 11th. You can check out the full details of the auction here, and everything else up at Heritage Auctions right now.