Teen Titans Special #1 Review: The Anti-Marvel's Champions
Robin is witness to a fear-mongering attack on a restaurant owned by immigrants. He discovers that Black Mask is behind it and pays Sionis a visit. Red Arrow is in another duel with her mother, Shado. Emiko tracks down her mother and gives her one last chance to repair the family. Kid Flash finds the Suicide Squad trying to kidnap a woman, and he tries to help. However, young Wallace is stopped by older Wally, aka the Flash. Older Wally tries to convince young Wallace that there are complex situations that can't always be resolved by heroism.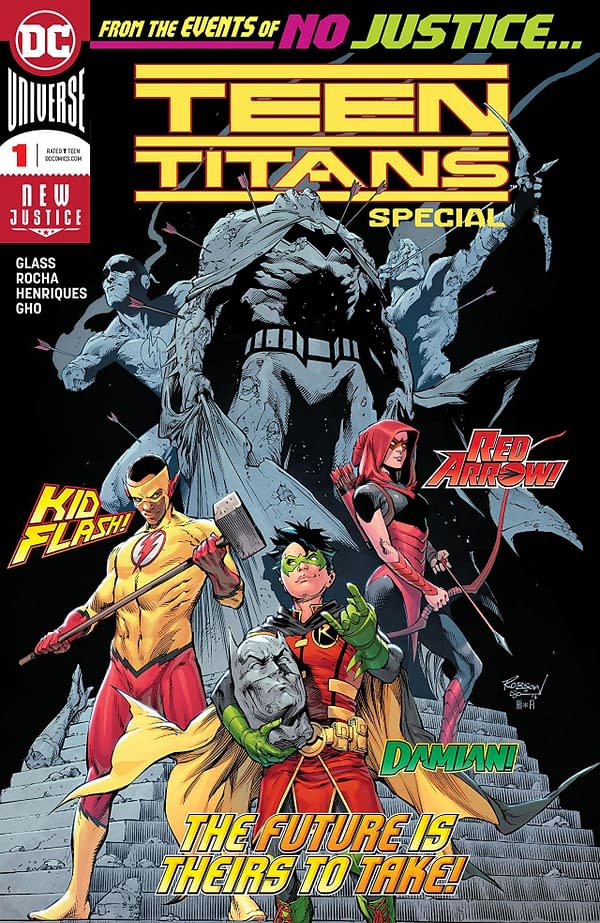 Teen Titans Special #1 immediately establishes its identity as a contrast to the Justice League. These are young and angry heroes dissatisfied with how the world works and willing to take a harsher approach to injustices around the world.
It's similar to how Marvel's Champions set themselves up as a contrast to the Avengers. They are opposites in that regard too; the Champions were angry but optimistic and interested in more peaceful methods. The Teen Titans Special opens with Robin punching out one of Black Mask's knee-breakers whom already has a blistered face from when Robin splashed boiling soup on him.
There's definitely room for both this Teen Titans and the current Champions in the world. I appreciate the gentler approach of the Champions, but Teen Titans tonally justifies its characters rage and brutal methods. This book has the young heroes witnessing human atrocity and inflicted misery. It gets its point across well: the world needs to change, now.
As a side note, I'm surprised at how damning this portrayal of Harley Quinn is. Most books try to paint her as some misunderstood and victimized anti-hero. Here, she is most assuredly the victimizer.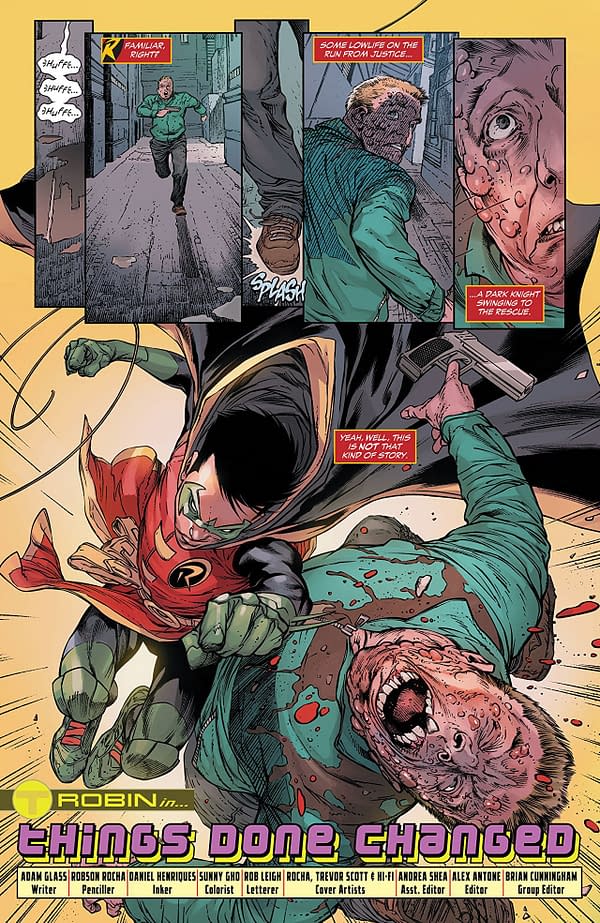 Robson Rocha contributes the art to this book, and it looks excellent. The detailing is sleek and defining. Many of the actions scenes are clear and sequenced well. There is one visually confusing action scene with Red Arrow that disrupts its flow, but this only happens once. Sunny Gho is the color artist, and the color palette is well blended, moody, and looks good.
Teen Titans Special #1 is a more angry and disillusioned approach to justice, and it has its thumb on the current sociopolitical pulse. These Titans want to see the world made better, and they're willing to go to extremes to see it happen. Mix the compelling writing of Adam Glass with the great artwork of Robson Rocha, Daniel Henriques, and Sunny Gho, and you have a damn good book well worth recommending. Check it out.