Every week, starting again this last week, your Local Comic Book shop, hopefully, got in a weekly assortment of comics, trades, posters, action figures, and other goodies from Diamond. Now some of these goodies sell out fast from your LCBS, so Tuesday and Wednesday LCBS retailers get on the phone (more often the computer) and let Diamond know they need more. Or sometimes they go to unpack those Diamond boxes and find items missing, or too damaged to sell (it does happen), retailers have to let Diamond know. However, the phrase no retailer likes to hear when they go to report those shortages, damages or reorders is: "Sorry that item is on back order", which means there are no more copies to send out from the Diamond warehouse.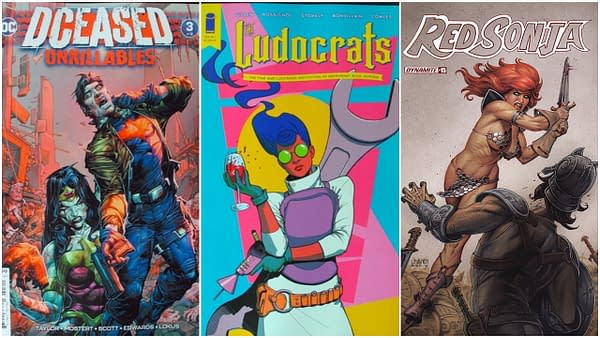 After no new product being in LCBS from Diamond since March 25th, this week brings a very interesting, but small, group of comic books on the Back Order List. With titles only being shipped from most everyone it seems except Marvel, and in a greatly reduced capacity. Diamond is also it seems working at a reduced capacity, though Diamond customer service workers are available and doing work from home.
DC Dominates the List
DC, shipping with other distributors and Diamond, has created a weird mix of providing new products to LCBS. As of 5/22, several DC titles have gone to Back Order through Diamond. They might be available from the other distributors, but as far as Diamond is concerned more copies of these comics are "no longer available".
All three covers from DCeased Unkillables #3 have gone on the Back Order list from Diamond, from the main Howard Porter cover to the other two cardstock covers. Both covers from Red Hood Outlaw #45, gone to the Back Order List and we have a great variant cover from Philip Tan. Both covers from Superman's Pal Jimmy Olsen #10, disappeared on the to the Back Order List. Lastly, the Wonder Woman #755 Variant Cover, is on the Back Order List. Here they all are:
Also released by DC, the two comics from the Hill House imprint vanished on to the Diamond Back Order List. The main cover and variant cover for the last issue of the Dollhouse Family, issue #6, no longer at Diamond for reorder. Plunge #3, main and variant cover, also not around for Diamond to send more copies of.
Image and Boom get in One Each
Image Comics had only one notable Back Order List addition, the great Jaime McKelvie cover for the Ludocrats #1. As was predicted earlier Buffy The Vampire Slayer #14 from Boom did sell out from Diamond, well one cover, the Variant Multiverse Cover.
Dynamite on the List, with One Comic
The biggest entry on the Back Order this last week though was for Dynamite Comics, who either due to demand or printing choices, saw not one, not two, but five covers for Red Sonja #15 enter the list. The secondary cover by Linsner, Cover C by Bob Q, Cover D by Marc Laming, and the seven copy incentive Homage Cover by Gorham, plus the ten copy Pepoy seduction cover.
So for those able to go to your LCBS and see any of these "back order titles" grab them if you want them because Diamond won't likely be sending replacement copies.