Posted in: Comics, Comics Publishers, Marvel Comics | Tagged: Beast, fall of x, Forge, krakoa, mister sinister, wolverine, x-men
---
The Beast Takes Advantage Of Brexit In Today's X-Men Comics (Spoilers)
In Wolverine #33, The Beast is creating a Brexit situation as Britain has refused to recognise Krakoa, and has refused the Krakoan medicines...
---
It's Beast time! In today's Rogue And Gambit #3, Forge ruminates over his actions in recent issues of X-Men, creating a device to enter the Vault and rescue Darwin. While also rescuing Old Woman Kinney.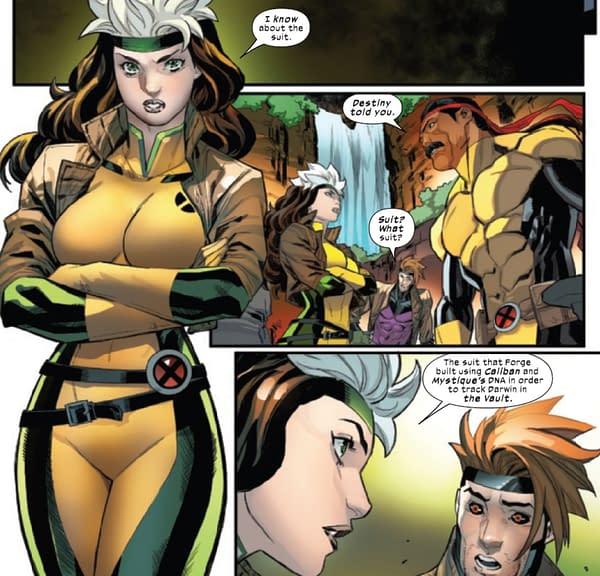 With Forge doing basically the same as The Beast or Mister Sinister. And having a problem with that, creating a living suit made up of other mutants' genetic materials.

What is Hank McCoy, The Beast doing? Well, that's going on in today's Wolverine #33. Where he is creating a Brexit situation. Britain has refused to recognise Krakoa, and has refused the Krakoan medicines that would increase lifespan, solve dementia, and restore antibiotic effectiveness. Because, for this last decade, there is nothing this country likes more than shooting itself in the foot, ricocheting off a steel toe cap and the bullet embedding itself in our skull by mistake.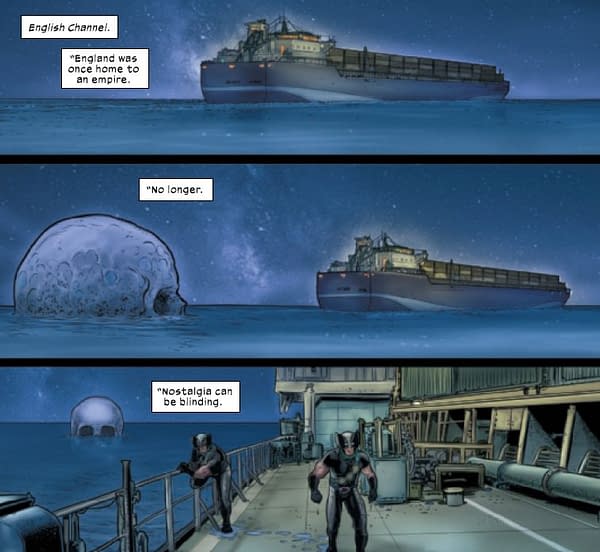 And with the Beast using his Weapons Of X team of Wolverine clones to attack the British reliance on European continental medicines. It is notable that, while Britain developed one of the main Coronavirus vaccines, courtesy of Oxford University and Astra Zenica, it was manufactured overseas, Britain no longer having such manufacturing ability itself, which caused considerable delays at the time.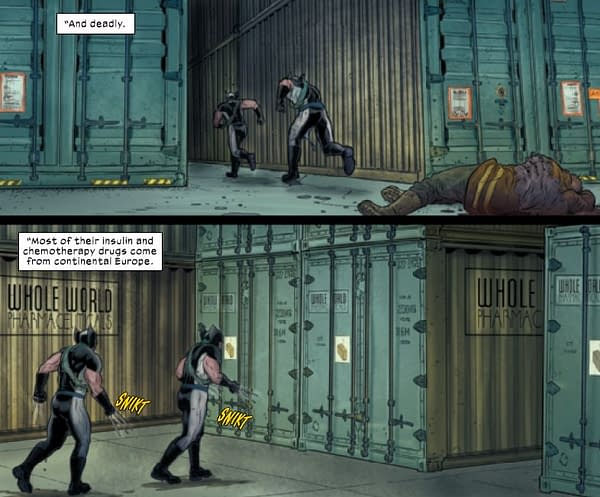 With Brexit making Britain even more vulnerable to medicine delays and shortages, when combined with added Brexit red tape, leading to recent shortages of hormone replacement therapy, nationwide. Throw in ou reliance on European harvests as well, and current inflation and shortages were inevitable.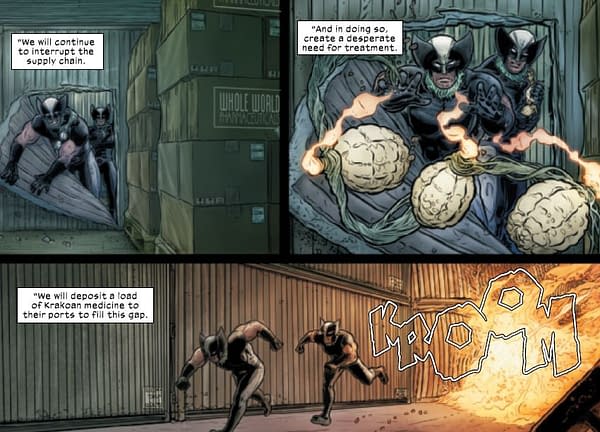 And here, the Beast takes advantage of such intrasigence to give Britain no choice but to deal with Krakoa. Or, at least, have the population think more kindly of Krakoa…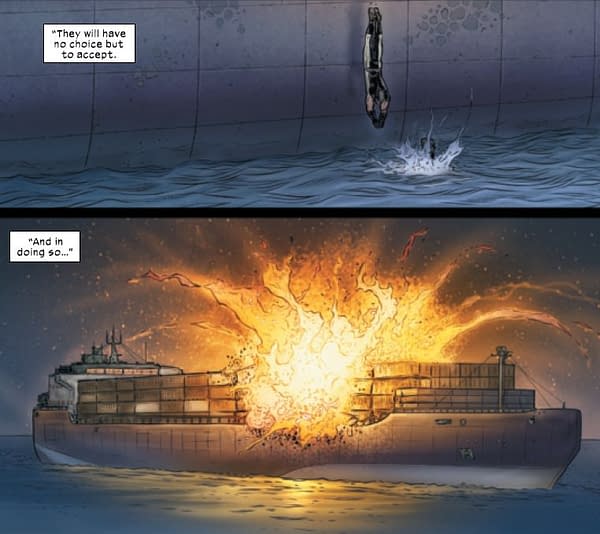 …. and maybe vote out the current leadership, which is basically Liz Truss in hoods. Because, yes, if North Korea dropped a bunch of HRT patches on the shore of Dover, Kim Jong Un would probably become a national treasure here.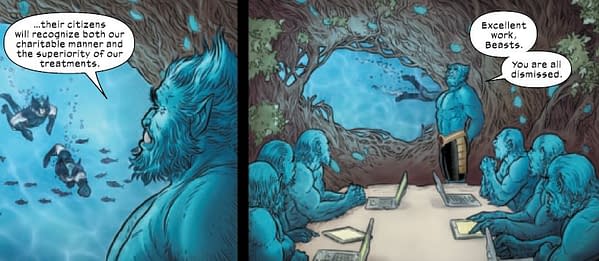 Although with the Beast creating clones of himself as well, in which to run his own rogue Krakoan operation from, he is going down the Mister Sinister route more and more… as X-Men Red #11 reminds us…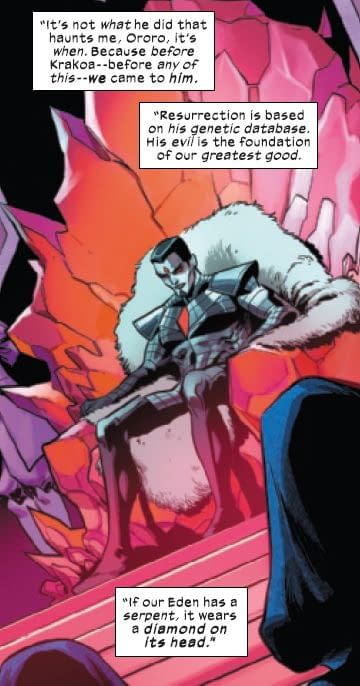 The Fall Of X is coming…
WOLVERINE #33
MARVEL COMICS
MAR230779
(W) Ben Percy, Gene Luen (A) Juan Jose Ryp (CA) Leinil Yu
WEAPONS OF X! The landmark Weapons of X storyline continues as BEAST makes a critical move against WOLVERINE. But… who is moving against Beast? Not who you think! And how does MAVERICK play into this conflict? PLUS: An all-new backup adventure featuring WOLVERINE and SISTER DAGGER, by Gene Luen Yang and Peter Nguyen! Rated T+In Shops: May 10, 2023 SRP: $4.99
ROGUE AND GAMBIT #3 (OF 5)
MARVEL COMICS
MAR230804
(W) Stephanie Phillips (A) Carlos E. Gomez (CA) Steve Morris
BROKEN PROMISES AND BROKEN BONES! As Manifold's trail goes cold, tensions between Rogue and Gambit heat up! For months now, they've been pulling apart – Rogue busy with her X-Men duties, Gambit risking eternal death in Otherworld? Now, when Gambit discovers Rogue's been keeping secrets, the couple must face their issues head-on. Orrrr they could split up and tackle the fight solo – that sounds smart, right? But WHO is gathering super-powered humans? And why is Manifold so important anyway? The mystery continues in Stephanie Philips and Carlos Gomez's explosive romp through the Marvel U!
Rated T+In Shops: May 10, 2023 SRP: $3.99
X-MEN RED #11
MARVEL COMICS
MAR230769
(W) Al Ewing (A) Jacopo Camagni (CA) Russell Dauterman
THE CALM BEFORE? After Brand's machinations and the Sins of Sinister, the mutants of Arakko are catching their breath… but even as Storm begins a new romance, she has no time to rest. Charles Xavier has questions about Magneto's death. He's not asking nicely. Rated T+In Shops: May 10, 2023 SRP: $3.99
---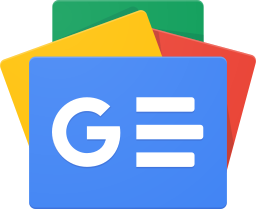 Stay up-to-date and support the site by following Bleeding Cool on Google News today!