From today's Justice's League…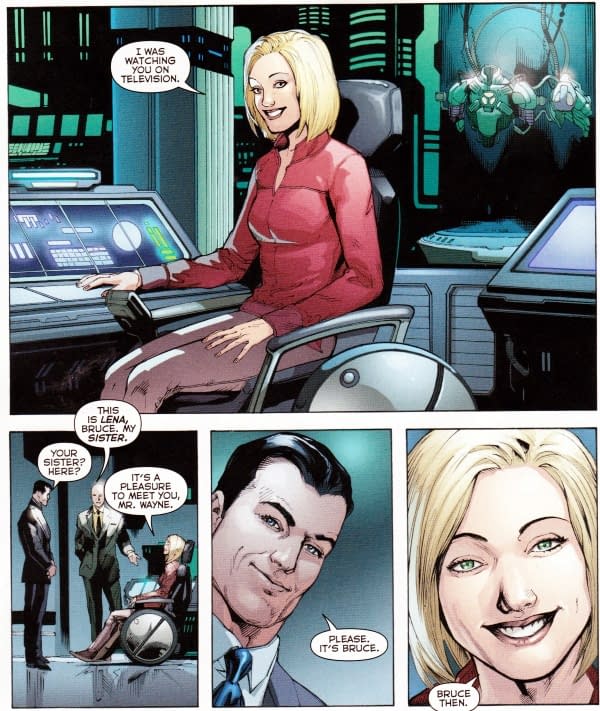 … put it away, Bruce.
In previous versions of the character, Lena Luthor was renamed Lena Thorul, didn't know Lex was her brother and gained psychic abilities from his experimentation. The DC Crisis recreated her as Luthor's daughter, kept drugged and unconscious and then turned into a tool for Brainiac.
After Infinite Crisis, she became Lex's sister again, seriously, their family tree must have some odd kinks in it. Wheelchair bound, Lex cured her and then uncured her, just to annoy Superboy. When last heard of she was being cared for by Wayne Enterprises.
Well, now in the New 52, she is still in a wheelchair and Lex is working towards a cure. Possibly psychic abilities as well, who knows, he's got a lot of tech, And Bruce Wayne looks like he may be in the caring business again…
Comics courtesy of Orbital Comics, London. Hosting a Jeff Smith signing on Monday from 5pm, and exhibiting a new Pre-Code Horror exhibition including the work of Alison Sampson, Andy Belanger, Colin Lorimer, Hamish Steele, Jason Atomic, Jessica Martin, Owen Michael Johnson, Ryan Jenkyns, Shaky Kane & more!
Enjoyed this article? Share it!