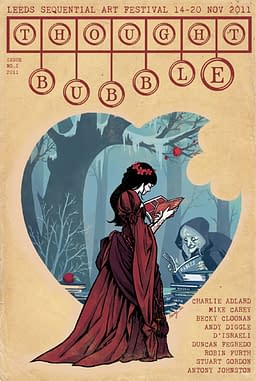 Gary Erskine has his kilt packed. Steve Wacker, despite the efforts of a driver who got lost, managed to get to the airport before his flight took off. Kieron Gillen has his DJ set all worked out. And Gail Simone has been round the Leeds City Centre shops looking for a Dalek.
It can only be the launch of what many consider Britain's best comic convention, Thought Bubble.
This weekend, as part of the Leeds Sequential Arts Festival running right now, the city will host a comic convention dedicated to style.
Add Jeff Lemire, Adam Hughes, Becky Cloonan, Mark Buckingham, Mike Carey, Paul Cornell,m Posy Simmonds, Ben Templesmith, Duncan Fegredo, the Moore-Reppions, Adi Granov, Tim Sale, Tony Harris, Mike McMahaon, Tony Lee, Andy Diggle, Paul Duffield, Bryan Talbot, Dave Gibbons, Sean Phillips and a hundred more comic book professionals to a bunch of exhibitions, screenings, panels and workshops, all in a place that is actually affordable to stay, eat and drink, plus an actual comic book made of original work from creators attending the show and it all makes for a perfect comic convention.
Sadly I can't make it this year, though I should have a small bevy of Little Bleeders reporting back… if you're going (and yes, I am green with envy) feel free to join them!
Enjoyed this article? Share it!