Thor to Have Trouble Getting it Up as Hammerfall Begins in Thor #7
Does the God of Thunder need a blue chew?
Marvel is hosting their Next Big Thing panel at C2E2 right now, but it's Thor's current big thing we're concerned about. Bleeding Cool Ace Reporter David Pierce is on hand at the panel sending us breaking news, and what you're about to learn about Thor may have you slumping flacidly down in your seat.
Yes, that's right, Thor is having hammer problems. Since the start of his newly rebooted series, Thor has been having trouble holding his Mjolnir erect, and it looks like things are about to go from bad to worse with a new storyline called Hammerfall.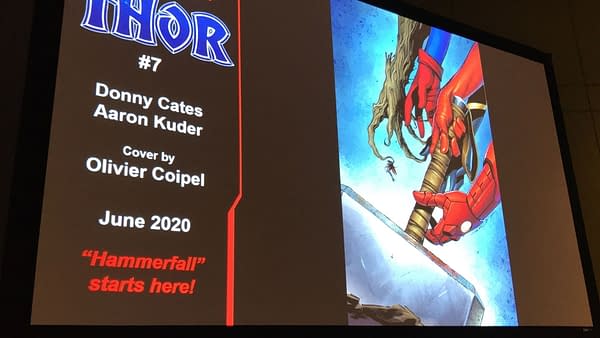 Don't feel bad, Thor. We hear that happens to lots of guys.
Marvel sent the official solicit out to compliant media partner sites (those are the ones that don't write articles claiming their characters are suffering from impotence). Check it out below.
Thor #7
Written by Donny Cates, Art by Aaron Kuder
Cover by Olivier Coipel
New story arc details: Something is wrong with Mjolnir… And this is a poor time for the All-Father of Asgard to lose his primary weapon. The Golden City is in chaos after Galactus' ill-timed visit, and there are new threats on the horizon. Thor needs his hammer now more than ever…and yet the Uru grows heavier with every passing day. What will it take for the God of Thunder to hang on to one of the most powerful weapons in the Multiverse?
On sale June 2020